Malaika Arora's skirt suit or white maxi? 9 style lessons for every curvy girl
May 31, 2018 09:48 AM IST
Need some summer style inspiration that's both punchy and totally covetable? None other than the venerable Malaika Arora is here for you, offering up the best looks of the summer and probably for a long time.
When it comes to dressing to flatter a curvy figure, former VJ and TV personality Malaika Arora has the process down to an exact science.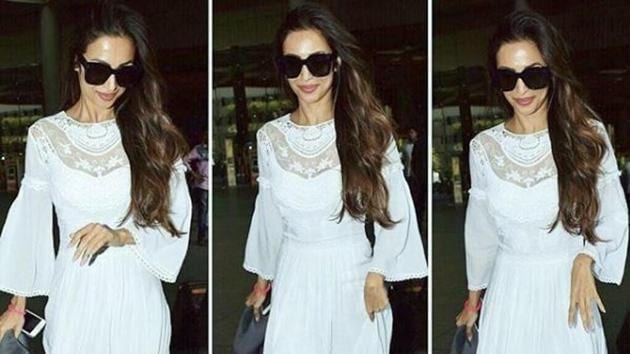 Case in point: Malaika's always had incredible style, but on Tuesday, she stepped up her summer fashion game way up in a vibrant and practical ensemble.
Malaika attended a house party with her celeb pals — actors Kareena Kapoor Khan, Karisma Kapoor and sister Amrita Arora — Malaika wore a refreshing two-tone H&M romper (selling at $17.99 on sale) that's covered in eye-catching tropical print.
She threw on a white oversize shirt over her risque romper with front pockets and wore matching white sneakers and a statement belt to complete her easy-breezy summer look. We love the combo so much that we can't wait to copy this look for ourselves! Then, have your own house party, because why not?
In addition to a flirty ensemble, Malaika also rocked beachy soft curls and baby pink lipstick.
Malaika's whole outfit is summer perfection. So what's her secret? By our count, she's actually got nine — and each one's worth trying.
Keep reading for the fail-proof formula behind Maliaka's bombshell look.
1. Work the white maxi all summer
Malaika's stark white bohemian-inspired lace dress from Swoon is so simple and perfect for wearing all summer long. It actually checks off all summer dressing requirements on our list: While you're covered up (hello, work appropriate!), you're wearing something airy and versatile (day or night, weekday or weekend).
2. A sparkly blazer and skirt suit? yes, please!
Malaika took suit dressing to a whole new level in a sparkly blazer and skirt set from Pallavi Mohan. While this look might not make the cut for your office dress code, it does, however, work as one more chic and fun alternative to a cocktail frock. Just add Malaika's outfit to the list of non-boring ways to wear a suit!
3. A matching set works together and separately
A gorgeous set, like Malaika's Amit Aggarwal design, works both ways. A. It looks perfect as a straightforward two-piece outfit, showing a sliver of skin for the perfect dose of allure. Or, B., mix it up and pair the halter top with high-waisted jeans, or wear the wide-legged with a tucked-in blouse.
4. A shirtdress is a versatile staple
Traditionally, these little numbers are worn as straightforward dresses. Simple enough. But how about wearing one open as a cute topper over a casual top and pants? Malaika's wearing Two Point Two and Hemant and Nandita.
5. Go bold, try sheer
We get it, sheer pieces can be a little intimidating. To dip a toe into the trend, start off with a slip underneath a see-through dress. If you're comfortable enough then make sure you opt for full coverage via a bodysuit. This way you'll avoid wardrobe malfunctions and look polished. Malaika is wearing Manish Malhotra gown.
6. Replace your cocktail dress with a trouser look
Dressed-up pants are perfect for a night out. Go for a pair that has a bit of glitz if you're attending a formal event. Malaika is wearing Martha Fadel and Danielle Guizio.
7. Upgrade your moto jacket
Moto or cropped jackets are nothing new, but the latest crop comes embellished with embroidery, spikes, and spray paint. Go for the style that speaks to you. Malaika is wearing Pilar del Campo.
8. Add texture to your night look
Velvet is huge this season. We can't think of a better time to try the luxe fabric, especially when it comes in the form of a cute dress with a slit, like Malaika's one from Lola by Suman.
9. A lightweight duster is perfect for layering
A duster is just the thing to wear over a fitted dress — or even to wear as a dress! We're sure you'll find yourself pairing yours with tees or even a really chic pair of sweats, like Malaika, who's seen in a Bodice Studio creation. It's a great substitute for a classic trench.
Follow @htlifeandstyle for more