Birthday girl Katrina Kaif shows how to wear a crop top in 8 different ways
Updated on Jul 16, 2018 12:57 PM IST
Katrina Kaif, who celebrates her 35th birthday today, is a lover of crop tops. By studying her Instagram photos, we've learnt that Katrina has a go-to look: A crop top paired with everything from shorts, jeans, sweatpants to skirts.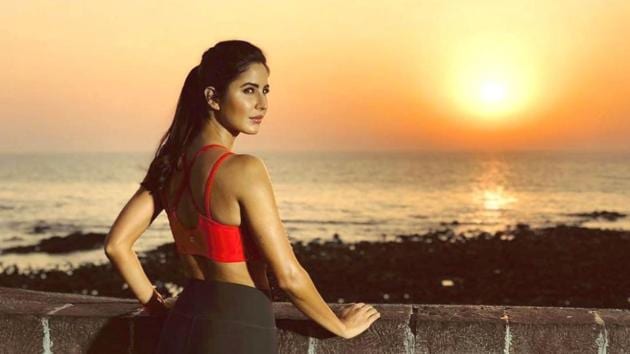 Katrina Kaif loves a good crop top moment. Whether the actor is dancing on-stage for Dabangg Reloaded, heading to a plane, working out , casually posing in front of the mirror or being not-so-casual, Katrina consistently proves that when meticulously styled, this kind of top can work for any occasion.
The crop top trend is at an all-time high, no doubt, thanks to high-profile celebrities, including Priyanka Chopra and Kareena Kapoor Khan, as well as upcoming stars, like Sara Ali Khan and Janhvi Kapoor's affinity for showing off their washboard abs in cropped style tops. But Katrina has been on a one-woman mission to prove that the street style itsy-bitsy top is perfect for strategically showing off her best assets.
No matter the season or occasion, Katrina has sported her enviably toned abs in a midriff-baring crop top with high-waisted shorts, high-rise jeans, matching sweatpants, or in the classic printed skirt and crop top set, often finishing the look with gold hoops and a pair of dark sunglasses.
Katrina, who is in England to ring in her birthday, turns 35 on Monday (July 16). If you love her crop top looks (and rock hard abs) as much as we do, keep scrolling to celebrate Katrina's 'happy birthday' with her best looks. Even if you're terrified of them, it might be worth giving some of these Katrina Kaif crop top outfit ideas a go:
Katrina wearing high-neck crop top + matching pants
Katrina wearing crop top + colour-blocked sweatpants
Katrina wearing crop top + leggings
Katrina wearing crop top + coordinated midi skirt
Katrina wearing crop top + mini skirt
Katrina wearing knotted crop top + denim shorts
Katrina wearing crop top + coordinated pants
Katrina wearing heavily embellished blouse + leather pants
Follow @htlifeandstyle for more