India vs Ghana, FIFA U-17 World Cup highlights: IND lose 0-4, GHA qualify
Ghana put on a clinical display as they thrashed India 4-0 in their last Group A game and secured a passage into the round of 16. Eric Ayiah scored a brace while goals from Richard Danso and Emmanuel Toku. With this loss, India have remained winless in this tournament. Get highlights of FIFA U-17 World cup tie between India vs Ghana here.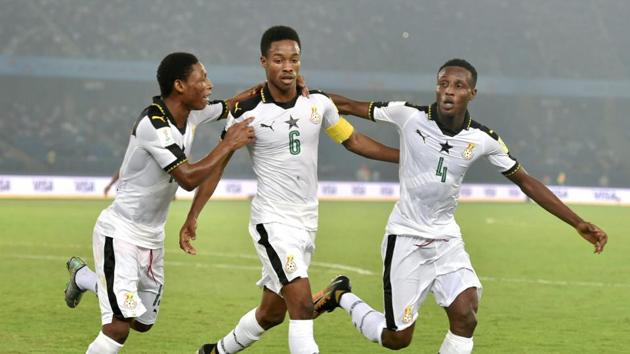 Updated on Oct 12, 2017 10:19 PM IST
Ghana put on a brilliant performance as they thrashed India 4-0 to qualify for the round of 16. A brace from Eric Ayiah and goals from Emmanuel Toku and Richard Danston put the two-time winners on top. India, who had lost their previous two games in this tournament, have now exited the FIFA U-17 World Cup without a win. Along with Ghana, Colombia and the Unitef States of America have also secured qualification into the next round. Get highlights of India vs Ghana here. (POINTS TABLE | RESULTS | SCHEDULE) (USA vs COLOMBIA)
22:01 hrs IST: That is all from us here. Bye Bye!
22:00 hrs IST: Ghana being applauded loudly by the home support. Loud round of applause for the Indian boys now. India's campaign has ended and they are out of the World Cup. They gave some memorable moments but at the end of the day, they were outplayed by all three teams.
21:57 hrs IST: Colombia have beaten USA 3-1 and have sensationally qualified for the round of 16. USA, on the other hand, who were on top before the start of the match, have slipped to third and have to wait for other results to ensure they enter the next round.
21:55 hrs IST: Over in Mumbai, Colombia are on the verge of sensationally qualifying for the next round. They are minutes away from defeating USA.
21:54 hrs IST: Full-time: India 4-0 Ghana. A bad defeat for India ends their FIFA U-17 World Cup campaign. Ghana being applauded loudly by the home support.
21:52 hrs IST: Ghana now looking to keep the ball and almost force another chance but Dheeraj collects the ball inside the penalty area. 2 mins added time.
21:49 hrs IST: And another one goes in for Ghana. Emmanuel Toku finishes on the rebound after a Ghana shot hits the post.
21:46 hrs IST: Goal for Ghana. Richard Danso finishes off a swift counter attack.
21:43 hrs IST: Lalengmawia gets Indian's first shot on target, but it causes Ibrahim Danlad no trouble whatsoever.
21:41 hrs IST: Ghana sub: Richard Danso on for goalkeeper Eric Ayiah.
21:40 hrs IST: Ghana playing patiently. India are unable to build any attacks at this point.
21:38 hrs IST: India sub: Lalengmawia replaces Aniket Jadhav.
21:35 hrs IST: Ghana sub: Kudus Mohammed on for Edmund Arko-Mensah.
21:34 hrs IST: The game has settled into a pattern that will favour Ghana: the hosts are being pushed back deep into their own half.
21:29 hrs IST: A Ghana player has been stretchered off the field to the sidelines for treatment.
21:27 hrs IST: Over in Mumbai, Colombia have taken the lead against the USA. This throws Pool A wide open if it continues this way.
21:26 hrs IST: Feeble chants of 'India, India' ring out in support. Ibrahim Sulley attempts a goal from the halfway line and the shot goes just over. Dheeraj rightfully gives his defence an earful for not closing Sulley down quickly enough.
21:23 hrs IST: India sub: Rahim Ali comes on for Amarjit Singh.
21:22 hrs IST: What a save by Dheeraj! Ibrahim Sulley attempts a cheeky chip over the goalkeeper but his attempt is caught wonderfully by Dheeraj.
21:19 hrs IST: The Indian team's lack of marking inside the penalty area is causing them some trouble. Too many standing waiting to block shots; that is a recipe for disaster.
21:17 hrs IST: Naorem goes off the field for some treatment. Regarding Sadiq Ibrahim, a clarification. It seems he's been subbed off since he was unable to continue. Meetei comes on in his place.
21:16 hrs IST: Ghana sub: Sadiq Ibrahim off for Emmanuel Toku. No idea why the Ghana coach took off Sadiq. It's not like rest will do him any good since he's suspended for the next game.
21:14 hrs IST: The goal was down to poor marking on India's part. Ayiah remained unmarked on the edge of the box and had no issue finishing when the ball fell to him. Yellow for Amarjit Singh
21:12 hrs IST: Goal. Ayiah scores Ghana's his second of the game from inside the penalty box. The Black Stars lead 2-0.
21:10 hrs IST: Small correction: Sadiq's yellow was for high boot, not simulation.
21:09 hrs IST: Dheeraj has not recovered from his first half injury. Jitendra Singh is taking goal kicks for him. Although he has now just taken one on his own. He's clearly gutting it out.
21:07 hrs IST: Second half underway. Can India equalise or will Ghana extend their advantage? Sadiq Ibrahim gets a yellow card for simulation. He will now miss Ghana's next match.
20:51 hrs IST: Corner to Ghana. Can they get a second before half-time? The answer is no. Sadiq's header goes out and the referee blows for half-time. At half-time, India 0-1 Ghana. A solitary goal from skipper Eric Ayiah has given the Black Stars the lead. Can India hit back in the second half? Join us in 15 minutes to know.
20:46 hrs IST: Alhassan is booked for a bad tackle. India have a free-kick. The free-kick sees Jitendra get in a header but it's too far out and causes Danlad no trouble.
20:45 hrs IST: Four minutes added on as injury time.
20:43 hrs IST: Goal for Ghana. Eric Ayiah scores at the stroke of half-time. Sadiq Ibrahim fires in a low cross from the byeline which Dheeraj gets a hand to but the ball deflects into the path of Ayiah who makes no mistake from close range.
20:42 hrs IST: Dheeraj is continuing... for now. But he is treading gingerly. And Dheeraj's poor clearance almost sees Ghana score, but the angled shot goes just wide. India 0-0 Ghana.
20:40 hrs IST: Dheeraj looks like he's cramped up. Crowd chants his name in an attempt to will him up. He's now receiving on-field treatment from the physios.
20:38 hrs IST: Boris, India's right-back, has been a steady presence in both defence and attack. His latest tackle earns him massive cheers from the crowd.
20:34 hrs IST: Yellow card for Boris after a high boot. Free-kick to Ghana in a dangerous position. But no goal yet again, as skipper Ayiah fires the shot high. India 0-0 Ghana.
20:33 hrs IST: Been all Ghana now. India just looking to sit back and soak up the pressure. India 0-0 Ghana.
20:27 hrs IST: Again Ghana come close! Isaac Gymfi unleashes a powerful long-range shot after Indian clear an initial cross but the shot goes over the bar.
20:24 hrs IST: Ghana struggling with their final ball here. Is the heat affecting them in any way? They're definitely unsettled.
20:22 hrs IST: So nearly! Ghana's Alhassan fires in a powerful shot from the left side but it goes just over the bar. India 0-0 Ghana.
20:20 hrs IST: Dheeraj forced into action, deflecting out a cross that veered too close to goal. Corner for Ghana.
20:19 hrs IST: India are putting together some attacking play here, but their final ball is once again lacking. However, Ghana haven't started well, especially skipper Eric Ayiah. India 0-0 Ghana
20:18 hrs IST: The answer is no, but Sanjeev Stalin's delivery was decent and is cleared away for a throw-in.
20:16 hrs IST: India now win a free-kick of their own in a dangerous position. Will they go directly for goal?
20:14 hrs IST: Ghana's Sadiq Ibrahim is brought down rather roughly in a dangerous position on the right wing. The resulting free-kick is punched away by Dheeraj.
20:11 hrs IST: Gabriel Leveh makes a searing run down the right wing and his cross is deflected out for a corner. It's worth noting that when India defend, only Aniket Jadhav stays in the attacking half. India looking to 'park the bus', so to speak. India 0-0 Ghana.
20:08 hrs IST: Naorem commits a dangerous foul in the final third. The resulting free-kick is well worked but Dheeraj calmly collects the shot.
20: 06 hrs IST: Ghana clearly the faster of the two sides, and are also dominant physically. India have their work cut out for them this evening. GOAL... ruled out for offside! Ayiah taps in from close range but is flagged by the linesman.
20:03 hrs IST: Dheeraj forced into action after a low cross from the right wing deflects into his path. Ghana already imposing themselves on the game.
20:02 hrs IST: India earn an early corner. And so nearly! A tantalising ball in the near post misses everyone and is collected by Ibrahim Danlad. Ghana slowly finding their passing rhythm after India's initial burst.
20:00 hrs IST: Will India be able to salvage a result today or will Ghana seal their spot in the knockouts? We will find out now, because play is underway!
19:58 hrs IST: Crowd erupts after Indian national anthem finishes. The players look quietly confident.
19:54 hrs IST: Players have emerged from the tunnels to raucous cheers. They are lining up for the national anthems.
19:52 hrs IST: The stadium isn't full yet, but the noise levels remains high. Players set to emerge for anthems soon.
19:49 hrs IST: Cheers go up once again as FIFA mascots emerge carrying the tournament's logo. Kick-off now 10 minutes away.
19:48 hrs IST: Only 15 mins to go till kick-off. The noise level continues to remain deafening.
19:44 hrs IST: The noise is deafening in the stadium! everyone is hoping for a positive result as India face Ghana
19:40 hrs IST: The organisers have claimed that the match will be a full house, but there are a lot of empty seats in the stadium. Jitendra Singh is also included in the starting XI. He replaced Namit Deshpande.
19:35 hrs IST: For India, Anwar Ali and Amarjit Singh are both starting despite injury scares. suresh Singh, Aniket Jadhav and Naorem comes in for Abhijit Sarkar, Meetei and Rahim Ali
19:33 hrs IST: Ghana have opted for five defenders. Kudus Mohammed, Aminu Mohammed and Emmanuel Toku are the big names missing from the team sheet. Kind of a defensive mindset for Ghana in this game?
19:25 hrs IST: India have put up a fight in all matches. They had their moments against USA, while against Colombia, they were on the cusp of something special until a lapse in concentration. Can they achieve somethins special against Ghana?
19:06 hrs IST: Mali have secured a magnificent 3-1 win over New Zealand while Paraguay have defeated Turkey 3-1 to advance to the next round.
18:57 hrs IST: For India, October 9 will be a historic day for football in the country. Jeakson Singh became the first goal-scorer for the country in a major FIFA event and he will once again be the key in this encounter.
18: 52 hrs IST: India have a faint chance of reaching the round of 16, but will need a miracle. For starters, they will have to defeat Ghana by more than three goals, no mean feat against the two-time tournament champions.
18:38 hrs IST: A warm welcome to India's final league game of the FIFA U-17 World Cup against Ghana. While India are all but out of the tournament, Ghana will be hoping to win and ensure Colombia lose to the United States of America.
Ghana have been one of the strongest sides in FIFA U-17 World Cup history, the African heavyweights having won the competition twice (1991 and 1995). However, the Black Starlets have not won the title since and the current side will be looking to end their 22-year trophy drought. This will be their ninth appearance in the FIFA U-17 World Cup.
The Amarjit Singh-led Indian football team were beaten 3-0 by USA in their first game, but they came back strongly against Colombia. Jeakson Singh became the first India to score at a FIFA tournament and although the team produced a tight defensive performance, the Latin American heavyweights were able to clinch a narrow win. Head coach Luis Norton De Matos , however, is not disheartened by the results and believes that the Indian team has improved by leaps and bounds.
Close Story