Here's how you can stay awake while driving and avoid accidents
Jun 19, 2018 08:53 AM IST
Whether you're taking a road trip or often return tired from work, these helpful tips will keep you awake behind the wheels and avoid fatal accidents.
When driving long distances, especially at night, it is easy to feel tired and groggy. It is important to stay awake and alert when driving as even a small misjudgment could be fatal, not just for you but also your family.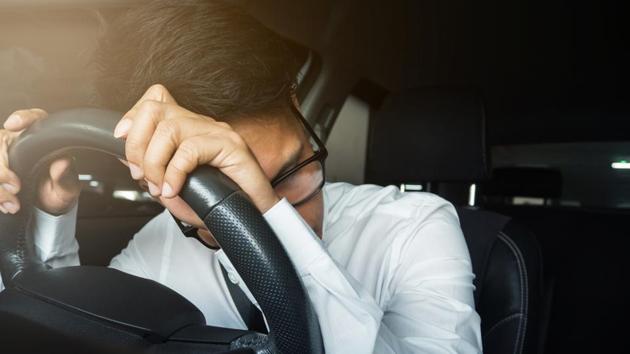 Here are some tips to keep in mind to avoid dozing off.
1) Don't drive when sleep deprived: It is important to get behind the wheel after getting a good night's rest. "People who are already sleep deprived have the tendency to doze off during the day more often. Obesity and snoring at night could be symptoms of a breathing related sleep disorder which one is not aware of," says Dr Jayalakshmi TK, consultant, pulmonology, Apollo Hospitals, Navi Mumbai. One can use a device called CPAP to improve sleep at night.
2) Avoid alcohol: Do not drive under the influence of alcohol as it can make you drowsy. "Also, avoid drinking too much coffee or tea the night before the trip. This will interfere with your sleep, making you drowsy behind the wheels," she adds. According to Dr Shaunak Ajinkya, consultant psychiatrist, Kokilaben Dhirubhai Ambani Hospital coffee drinking comes with the risk of crash. He explains, "Caffeine/ stimulants usually keeps one awake. But if one has to stay awake consistently then drinking coffee every time is a disastrous option because the crash which coffee causes in the system is worse than the stimulating effect."
3) Avoid medicines: Dr Jayalakshmi TK adds, "Some medicines can also induce drowsiness, especially cough medicine, epilepsy medication and some anti-allergy medicines. Be cautious of this and avoid them before a long drive."
4) Exercise and meal: Have a short exercise session before the drive. You can even add a healthy meal to help keep your sugar levels down.
5) Break your attention: When behind the wheel give your eyes a break. "Focus on the road, but move your eyes to surroundings when safe. This will soothe your eyes," says Dr Ajinkya.
6) Chewing gum: Chew on a gum, this will get the digestive system working and the brain is on a natural reflex to be up.
7)Take frequent breaks: He adds, "At night take breaks, keep the lights in your car turned on and stay hydrated because the air conditioning can dehydrate the body."
Follow @htlifeandstyle for more
"Exciting news! Hindustan Times is now on WhatsApp Channels
Subscribe today by clicking the link and stay updated with the latest news!"
Click here!