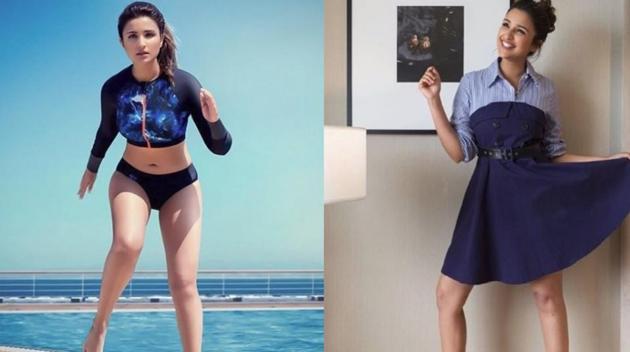 I have no pressure to look a certain way, says Parineeti Chopra on fitness
Parineeti Chopra proved her critics wrong when she opted to lose weight the healthy way. The actor likes to stay fit by doing different workouts such as pilates, dancing and Kalaripayattu (a form of martial arts from Kerala).
UPDATED ON MAY 06, 2018 01:47 PM IST
Parineeti Chopra has always been honest about her fitness journey. She's one of those very few actors who accepted that she was overweight and worked hard to become fit and healthy.
While some people lauded her dedication, others criticised her for sending out a negative message on body image. However, the actor says these comments don't affect her.
"I feel no pressure to look a certain way," says Parineeti Chopra in an interview to IANS. She adds, "You can't always pay attention to what people are talking about you. If you do, you will get into a vicious circle. You have to feel good, you have to feel fit. Fitness is extremely subjective and that's the fun of it,"
Recently, Parineeti was approached by Speedo India to be the brand's fitness ambassador and she did complete justice to the role.
Two years ago, Parineeti shocked her fans with her dramatic weight loss. She went from a size 38 to size 30 with dedicated fitness regime for a year. She further adds, "Fitness is all about challenging yourself -- every single day, every single training session. If it doesn't give you the rush, the thrill, you will get bored. I look for something new, something to push my physical boundaries every single day."
Parineeti also likes spending a lot of time working out different areas of her body. Though she's not a big fan of gyms and structured workouts, she likes to mix it up. "I hate going to the gym, running on treadmills or doing weights. I like keeping it fun and relaxed because that is when you are sure to get results.
I opt for mixed workouts so that I didn't get bored of doing just one thing. I love dancing for an hour or two. I often go for a swim or practise Kalaripayattu (a form of martial arts from Kerala), with the help of my trainer. I hit the gym once in a while. It's important to be consistent, stay active and sweat it out," she says in an interview to Times Of India.
The Ishaqzaade and Golmaal Again actor also follows a strict diet but with cheat days to keep her progress on track. Want to follow Parineeti's footsteps towards a fitter you? Follow her fitness mantra: do what you love, love what you do.
(With inputs from IANS)
Follow @htlifeandstyle for more
Close