FIFA World Cup: Senegal, Japan fans sweep stadium after victory, win hearts
Japan and Senegal upstaged rivals on the pitch, and their fans won the hearts of hosts Russia and global football fans by cleaning the stadium before leaving following the victory.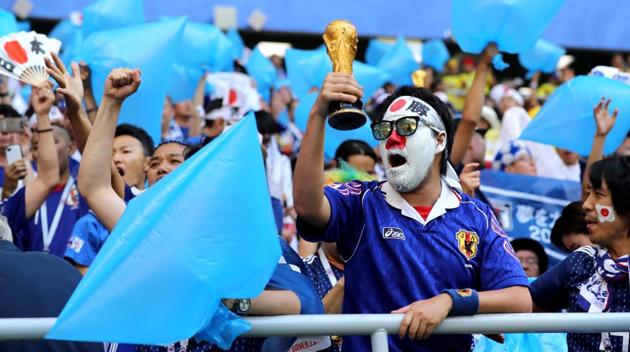 Updated on Jun 21, 2018 12:13 AM IST
Japan and Senegal are the feel-good underdog stories of the FIFA World Cup 2018 with their performances against Colombia and Poland respectively. Japan defeated the 2014 quarter-finalists 2-1 and Senegal gave the African continent some cheer at last with a 2-1 win over Poland on Tuesday.
The results on the field gave both nations plenty of joy. However, the actions of the Senegalese and Japanese fans following the victory has given the football world plenty of joy and their counterparts from other countries perfect role models.
Several videos have emerged on social media which show Japanese and Senegalese fans cleaning up the part of the stadium they had occupied during the games. Fans of the Japanese team, nicknamed 'Blue Samurai', whipped out large trash bags they had brought along, scouring the stands for litter at Saransk following the game.
In an interview with BBC, a Japan-based soccer journalist said, "An important aspect of Japanese society is making sure everything is absolutely clean and that's the case in all sporting events."
An Argentine TV channel showed Senegalese fans to fanning out on the stands and picking up trash and putting it in a pile following their win at the Spartak stadium in Moscow.
The wins by Japan and Senegal have given both teams a chance to enter the round of 16, but the behavior of the fans of both teams have already left them champions in the hearts of the Russian people and those around the world.
Close Story