Full schedule of FIFA World Cup 2018: Dates, timings, live streaming, live scores
Hindustan Times |
HT Correspondent
May 31, 2018 02:52 PM IST
Schedule of FIFA World Cup 2018 stretches over a month from June 14-July 15, 2018. The stars of world football will converge in Russia as the latest edition of the FIFA World Cup gets underway.
The FIFA World Cup is set to invade the hearts and minds of football fans all over the world once again. The quadrennial event is taking place in Russia this year and will run from June 14-July 15. A total of 64 fixtures will be played in the course of the tournament with hosts Russia opening proceedings vs. Saudi Arabia on the first day of the tournament. 32 teams have been slotted into eight groups, consisting of four teams each. The top two placed teams from each group will qualify for the knockout rounds and the remaining two teams will battle it out in the final on July 15 for the right to be called champions of the world. See full schedule of FIFA World Cup 2018 here.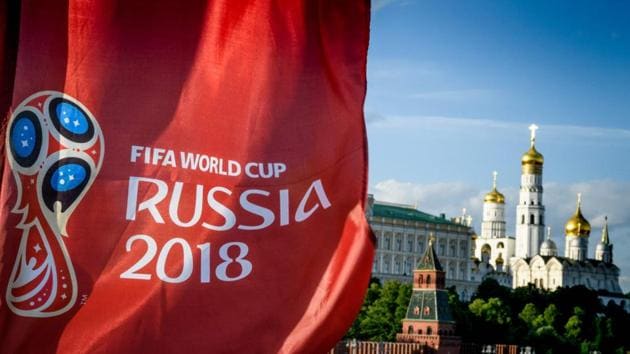 Where will the matches be telecast?
All matches will be aired live on Sony Ten 2/HD and Sony Ten 3/HD in the Indian subcontinent. Live action can be streamed via the SonyLiv app or on SonyLiv.com.
What is the schedule of FIFA World Cup 2018?
Schedule of FIFA World Cup 2018 can be found below (All dates and timings in Indian Standard Time)
June 14, 2018: Russia vs Saudi Arabia (8:30pm)
June 15, 2018: Egypt vs Uruguay (5:30pm), Morocco vs Iran (8:30pm), Portugal vs Spain (11:30pm)
June 16, 2018: France vs Australia (3:30pm), Croatia vs Nigeria (5:30pm), Argentina vs Iceland (6:30pm), Peru vs Denmark (9:30pm)
June 17, 2018: Costa Rica vs Serbia (12:30am), Germany vs Mexico (8:30pm), Brazil vs Switzerland (11:30pm)
June 18, 2018: Sweden vs South Korea (5:30pm), Belgium vs Panama (8:30pm), Tunisia vs England (11:30pm)
June 19, 2018: Poland vs Senegal (5:30pm), Colombia vs Japan (8:30pm), Russia vs Egypt (11:30pm)
June 20, 2018: Portugal vs Morocco (5:30pm), Uruguay vs Saudi Arabia (8:30pm), Iran vs Spain (11:30pm)
June 21, 2018: France vs Peru (5:30pm), Denmark vs Australia (4:30pm), Argentina vs Croatia (11:30pm)
June 22, 2018: Brazil vs Costa Rica (5:30pm), Nigeria vs Iceland (8:30pm), Serbia vs Switzerland (4:30pm)
June 23, 2018: Belgium vs Tunisia (5:30pm), Germany vs Sweden (8:30pm), South Korea vs Mexico (11:30pm)
June 24, 2018: England vs Panama (5:30pm), Japan vs Senegal (8:30pm), Poland vs Colombia (11:30pm)
June 25, 2018: Saudi Arabia vs Egypt (7:30pm), Uruguay vs Russia (8:30pm), Iran vs Portugal (11:30pm), Spain vs Morocco (10:30pm)
June 26, 2018: Australia vs Peru (7:30pm), Denmark vs France (7:30pm), Nigeria vs Argentina (11:30pm), Iceland vs Croatia (11:30pm)
June 27, 2018: South Korea vs Germany (7:30pm), Mexico vs Sweden (7:30pm), Serbia vs Brazil (11:30pm), Switzerland vs Costa Rica (11:30pm)
June 28, 2018: Japan vs Poland (7:30pm), Senegal vs Colombia (7:30pm), Panama vs Tunisia (11:30pm), England vs Belgium (10:30pm)
Round of 16:
June 30, 2018: Group C winners vs Group D runners-up (7:30pm), Group A winners vs Group B runners-up (11:30pm)
July 1, 2018: Group B winners vs Group A runners-up (7:30pm), Group D winners vs Group C runners-up (11:30pm)
July 2, 2018: Group E winners vs Group F runners-up (12:30am), Group G winners vs Group H runners-up (11:30pm),
July 3, 2018: Group F winners vs Group E runners-up (7:30pm), Group H winners vs Group G runners-up (11:30pm)
Quarter-finals:
July 6, 2018: QF 1 (7:30pm), QF 2 (11:30pm)
July 7, 2018: QF 3 (7:30pm), QF 4 (11:30pm)
Semi-finals:
July 10, 2018: Winner QF 1 vs Winner QF 2 (11:30pm)
July 11, 2018: Winner QF 3 vs Winner QF 4 (11:30pm)
Third place playoff:
July 14, 2018: Loser of SF 1 vs Loser of SF 2
Final:
July 15, 2018: Winner of SF 1 vs Winner of SF 2 (8:30pm)