Gurgaon: Eight-foot Indian rock python sighted in Sohna village, rescued by wildlife team
Aug 20, 2017 10:40 PM IST
The python tried to attack members of the wildlife team as it tried to rescue it
An eight-foot long male Indian Rock python, weighing 15kg, was rescued by a wildlife rescue team oat village Silani, on Palwal Road, Sohna on Saturday night . During the 35-minute rescue operation, the python tried to slip away but it was under surveillance of villagers until the team reached the spot.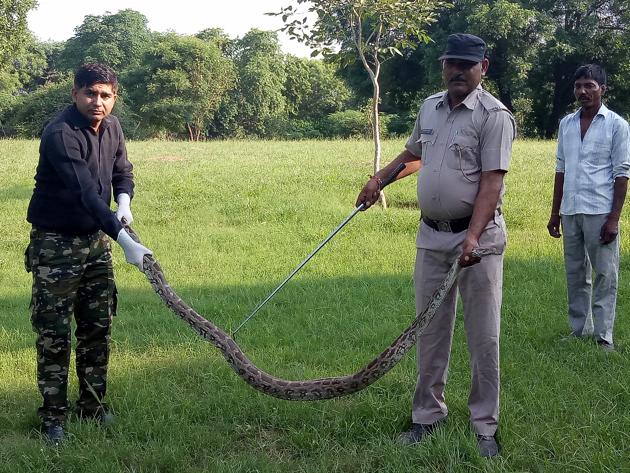 Around 9:59 pm on Saturday, the wildlife guard received a call from Om Prakash, the panchayat chief, saying that they had spotted the snake struggling to find its way out of a drain in the open area of the house.
"I received a call from Kripa (the owner of the house where the python was spotted) and he was frightened. He asked to reach his house at the earliest and told me about the snake. The area was surrounded by several villagers and panic gripped the area. This was the first time a python had been sighted in our village," Prakash said.
Following multiple calls from village and Sohna police, a rescue team from the wildlife department arrived at the spot.
The team was led by Dr. Ashok Khasa, a veterinary surgeon and also comprised Anil Gandas, who runs an NGO and helps the officials in such operations, inspector Sunil Kumar and Krishna Kumar, a wildlife guard.
"There was a huge crowd when we reached the spot. The snake was sitting in the drain silently. Not a word escaped from the villagers either, as they eyed the reptile," Khasa said.
However, python tried to attack members of the rescue team as they tried to catch it.
The rescue operation was carried out for around 35 minutes and finally, the team managed to catch the python and stuff it in a large cotton sack. "We suspect the python came from the neighbouring Aravalli forest," Khasa said.
The python was kept under observation to check if it had any injuries and was released into the forest under the supervision of wildlife officials.
Read I Vacant plots in DLF City turn breeding ground for snakes
According to wildlife officials, this is the third Indian rock python to be rescued in the district in the last five years. Earlier, pythons were sighted and rescued from Sohna Dhani, Baliyawas in Faridabad and Ghata in Gurgaon.
Wildlife activists said that the number of python sightings in the district has gone up considerably over the last few months.
"In Sohna, a lot of green cover has been destroyed leading to a shrinkage of habitat. Snakes and other animals that are native to the area have been displaced as a result of this. We feel the python was similarly displaced as well," Khasa said.