Inaction allows illegal waste dumps in Aravallis to grow, contaminate water in Gurugram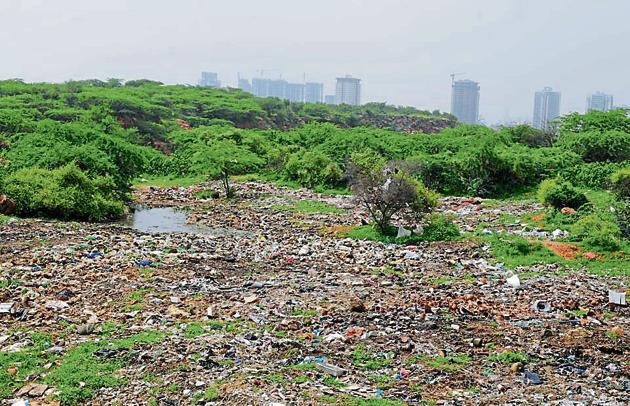 Updated on Jul 30, 2018 03:42 PM IST
Hindustan Times, Gurugram | By Prayag Arora-Desai
Six months since they were first observed, two unauthorised dumps of mixed municipal solid waste in the heart of Aravalli forests near Gurugram continue to grow despite repeated complaints to the forest department and the Municipal Corporation of Gurugram (MCG), activists said.
The dumps, which lie in a hilly, forested area between Behrampur and Kadarpur villages of Gurugram district, were noticed by lawyer and environmentalist Paramvir Narang, who frequents the area for runs and treks. After finding the first dump in January, he shared his findings with activists Vaishali Rana Chandra and Sharmila Kaushik, and the duo have since raised the issue repeatedly with officials of the MCG and the forest department, but to no avail.
In about six months, one of the two dumps has grown to cover an acre of land.
"The area is home to peacocks, jackals, nilgai and even the occasional leopard, this dump jeopardizes their survival," Chandra said.
Earlier this month, the Hindustan Times got a video evidence of a nilgai feeding on plastic waste at the same site, which is just a kilometer away from a natural, seasonal water body.
The presence of a dump next to this water body not only poses a risk to the wildlife, but also threatens human life as the leachate from the decomposing toxic garbage enters the ground and then our food cycle, Chandra explained, adding that Aravallis act as aquifers for Gurugram, Faridabad and all of national capital region (NCR).
A spot visit by a Hindustan Times team on Sunday revealed that a pond of leachate has formed at the first dump—coordinates 28°23'02.9"N, 77°07'11.4"E—and a stream from it now flows towards a larger water body near Behrampur village. This process is being exacerbated by the ongoing monsoon.
An examination of the waste itself revealed a mix of objects, from plastic to gunny sacks, vegetable discards, broken ceramic fixtures, styrofoam utensils and asbestos sheets, among others.
About three months ago, Narang came across another smaller dump of unsegregated municipal waste less than a kilometer away from the original site. Both locations can only be accessed by heavy vehicles such as trucks, tempos or SUVs, which can enter from either Kadarpur or Behrampur.
"We have written two emails and had several WhatsApp conversations with MCG joint commissioner YS Gupta and Gurugram Chief Conservator of Forest (Protection) Vikram Saxena. Mostly, they do not respond, but once Mr Saxena said that the information had been passed on to the right official. The number of dumps has grown to two, and the first one spreads across an acre," Chandra said, adding that the site violates both waste management and forest laws.
On Sunday, Gurugram chief conservator of forest (protection) Vikram Saxena said he has notified conservator of forest D Hembram and district forest officer Deepak Nanda to act on the activists' complaints. "I have asked them to submit a detailed report of actions taken," Saxena said, adding that the department would act on complaints as they come. However, Saxena acknowledged that no official intimation was provided to his subordinates.
Neither Nanda nor Hembram respond to repeated calls and messages for their comment on the matter.
MCG junior engineer Manoj Kaushik, in whose jurisdiction the area falls, said he was unaware of the presence of any illegal garbage dump. "I will have it cleared by tomorrow (Monday)," he said.
Close Story