Madhi residents debunk conversion claim, call it attempt to defame village
Yaddin, the village sarpanch, said though the area is Muslim-dominated, no one has ever forced a Hindu resident to embrace Islam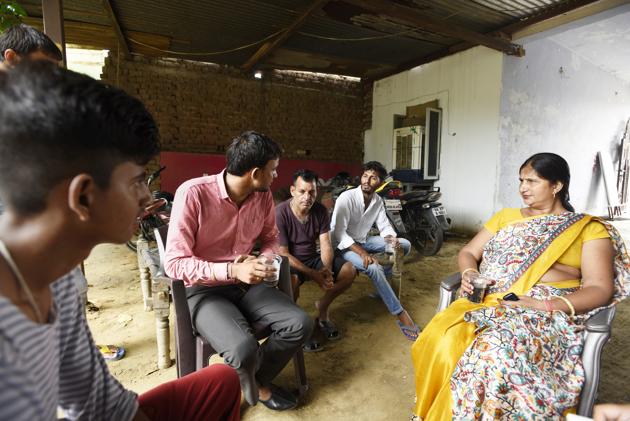 Updated on Jul 31, 2017 10:23 PM IST
Hindustan Times |
, Mewat
Yashaswani Sehrawat
Rubbishing allegations that the Hindu students were forced to offer namaz and convert to Islam, residents of the Madhi village called it was an attempt to defame Mewat.
The Mewat district administration had on Friday suspended two teachers and transferred a third one following complaints of forced conversions.
"Our kids study here and we too visit the school. Praying or not praying is solely one's own wish. Neither the students nor any of the teachers have ever forced anybody to qubool (embrace) Islam," 50-year-old Yaddin, Madhi village sarpanch, said.
Yaddin said that though the area is Muslim-dominated, nobody has ever forced or even asked a Hindu to pray with them.
Asar Khan, an ex-panchayat member, said that all the news reports stating that beef biryani was being made at the hostel and the Hindus were forced to offer namaz are false.
"This is a school where students come to study. It doesn't matter whether a student is a Hindu or a Muslim. All this is baseless and are only meant to give a bad name to Mewat," Khan said.
Siddique, the head of a committee who looks into the Madhi school and the one who represents the school in meetings of Mewat Development Agency (under which the school is run), said the suspension of teachers and these baseless rumours was a conspiracy by the school in-charge Navin Shakti and one of the teachers, Santram.
"I have often noticed during my rounds that Santram was never in his classroom and always used to roam around. He used to sit with the new school in-charge. I personally saw him consuming alcohol in one of the empty classrooms around 8-10 days ago," Siddique said.
He said that since Muslim teachers used to tell Santram to focus on his work and villagers often scolded him, Santram decided to take revenge (by making up the forced conversion story).
Mohd Arif, the hostel warden and the social science teacher, who has been transferred ,had a similar tale to tell.
"We have been targeted by Santram and Shakti madam. Santram was earlier in Punhana and was suspended for allegedly harassing a girl," Arif told HT.
Read I Unease at Mewat school after students allegedly forced to offer namaz, probe on
Arif said no forced conversion ever happened in the school or the hostel.
"The letter of transfer doesn't even mention the reason for the transfer. How can then one blame us for forcing our religion on the others?" he said.
On Friday, a group of CID and district officials visited the Mewat Model School in Madhi village and took the statement of the students. They also sealed the computer lab of the school over suspicions of foul play.
The same day, two teachers- Mubarik Ali, who taught computer science, and Urdu teacher Mainuddin- were suspended while Arif, who was also the social science teacher, was transferred to the school in Firozpur Jhirka.
A three-member committee, headed by director of education, was formed to look into the issue on Friday.
Chairperson of Mewat Development Agency Khurshid Ahmed said that he had visited the school recently and nothing of this sort came to light.
"I was myself shocked to know that such allegation were made against teachers and students. I had visited the school only the previous day and nobody told me anything," he said.
"Things would be clear after the report comes out," he said.
Close Story
Personalise your news feed. Follow trending topics