Gurgaon women all praises for Baxi's free-ride offer on Tuesdays
Women commuters of the city welcomed Baxi's decision to offer them free trips on car-free Tuesdays. Baxi is a recently launched two-wheeler taxi service in Gurgaon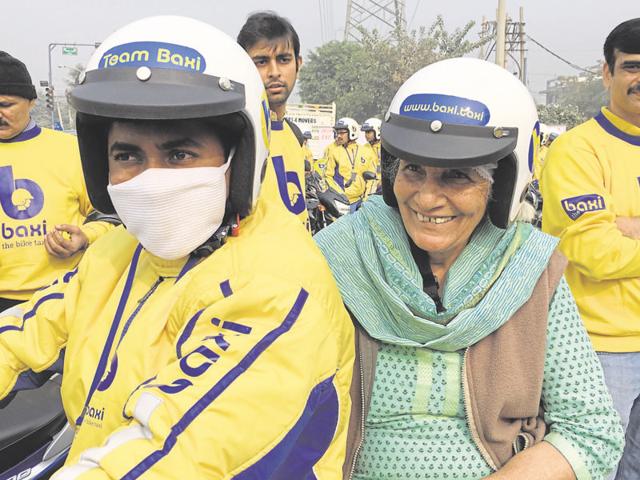 Updated on Dec 09, 2015 01:42 PM IST
The women commuters of the city welcomed Baxi's decision to offer them free trips on car-free Tuesdays. Baxi is a recently launched two-wheeler taxi service in Gurgaon.
The initiative is part of the company's #WomenLoveBaxi campaign.
Several commuters, who were unaware of the free-ride offer, said they were surprised when the drivers did not charge them.
"I think it is a wonderful decision by Baxi. I took a Baxi ride home after hearing about the free-ride offer," Aditi Khattar, a resident of South City 1, said.
The women commuters said Baxi had gained popularity as it was cheaper than autorickshaws. They also said Baxi took them to their destinations quickly and safely.
Priyal, an employee of a corporate firm, said, "The city has major last-mile connectivity issues. I think Baxi is successful and preferable as it can easily move through heavy traffic in the city. The other day, I reached my office in 15 minutes using the service where it usually takes as long as 40 minutes."
According to figures provided by Baxi, about 10% of the total 250 passengers, who used the service on Tuesday, were women.
Commuters, who book a Baxi through the app, will get a bonus of `50 in their Baxi wallet. The fare for Baxi starts at Rs. 10, with an additional charge of Rs.4 per km and Rs.1 per minute as waiting charges.
The service that started on December 1 has received a good response as it serves as a cheaper alternative to autorickshaws and solves the issue of last-mile connectivity.
Baxi has already completed close to 600 rides with a fleet of 23 bikes. It is also planning to add more bikes to take the tally to 500 bikes in the next two months.
Shanta Gaur, a homemaker, who took a Baxi from Huda City Centre to DLF Phase 4, said, "It was a pleasant ride. The driver was cautious and I got a free ride. I also reached the destination faster than usual."
Close Story
Personalise your news feed. Follow trending topics