Marvel fans have decoded Infinity War directors' mysterious Avengers 4 pic
Sep 22, 2018 07:47 PM IST
Never underestimate Marvel fans. Mere days after the Infinity War directors posted a cryptic picture from the Avengers 4 sets, they've decoded its meaning.
Days after Joe & Anthony Russo, directors of several Marvel movies including the recent Avengers: Infinity War, shared a cryptic post urging fans to 'look hard' at it for any hidden clues, fans have done exactly that. Not only have they spotted an object in the picture, they've also identified it and decoded its meaning in the future of the Marvel Cinematic Universe.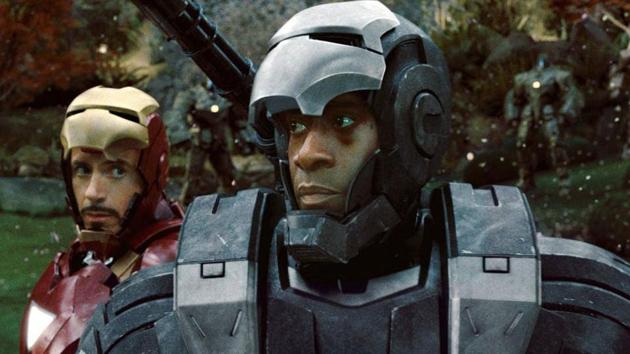 In the top left-hand corner of the black & white picture posted by the Russos on September 19, fans have spotted a large machine. Twitter user Erik Matthews was one of the first to remark that the object looked a lot like another object that appeared in an Infinity War scene.
Several other fans on Reddit have now said that the object is a proton canon that will be attached to War Machine's armour in Avengers 4. There are two reasons this could be possible. The first, as the Redditors have pointed out, is that a similar armour appears in the Marvel vs Capcom video game, a picture of which was attached in the post. Second, in previously leaked concept art of Avengers 4 - in addition to a beardless Captain America and a suited-up Hulk - we can also see War Machine wearing a bigger suit of armour, and on his left shoulder is - you guessed it - a massive canon.
War Machine is played by Don Cheadle in the Marvel films, and the character is widely rumoured to be taking over (at least partially) the void left by Iron Man's rumoured death.
The most immediate mystery regarding Avengers 4, though, is its title. While several fans on Twitter claimed to have seen patterns in the Russos' picture that spelled the word 'endgame' - that's the most heavily rumoured title for the film - Marvel president Kevin Feige previously said that the title will only be revealed post the release of the first Captain Marvel trailer, which happened last week.
In an interview to IGN, Feige admitted that being so secretive about the Avengers 4 title had backfired on them. "I've said before, it's gotten entirely out of hand. And now will have no chance to living up to any expectations of what it's gonna be. And it sort of backfired, if I'm honest with you, because the notion was to not talk about it so the focus was to be on (Infinity War)."
Avengers 4 is currently undergoing reshoots in Atlanta, and will serve as a conclusion to this phase of the MCU. The film stars Robert Downey Jr, Chris Evans, Mark Ruffalo, Chris Hemsworth, Scarlett Johansson, Elizabeth Olsen, Chris Pratt, Zoe Saldana, Josh Brolin and others. Marvel on Friday announced an Eternals film, to be directed by Chloe Zhao, making it one of only a handful of confirmed post-Avengers 4 projects.
Follow @htshowbiz for more