Virat Kohli on 'rift' with Anil Kumble: Stop speculating, writing rumours
Updated on Jun 03, 2017 10:01 PM IST
Virat Kohli spoke on the eve of India's Champions Trophy opener against Pakistan in Birmingham on Sunday. The Indian cricket team skipper said his relationship with coach Anil Kumble was fine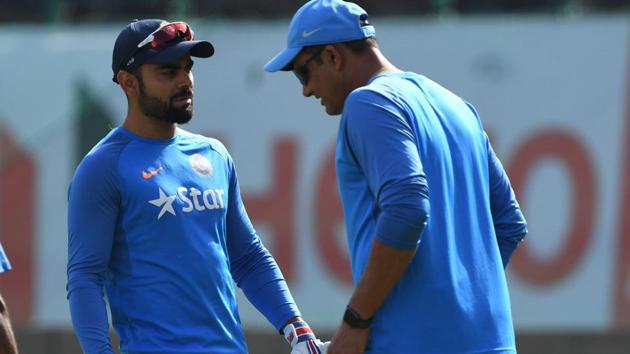 Virat Kohli's pre-match press conference in Birmingham on Saturday put a lid on the reported 'rift' between the Indian cricket team captain and head coach, but only just. (CHAMPIONS TROPHY FULL COVERAGE)
When you play a big game against Pakistan in less than 24 hours, it is foolhardy to expect that a captain of a team that is defending the ICC Champions Trophy will spit venom at his coach. True to expectation, Virat Kohli showed a matured head when he was asked questions on his relationship with head coach Anil Kumble. (SA vs SL LIVE)
Kohli said there were "no issues" with Kumble and people who were writing on his allergy towards the former Indian cricket team captain were "without any knowledge."
India play Pakistan in their opening Group B match of the ICC Champions Trophy 2017 in Edgbaston on Sunday. Reports of a rift between the captain and coach have dominated headlines this week.
ILL-TIMED
The BCCI decision to advertise for a head coach and Ramachandra Guha's resignation from the committee of administrators only queered the pitch.
But Kohli timed his answers pretty well, defending the tricky ones with crisp replies like "working with Kumble has been good."
Emotional and intense by nature, Kohli had no extra appreciation for Kumble and said the process of selecting a new coach will take its own course and he had nothing to do with it.
Kohli took a swipe at the media for speculating on the dressing room atmosphere.
"It's their livelihood (to write exciting stuff for the readers) but it is our livelihood to play cricket and stay focused. I would not speculate on something that I am not sure of. Differences of opinion are part of life," Kohli said.
Kohli was relatively more forthcoming on MS Dhoni, the eldest statesman in a team that has retained the core of the 2013 Champions Trophy victorious squad.
'DHONI PRICELESS'
"Priceless to have MS Dhoni's thoughts in the team. I keep seeking his advice every now and then. More often than not, we are thinking on similar lines. Both of us want to win a match," said Kohli.
It is not clear what role Dhoni is playing in the dressing room, but one thing is sure that India are not taking Pakistan lightly. Pakistan have a 2-1 win-loss record against India in Champions Trophy and the current team has several unknowns that can catch India by surprise.
"Pakistan can beat anyone on their day. We just have to play good cricket and focus on our skills," the India skipper said.
Kohli didn't reveal India's team composition, saying a lot would depend on the playing conditions.
Having said that "even 300 was not a safe target" in ODIs, Kohli may opt for an extra bowler to defend a score. Hardik Pandya thus remains in the equation as the arsenal available to Kohli (and Kumble) is a "good headache to have."
"There's nothing safe in this day and age,' said a philosophical Kohli as his press conference drew to a close.
Was that message for Anil Kumble? Or a score? Whatever it is, Indian cricket remains in the realm of unknowns.
Close Story
Personalise your news feed. Follow trending topics