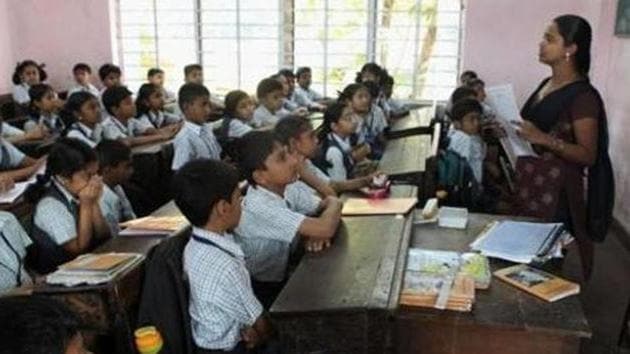 14 lakh Haryana students without books for a month
WHY THE DELAY?A month into new academic session, government school students in Punjab and Haryana are without books. They have wasted most of their time playing games in classrooms or are being asked to study from second-hand books. While officials of education departments of the two states have ready excuses to cover their sloppiness, Himachal Pradesh has set an example by providing books to all the students in its schools even before the session began. HT looks at what is holding them back.
UPDATED ON MAY 13, 2017 05:00 PM IST
Even after a month of the academic session, 14.5 lakh government school students of Classes 1 to 8 in Haryana are without textbooks.
The students are reaching schools daily, but do not have much to do. They are made to study from "old and torn" borrowed books. The department says it is on purpose as teachers have been asked to use April as "catch-up month'' and fill "skill passbook" of each student to assess their learning level.
Additional chief secretary, school education, PK Das told HT that while books are ready and being dispatched to the schools, the teachers undertook the catch-up activities to adopt the methodology as per the children's needs. The teachers, however, said the exercise was only to "fill in the blanks", calling it a wastage of one month of the students. "This has hit the attempt of the state government to impart qualitative education encourage more and more students to come to the government schools," said a teacher, requesting anonymity.
Primary Teachers' Sangh general secretary Deepak Goswami, a teacher at a Karnal school, said the authorities were repeatedly urged to supply textbooks, but to no avail. Another teacher, Sube Singh Sujan, said the teachers had arranged old books from the pass-outs, though the same were not enough. Several students HT talked to, including Rahul and Ashok of the government school in Rohtak, held that their studies had suffered due to non-availability of books.
Close