2 days, 7 events, 9 hours: Modi-Xi informal summit sets new precedent
PM Modi and China president Xi Jinping called their informal talks candid, and were looking at new ways of communicating, foreign secretary Vijay Gokhale said. Modi invited Xi to India for the next informal summit.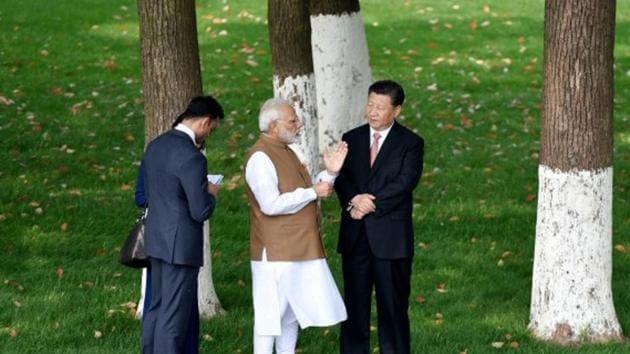 Updated on Apr 28, 2018 02:28 PM IST
Prime Minister Narendra Modi and Chinese President Xi Jinping spent nine hours together during the course of their informal summit in Wuhan on Friday and Saturday, Chinese ambassador to India Luo Zhaohui said.
"7 events in 2 days, President #XiJinping and PM Modi sepnt 9 hours together, covering a wide range of topics in in-depth exchanges with much consensus. Thumbs up to the two leaders! (sic)," Luo tweeted following Modi's departure for India on Saturday.
After his arrival early on Friday, Modi and Xi first met at the Hubei Provincial Museum where the two leaders held one-on-one talks.
Xi then accompanied Modi on a tour of an exhibition of Marquis Yi of Zeng Cultural Relics and Treasure displayed at the museum.
Thereafter, the two leaders held delegation-level talks that "went well beyond the budgeted time" as Indian foreign secretary Vijay Gokhale put it at a media briefing on Saturday.
On Friday evening, the Chinese President hosted a dinner in honour of the visiting Indian Prime Minister.
Modi and Xi again held discussions over tea on Saturday morning and took a walk along the East Lake.
The two leaders then took a boat ride on the scenic East Lake, which was followed by a lunch hosted by Xi before Modi's departure for India.
Close Story