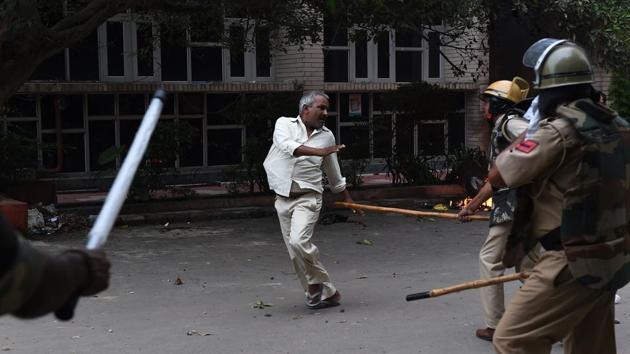 30 killed as Ram Rahim supporters run riot, prohibitory orders in Delhi: Top stories to bring you up to date
From violence over self-styled godman Gurmeet Ram Rahim Singh's conviction in a sexual assault case to alleged lapses on part of the Haryana administration --- here are the top stories this morning.
Hindustan Times | By HT Correspondent
UPDATED ON AUG 26, 2017 08:09 AM IST
'Godman' Gurmeet Ram Rahim held guilty of rape, supporters run riot, 30 killed and 200 injured in violence in Haryana
At least 30 people were killed on Friday after followers of controversial "godman" Gurmeet Ram Rahim Singh rampaged across Haryana and Punjab, clashing with police and setting fire to vehicles and railway stations to protest against his conviction in the 2002 rape of two women. Most of the deaths occurred in Panchkula, where Singh, the head of the Dera Sacha Sauda sect, was convicted in a highly guarded CBI court earlier in the day. Two deaths were reported from Sirsa, the sect's headquarters. At least 200 were injured. Minutes after the verdict, the guru's hysterical followers began targeting vehicles and offices with sticks and stones, turning the streets of Panchkula into a virtual war zone. Police first used batons and water cannons, and finally fired to disperse the followers of Singh. Read the story here.
Violence over Ram Rahim rape conviction leaves dozens dead: 5 questions Khattar-led Haryana govt must answer
Haryana was blighted by the violent reaction of Dera Sacha Sauda chief Gurmeet Ram Rahim Singh's followers — which left at least 30 people dead — after the special CBI court pronounced him guilty in a rape case. Chief minister Manohar Lal Khattar reportedly admitted to mishandling the situation, making a series of unforced errors. Some of the questions he must answer include: Why did the government allow the build-up of dera followers? Why were prohibitory orders not enforced to stop gathering of dera followers? Why didn't Khattar and his colleagues use their pull with dera? Read the story here.
Ram Rahim verdict: First time in a decade, prohibitory orders in 80% of Delhi
This is the first time in the last 10 years that Delhi Police have imposed prohibitory orders under Section 144 of CrPC in almost 80% of the city area. The orders were enforced on Friday after violence erupted in several parts of the capital — within 13 minutes of the Dera Sacha Sauda chief Gurmeet Ram Rahim Singh being convicted in a case of rape by a Special CBI court in Panchkula. Of the 13 police districts, prohibitory orders have been imposed in 10 districts. Delhi police officers say they do not remember the last time, when Section 144 was imposed in such a large area. Read the story here.
Ensure security of CBI judge who convicted Ram Rahim, Centre tells Haryana
The Centre asked the Haryana government on Friday to provide adequate security to the CBI special court judge who convicted Dera Sacha Sauda chief Gurmeet Ram Rahim Singh in a rape case, officials said. The home ministry told the Haryana government that Judge Jagdeep Singh should be provided highest level of security in view of the threat perception after he delivered the verdict against the Dera head, an official said. Read the story here.
After Ram Rahim's conviction, who will head Dera Sacha Sauda sect?
In the wake of the conviction of Sirsa-based Dera Sacha Sauda chief Gurmeet Ram Rahim by a CBI court, now the moot question has arisen — who will head the dera empire worth billions in his absence? The sect's Sirsa headquarters has a sprawling 800-acre campus that houses a multi-specialty hospital, a stadium among other things. Also, the dera has immovable assets in Punjab, Rajasthan and Delhi besides Haryana and undisclosed bank accounts. Not only this, the dera chief also owns an array of luxury vehicles. As the dera chief never announced his heir apparent, all eyes are on Guru Brahmachari Vipasana, a 35-year-old woman who is second-in-command in the sect's hierarchy and the sole authority to take call on things on his behalf. Read the story here.
Taj Mahal is a tomb and not a temple, ASI tells court
The Archaeological Survey of India (ASI) has told an Agra court that the Taj Mahal-- widely regarded as a masterpiece of Muslim architecture—is a tomb and not a temple as claimed by a group of petitioners. In a written statement filed in the court of civil judge (senior division) on Thursday, the ASI refused to accept the contention that the world heritage site was built on a temple dedicated to Hindu god Shiva. The court in April 2015 admitted a law suit filed by six lawyers, who had claimed the Taj is a Hindu temple, Tejo Mahalaya and as such followers of the religion should be allowed access inside the premises of the monument to perform 'darshan' and 'aarti.' They also asked for opening of the locked rooms in the monument. Read the story here.
MP town tense after 'Pakistani flag' found atop a Hanuman temple
Tension erupted in Madhya Pradesh's Narsinghpur district on Thursday after a "Pakistani flag" was found hoisted atop a Hanuman temple, prompting authorities to prohibit gathering of more than four people in the district headquarters. A case has been registered against unidentified persons for hurting religious sentiments, police said on Friday. Police also prohibited sharing of "communally sensitive" contents on social medial platforms. Members of the temple committee immediately removed the flag that has a white star and crescent on a dark green field, with a vertical white stripe at the hoist. But unlike on the Pakistan's national flag, the crescent on the flag atop the temple was facing downward with a star below it. Read the story here.
Chinese Navy holds rare live-fire drill in Indian Ocean
China's navy has carried out a "live fire drill" in the Indian Ocean to improve fleet performance, state media reported on Friday, in what is the latest such naval exercise in maritime regions near India this year. The drill targeted targeted "enemy" surface ships, the media report added. The People's Liberation Army (PLA) has carried out number of well-publicised drills in the Tibet Autonomous Region (TAR) and close to Sino-India border since the ongoing military standoff between the border troops of the two countries broke out in June at Donglang near the Sikkim boundary. Read the story here.
20 killed in Islamic State suicide bomb, gun attack on Kabul Shia mosque
A suicide bomb and gun attack claimed by the Islamic State group on a Shia mosque in Kabul killed 20 people and wounded scores more Friday, officials said, the latest assault to highlight deteriorating security in Afghanistan. Gunshots and explosions could be heard during the attack that lasted around four hours and witnesses reported seeing worshippers smash windows to escape. The mosque, in a residential area in the north of the city, was believed to have been packed with dozens of men, women and children when the assailants struck during Friday prayers. Read the story here.
After anti-Muslim attack, Brazilians shower victim with love
When video went viral of a racist attack on a Muslim street food vendor in Rio de Janeiro, Brazilians wondered gloomily: had their country also been swept up in a global wave of xenophobia? The answer -- a flood of love transforming the humble vendor into a folk hero and, on Thursday, the recipient of a city award -- was a heartwarming no. Read the story here.
Close