35 more migrants die in accidents across states
Hindustan Times, Lucknow/ Bhopal/ New Delhi |
HT Correspondents
May 17, 2020 07:33 AM IST
In two of the incidents, which claimed the lives of 31, the victims were perched on cargo being carried in trucks before they were rear-ended at a high speed.
Road accidents claimed the lives of 35 migrant workers in two states on Saturday, the latest in a string of fatalities among some of the most vulnerable sections of the population who left urban centres in the hundreds of thousands and are on treacherous journeys back home after the nationwide shutdown since March 25 dried up jobs and wages.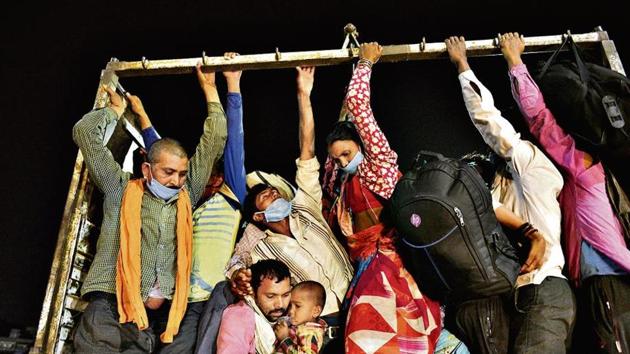 In two of the incidents, which claimed the lives of 31, the victims were perched on cargo being carried in trucks before they were rear-ended at a high speed. In one of the other cases, the victims were mowed down by a speeding truck when they had parked to refill fuel in their autorickshaw.
The deadliest of the accidents took place in Uttar Pradesh's Auraiya. "The victims were in a stationary truck that was hit by a trailer near a dhaba (roadside eatery). The truck was carrying bags of wheat flour, and most of the labourers were seated on these bags. Most of the victims died when they were crushed under these bags. Some succumbed to injuries on the way to hospital," said Abhishek Singh, the district magistrate of Uttar Pradesh's Auraiya, where 25 died.
The group, which included people employed as labourers in Rajasthan, comprised people headed to Jharkhand, West Bengal, Bihar and Uttar Pradesh. The accident took place around 3:15am and local police officials said they suspected the driver of the vehicle that crashed into the victim's truck had fallen asleep.
On the Lucknow-Agra expressway, another truck driver who is believed to have fallen asleep at the wheel crashed into a parked vehicle on Saturday, killing a man and a woman who were travelling with their five-year-old son to Bihar from Haryana. The duo had gotten off the vehicle and refilling it with petrol when they were mowed down.
The child survived the accident.
Police said the couple died on the spot and were identified with the help of the driving licence and Aadhaar Card recovered from them.
The lockdown since March 25, put in place to slow the spread of the coronavirus disease (Covid-19) has left hundreds of thousands of people without work, wages and, often, food – forcing most of them to set out on gruelling journeys on foot.
There have been several instances of people succumbing to the exhaustion in peak summer heat, while others have been run over on roads and train tracks. On May 13, six migrants walking to their homes in Bihar were crushed to death by a speeding truck in Muzaffarnagar. On May 8, 16 migrant workers were run over by a train in Maharashtra after they fell asleep on the tracks out of exhaustion.
In Madhya Pradesh, eight migrants were killed in three separate road accidents on Saturday, police said.
At least 29 others were injured in these accidents which took place in Sagar, Guna and Barwani districts.
Six of the fatalities -- four women and two men -- were from the accident near Sagar, said superintendent of police (SP) Amit Sanghi. The group was heading for Uttar Pradesh from Maharashtra when the truck carrying them overturned on Sagar-Kanpur Road, 70 km from Sagar district headquarters, at around 10 am.
Five of them were killed on the spot and 19 others injured. They were rushed to a government hospital at Banda, where one victim died later.
The truck was carrying bundles of clothes on top of which migrant travellers were sitting, police said.
A woman who was among survivors said they were three families returning from Nalasopara near Mumbai to UP.
In the accident at Guna, a man was killed when the tempo in which he was travelling overturned near Bhadora.
Sub divisional magistrate Shivani Garg said that a family from Dharavi in Mumbai was returning from Pratapgarh in UP, where they had been stuck due to lockdown, when the tempo overturned while trying to avoid hitting a bike.
In Barwani district, a 22-year-old man, resident of Azamgarh (UP), was killed when another vehicle rammed into the truck in which he was traveling from behind near Gavghati on Agra-Mumbai Road in the afternoon.
According to activists tracking media reports, more than a third of the 381 fatalities in road crashes since March 25 – the day the lockdown began – have been of migrant workers returning home. "The remaining crashes have resulted in the deaths of essential workers, such as health care professionals," said Piyush Tewari of road safety advocacy group SaveLife Foundation.
The figures collated by Tewari were based on media reports of accidents.