5 held in army job racket; Bihar police say armymen involved
Updated on Feb 08, 2017 09:58 PM IST
An army job racket was busted with the arrest of five persons. The racket was run in connivance with armymen deployed at the Jharkhand-Bihar zonal recruitment office at Danapur in Patna.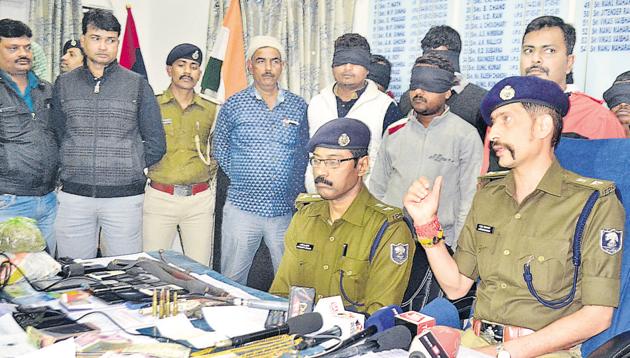 The Bihar police hinted at the involvement of senior army officers in the recruitment racket, which it claimed to have busted in the nick of time on Saturday.
The police arrested five persons, allegedly involved in leaking of question papers of 'general duty (GD) soldier' examination, held on Sunday.
With the army claiming that the question papers were secure, the examination was held as scheduled on Sunday. Around 1,300 candidates, shortlisted for the written test after the physical test last November, wrote the test at the Danapur cantonment here.
The 'GD soldier' exam is for recruitment of jawans in the infantry battalion. They are also used as office clerks.
The police claimed to have confiscated Rs 3.48 lakh in cash, fake identity cards of the Army, two luxury vehicles, 13 cellphones and 17 ATM cards.
The police said the racket was run in connivance with armymen.
"Munna Kumar Singh, the alleged kingpin, who was arrested, has claimed that an army colonel's wife had accepted Rs 12 lakh as bribe from him for facilitating recruitment," said senior superintendent of police (SSP), Patna, Manu Maharaaj.
The SSP said Singh had also confessed to the police during interrogation that he had threatened Col Bikram Singh Godhara, the recruiting director of Muzaffarpur army recruitment office, after he did not help him in recruitment, despite a tranche of Rs 12 lakh having been paid to his wife.
Col Godhara had lodged a case with the Mohammadpur police station in Patna on March 4, 2016, alleging that the racketeers had threatened to abduct and kill him if he did not support them in their nefarious activities, added Maharaaj.
Two havildar-rank officials are also accused in the crime. They are deployed at the Jharkhand-Bihar zonal recruiting office (ZRO) in Danapur and another posted at the Jharkhand-Bihar sub-area station headquarters.
The SSP said that some officials of the Bihar police officers, posted at the Danapur sub-division, are also suspected to be involved in the scam.
Army sources said that its intelligence wing had alerted the state police some six years back after it received anonymous letters pointing at the civilian-armymen nexus in recruitments.
The Army intelligence was also on the look-out of two servicemen at the ZRO, whose names the arrested persons had divulged to the police.
Those arrested were identified as Munna Kumar Singh (Bhojpur), Rahul Kumar, Vicky Kumar Singh (both from Hajipur), Satish Kumar Sharma (Danapur) and Nitish Kumar Singh (Rohtas).
The Saran police had arrested Munna on similar charges in 2004.
Maharaaj said the arrested persons claimed to pay the havildars Rs 1 lakh per candidate, in lieu of leaking questions papers before the examination.