Election results: Amarinder set to be Punjab chief minister
Updated on Mar 12, 2017 10:04 PM IST
Congress headed for a massive win in Punjab, Amarinder Singh will be the new chief minister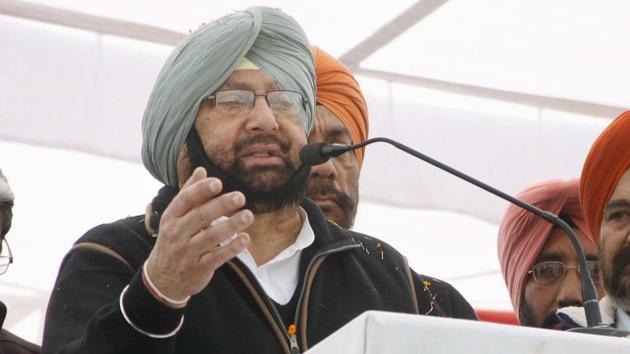 This birthday present beats all. Voters gift-wrapped Punjab for Captain Amarinder Singh, with counting trends on Saturday pointing to a massive win for the Congress in the border state.
Amarinder, who turned 75 on Saturday, is all set to be the next chief minister of what could be his last stint in politics – he has said the 2017 assembly election will be his last.
He won the Patiala (Urban) seat by a huge margin though he lost to chief minister Parkash Singh Badal in Lambi.
Campaigning vigorously, Amarinder not only dethroned the Shiromani Akali Dal (SAD)-BJP combine but also managed to check the rise of the Aam Aadmi Party (AAP), which was threatening to pull an upset win in the border state.
He even snatched AAP's poll planks of drug abuse and corruption, and it seems to have worked. AAP's decision not to name a chief ministerial candidate and the outsider tag on the Arvind Kejriwal-led outfit also seems to have helped Amarinder.
For our live coverage of Punjab assembly election results, click here
Going by the trends, the voters of Punjab seem to have reposed their faith in the veteran Congress leader. The erstwhile royal and a former chief minister turned out to be more credible than leaders of rival parties. His long innings in politics and administrative experience made him a trustworthy figure.
With Amarinder taking over as the chief minister, the Congress leadership will have to find another person to lead its state unit to keep up the momentum going till the 2019 Lok Sabha election.
Ludhiana MP Ravneet Singh Bittu and Youth Congress chief Raja Amarinder Singh Brar are the two top contenders to replace Amarinder as the state party chief.
Amarinder, who was leading in Patiala (Urban), avenged his 2012 defeat when the SAD-BJP coalition created history by retaining power though it was on a weak wicket.
Before the surprise disruption, Punjab had not given a formation two successive terms since 1966 when it was re-organised along the linguistic formula.
In both 2012 and 2017 elections, Congress vice-president Rahul Gandhi had announced Amarinder the party's chief ministerial candidate, a deviation from the party's policy of not naming its pick for the top post.
Usually, the practice in the Congress is to keep the issue open and alive as there are several claimants to the chief minister's post and let the elected legislators authorise the Congress leadership to take a decision.
While the move backfired in 2012, it paid rich dividends in 2017. The victory will also silence Amarinder's detractors in the party. Prior to being appointed as the state chief, Amarinder was engaged in a bitter power struggle with predecessor Partap Singh Bajwa.
Read: Five reasons how Kejriwal-led AAP threw away Punjab elections, hurt national ambition
Personalise your news feed. Follow trending topics