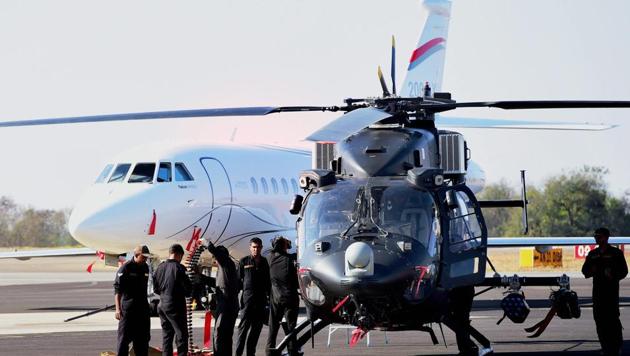 Aero India-2017: Foreign firms to chase Make in India goals at air show
Top military contractors from countries across the world have firmed up plans to tap new business opportunities under the Modi government's Make in India initiative at the Aero India-2017.
UPDATED ON FEB 15, 2017 07:07 PM IST
Top military contractors from countries across the world have firmed up plans to tap new business opportunities under the Modi government's Make in India initiative at the Aero India-2017, Asia's biggest air show that opens in the outskirts of Bengaluru on Tuesday.
The five-day event will see firms from Russia, Europe, Israel and the United States – among others – hardselling their latest armament technologies to India in the hope of partnering with indigenous companies for setting up manufacturing bases that would cater to the military's future requirements.
The Make in India plan seeks to cut the country's dependence on imported weapons and position the country as a hub of defence manufacturing.
India signed 51 contracts valued at Rs 1.16 lakh crore with foreign vendors for buying weapons and equipment, compared to 90 deals worth Rs 83,344 crore inked with Indian suppliers, in the last three years. The defence ministry has also accorded its acceptance of necessity – the first step towards making an acquisition – for 85 projects worth Rs 1.6 lakh crore in the last two years. Many of these projects come under the Make in India plan.
An Airbus spokesperson said strengthening Make in India partnerships would be the group's main focus at the air show. "The future of Indian aerospace and defence industry rests on the realisation of the Make in India vision," said Pierre de Bausset, who heads Airbus India.
Airbus has partnered with the Tata Advanced Systems Limited to set up a final assembly line for C295W military transport planes in the country. The C295Ws will replace the Indian Air Force's ageing Avro fleet as part of a $2-billion programme for 56 new planes. While 16 of these will come in a flyaway condition, the remaining will be built in India.
Airbus has also tied up with Mahindra Defence for manufacturing military helicopters. The group aims to make India the global hub for manufacturing AS565 Panther helicopters for catering to domestic as well as international markets.
British engine maker Rolls-Royce will also pursue opportunities to "co-create, co-develop and co-manufacture" high-end products in India in collaboration with local partners. "Aero India highlights the complete spectrum of the country's aerospace and defence interests. For us, this is a significant platform to showcase our continued commitment to support India's future indigenisation and self-reliance ambitions," said Rolls-Royce India and South Asia chief Kishore Jayaraman.
The company will exhibit the Adour Mk951 engine, which powers the latest variant of the Hawk aircraft. The IAF's Jaguar fighter planes have been flying with Rolls-Royce Adour Mk811 engines since 1981.
European missile maker MBDA also believes that the Make in India initiative holds potential. It has offered to share its latest guided missile system technology with India, and will pitch for it again at the air show.
The IAF's latest Rafale fighters will be equipped with the MBDA-built Meteor Beyond Visual Range missiles, whose no-escape zone is touted to be three times greater than that of current medium-range air-to-air missiles. It has a range of 150 km. The French aircraft will also be equipped with the MBDA's Storm Shadow/SCALP missile, which can hit targets at a range of 560 km.
The air show will also bear witness to the Defence Research and Development Organisation delivering the country's first indigenous airborne early warning and control system (AEW&C) to the IAF in initial operational clearance configuration, bringing it a step closer to induction.
An Embraer-145 plane mounted with AEW&C systems took part in the Republic Day parade for the first time last month. India inked a $208-million deal for three Brazil-built Embraer-145 planes in 2008 as part of a DRDO programme to scale up the IAF's AEW&C capabilities. The deal made headlines last year over kickback allegations.
The air show comes a fortnight after India allocated Rs 2.74 lakh crore for defence spending through 2017-18, a marginal increase over last year's budget of Rs 2.58 lakh crore. The spending includes Rs 86,488 crore for the military's modernisation.
The budget, excluding defence pensions, has gone up by 6%. However, experts feel it is insufficient to meet the needs of the armed forces.
Close