8-month-old dies as Pakistan forces resume firing in Jammu, 7 injured
Pakistani forces opened fire in in Ramgarh sector of Samba district, hours after it pleaded with the Border Security Force for a ceasefire.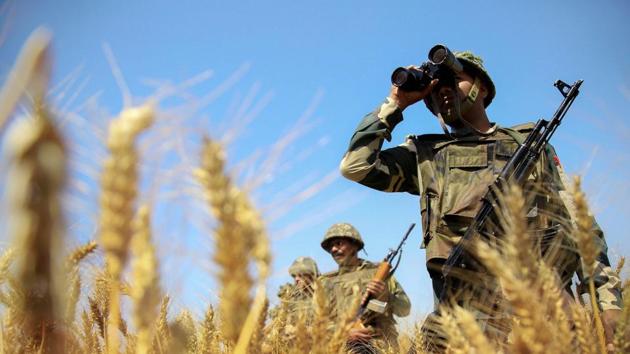 Updated on May 21, 2018 11:13 PM IST
An eight-month-old child died, a policeman and six others were injured as Pakistani forces resumed firing in Arnia and Ramgarh area of RS Pura sector in Jammu and Samba districts on Monday morning.
Earlier on Sunday night, Pakistani forces had opened fire in Narayanpur and Baba Chamliyal areas in Ramgarh sector, hours after it "pleaded" with the Border Security Force for a ceasefire.
"There was heavy shelling in Arnia. Six civilians and a policeman were injured. They were provided with medical care," additional deputy commissioner of Jammu Arun Manhas said.
He added that shelter camps have been set up for affected people while nearly 10,000 people have moved to safer areas.
A police officer said that "Pakistan has been using 80mm and 120mm mortar shells — flat trajectory battalion level weapons — on residential areas and nearby villages". Another officer confirmed the death of an eight-month-old child in Jogwan of Akhnoor. "The boy was inside the house with his mother when a bullet hit him in the back and pierced through his stomach."
Two civilians, Darshana Devi and Mohinder Kumar, both of Pindi Charkan Kalan, were shifted to a hospital around 9.30am. The injured policeman has been identified as SPO Gurcharan Singh, posted in Arnia.
"The constable was injured when a mortar shell hit Arnia police station in the heart of the border town. The building, a police gypsy, mobikes were pockmarked by the flying shrapnels that also smashed windowpanes of the police station," he said.
Meanwhile, restrictions were imposed in parts of Srinagar on Monday to thwart a proposed rally by separatists on the death anniversaries of two leaders even as life was affected in rest of the valley due to a shutdown. This is third day of restrictions since Saturday when Modi was in Kashmir to inaugurate some projects.
Shops, businesses and educational institutes were closed while Kashmir University examinations have been postponed.
Separatist leaders under the banner of Joint Resistance Leadership (JRL) had called for a shutdown and urged people to gather at Mazar-e-Shuhada (the martyrs' graveyard) in Srinagar's Eidgah to commemorate the death anniversaries of Mirwaiz Moulvi Muhammad Farooq and Abdul Gani Lone.
In a statement, chief minister Mehbooba Mufti said the contribution made by the two leaders in the socio-political awakening of people would long be remembered. She said the best tribute to them would be that the people commit themselves to peaceful means for resolution of issues.
Close Story