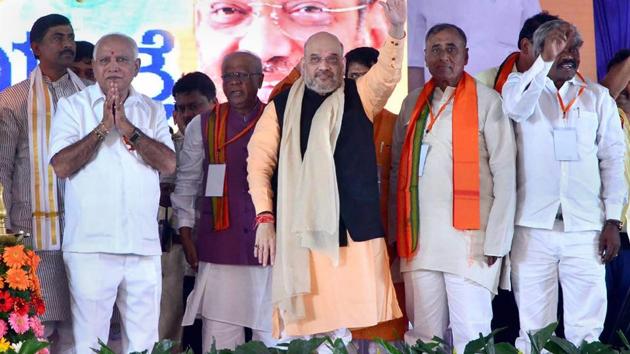 Karnataka CM Siddaramaiah accuses BJP of terror links, Amit Shah hits back
BJP chief Amit Shah accused the Siddaramaiah government of perpetrating atrocities on BJP and RSS workers, while the Karnataka CM said the BJP, RSS and Bajrang Dal have extremists within their organisations.
UPDATED ON JAN 10, 2018 10:59 PM IST
The Congress and BJP on Wednesday traded charges with the former accusing the latter of harbouring extremists and the BJP accusing the government of being anti-Hindu.
With assembly elections in Karnataka set to be held by May, the sparring between the two parties has escalated over the past week, especially after Uttar Pradesh chief minister Yogi Adityanath attacked chief minister Siddaramaiah at a rally in Bengaluru on Sunday. Adityanath had questioned Siddaramaiah's Hindu credentials for not banning cow slaughter.
Additionally, the two parties have sparred over the rise in communal tension in the coastal districts of the state.
On Wednesday, Siddaramaiah said the BJP, RSS and Bajrang Dal were harbouring extremists. Addressing the media in Chamarajnagar, the chief minister said: "They are also extremists of one kind. BJP, RSS, and Bajrang Dal have extremists. Anybody who spoils communal harmony will not be tolerated," Siddaramaiah said.(Siddaramaiah used the word 'Ugragami', which in classical Kannada means 'extremist', but is also used colloquially to mean a 'terrorist').
Siddaramaiah said the government would not differentiate between extremists. "We will not spare anybody, be it [Popular Front of India], [Social Democratic Party of India], Bajrang Dal or [Vishwa Hindu Parishad]," he said.
The BJP hit back. "An outgoing chief minister's desperate attempts to communalise the elections. In the last year, Siddaramaiah has not spoken on any inclusive, progressive, development issue of the state. He has tried to divide Kannadigas on lines of language, caste, region, religion. It will fail," the party tweeted.
Meanwhile, state Congress working president Dinesh Gundu Rao said the BJP was becoming a terrorist organisation. "[BJP leaders] are refusing to speak on the murders of Basheer [Ahmed], Dhanyashree. They say they will change Constitution. It is becoming a terrorist organisation," he said while addressing the media after holding a protest in Bengaluru to condemn the suicide of 20-year-old Dhanyashree, who was allegedly harassed by Hindutva workers in Chikmagalur.
BJP president Amit Shah, too, trained his guns at the Congress while addressing a rally at Holalkere town in Chitradurga district, accusing the Congress of being anti-Hindu and practising vote-bank politics.
"Over 20 workers of BJP and RSS have been murdered in three years. What was their crime? This government is not even investigating it. When BJP govt will come those who killed the workers will go to jail," Shah said.
"This government is practicing vote-bank politics and it is anti-Hindu. It has taken back all the cases against the Social Democratic party of India, an anti-national and fundamentalist organisation," Shah said. He alleged that the government had asked people setting up Ganesh pandals to furnish bonds worth Rs 10 lakh.
Shah also accused the government of not passing on the benefits of the funds it had received from the Centre. "If there is a Congress worker's house in your colony take a look at it. Four years ago it would have been a tin shed, with a moped parked outside. Now the house would be three-storeys tall with an expensive car parked in front," Shah said. "The Siddaramaiah government has eaten all the money given by Centre and the tax paid by the people."
Close