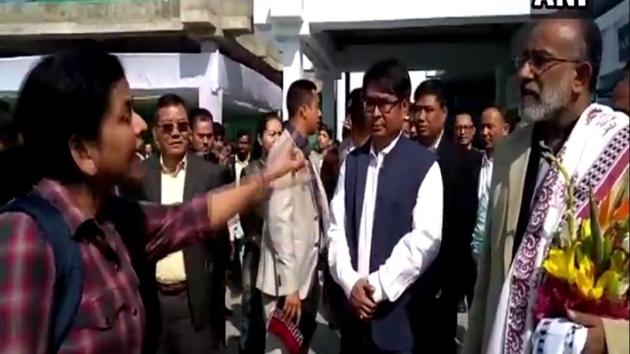 Angry with 'VVIP culture', woman argues with minister Alphons over flight delay
The video shows a passenger, who had to attend a funeral in Patna, complaining to Alphons about the flight being delayed due to VIP movement.
UPDATED ON NOV 23, 2017 08:17 AM IST
Union minister KJ Alphons said on Wednesday he was not responsible for the delay of a flight after a purported video of a passenger arguing with him at the Imphal airport went viral.
A video of the incident that happened on Tuesday shows a passenger complaining to Alphons about the flight being delayed due to VIP movement.
While most of the passengers were upset by the long wait for their flights, Nirala Singh confronted Alphons demanding a written guarantee that her flight would not be delayed beyond the two hours that made her miss a connection flight from Kolkata.
Nirala was distraught because the delay would make her miss her brother's funeral. She said she had promised her parents to be on time.
"I was waiting and crying so I approached the Minister (KJ Alphons), thinking a minister can do everything," Nirala told ANI on Wednesday.
President Ram Nath Kovind was scheduled to arrive at the Manipur capital to inaugurate the Northeast Development Summit and several Union ministers too were participating in it.
Airport officials denied any flights were diverted or cancelled.
"Some flights were delayed because of VVIP movement as the President's flight was scheduled to arrive," an official at Imphal airport said.
The Union tourism minister was accompanied by Commerce Minister Suresh Prabhu, Aviation Minister Jayant Sinha and senior BJP leader Ram Madhav.
"I can understand her anguish but as I told her, the President's flight was landing and as per protocol no other flight can land or take off at that time.
"This protocol is in place for the past 70 years and not made by this government. I tried to tell her that her flight will leave as soon as the President's flight lands, but she was really in distress," Alphons said.
The minister also said that he "was not in favour" of protocols that encourage VIP culture and that he has also informed officials that a pilot jeep should not be assigned for him.
(With PTI inputs)
Close