Cyclone Fani may hit Odisha at 205 Km/Hr; tourists told to leave, poll code lifted
Updated on May 07, 2020 04:25 PM IST
Cyclone Fani s likely to hit the Odisha coast by Friday afternoon and also affect West Bengal and the Srikakulam and Vizianagaram districts of Andhra Pradesh.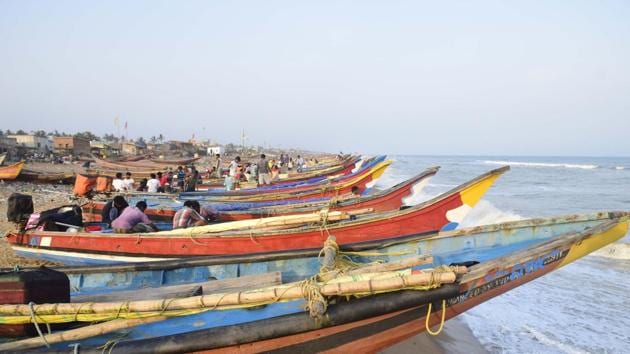 Hindustan Times, Bhubaneswar |
Debabrata Mohanty
Authorities in Odisha, which will suffer the maximum impact of Cyclone Fani, have asked tourists in Puri to leave the temple town as they requested for additional teams and helicopters to assist them in evacuating people who will be affected.
Cyclone Fani, India's strongest summertime cyclone in the last 43 years, is likely to hit the Odisha coast by Friday afternoon and also affect West Bengal and the Srikakulam and Vizianagaram districts of Andhra Pradesh.
The India Meteorological Department (IMD) said in its bulletin issued on Wednesday and based on a 5.30am forecast that Cyclone Fani has moved northwestwards with a speed of about 10 kmph in last six hours and lay centred about 680km south-southwest of Puri and 430km south-southeast of Visakhapatnam in Andhra Pradesh.
Watch | Cyclone Fani likely to hit Odisha on Friday; NDRF, rescue teams kept ready
The department also said it is very likely to move northwestwards during the next 12 hours and then recurve north-northeastwards and cross Odisha Coast near Satapada in Puri district in the afternoon on May 3 with the maximum sustained wind speed of 175-185 kmph gusting to 205kmph. After landfall, it is likely to move to Khurda, Cuttack, Jajpur, Bhadrak and Balasore districts of Odisha and then enter to West Bengal.
The Joint Typhoon Warning Centre issued a forecast on Wednesday saying that Cyclone Fani is expected to make landfall at Balukhanda near Puri coast on May 3 afternoon with a wind speed of 175kmph and gusts of 205kmph.
After landfall, the cyclone would pass through Jagatsinghpur, Cuttack, Jajpur, Bhadrak, Balasore and Mayurbhanj before moving to West Bengal. Met department officials said Bhubaneswar is likely to witness stormy wind with speed of more than 100kmph.
Though Odisha is has witnessed several cyclones in the past, pre-monsoon cyclones are a little unusual. The last time a pre-monsoon storm affected Odisha was on May 26, 1989.
The strongest ever cyclone to hit Odisha came in October 1999 while the second biggest, Cyclone Phailin hit the coast in October 2013. Cyclone Titli that hit Andhra Pradesh coast in October last year, had killed 61 people, many of them in tribal-dominated Gajapati district and wreaked huge damage in Odisha as it changed its direction and moved towards the northeast after making landfall.
Cyclone Titli had become a poll issue in the just-concluded assembly and Lok Sabha polls with chief minister Naveen Patnaik repeatedly alleging that no central leaders including Prime Minister Narendra Modi came to Odisha even as they went to neighbouring Andhra Pradesh. The BJP retorted that the chopper of Union minister Dharmendra Pradhan was not allowed to land in cyclone-affected Gajapati district where 50-odd people died to landslide triggered by the cyclone.
Also Read | Fani now 'extremely severe', says Met; Odisha sounds red alert
More help, moving tourists
The Odisha government has requested the Centre to provide two helicopters and additional National Disaster Relief Force (NDRF) teams for the evacuation of affected people with Cyclone Fani likely to hit the state's coast on May 3.
"We have requested the cabinet secretary to position two helicopters for air-dropping of relief material. Besides, we have asked for additional NDRF teams to carry out the rescue operation," the state's chief secretary AP Padhi said.
Padhi said the evacuation process will begin from Thursday morning and that people from the low-lying areas will be taken to nearby cyclone shelters, schools and other safe places. As many as 879 cyclone shelters are kept ready, 20 unit of the Odisha Disaster Rapid Action Force (ODRAF) and 335 fire services units are also on standby.
While the state government issued orders for moving thousands of people on the coastline to the multipurpose cyclone shelters, the Coast Guard and Indian Navy deployed ships and helicopters for relief and rescue operations. The National Disaster Response Force is deploying 28 teams in the vulnerable areas of the state.
The government has asked all tourists in Puri to leave the beach town by Thursday evening and told tour operators to cancel non-essential travels ahead of the landfall of Cyclone Fani on Friday afternoon close to the coastal district.
Special relief commissioner Bishnupada Sethi said district administration in Puri has been asked to empty hotels immediately. Sethi said all educational establishments in the state would be closed from beginning from May 2 and all the examinations rescheduled till further orders.
The director of Bhubaneswar's Regional Meteorological Centre HR Biswas said the speed of the cyclone at the time of landfall will be 175-185 km per hour. Biswas said Odisha is likely to receive more than 20cm of rainfall due to Cyclone Fani
According to IMD, heavy to very heavy rainfall is expected to lash the south coastal districts of Malkangiri, Koraput, Rayagada, Gajapati, Ganjam, Khurda and Puri on May 2.
The Election Commission lifted the model code of conduct from 11 districts in the path of the cyclone for speedy rescue, relief and rehabilitation activities. The poll body took the decision to lift the code in Puri, Jagatsinghpur, Kendrapara, Bhadrak, Balasore, Mayurbhanj, Gajapati, Ganjam, Khordha, Cuttack and Jajpur after chief minister Naveen Patnaik met the during the chief election commissioner on Tuesday.
Also Read | Fani 'extremely severe', here's what cyclone categories mean
Authorities in Andhra Pradesh and West Bengal have also been alerted to be ready to meet any eventuality due to Cyclone Fani.
The NDRF, Coast Guard, and shipping and telecom departments have been urged to be ready to extend their help and states have been requested to make arrangements for the supply of drinking water and other relief material in the areas likely to be affected by Cyclone Fani.
"Officials in the region, especially in the Srikakulam and Vizianagaram districts have been put on high alert," Andhra Pradesh's chief secretary LV Subrahmanyam said.
Light to moderate rain is likely at a few places in north coastal Andhra Pradesh on May 2. The IMD has forecast heavy to very heavy rainfall in the districts of north coastal Andhra Pradesh on May 3 and 4.
Tourists in West Bengal's coastal areas have been asked not to go near the sea between Thursday and Saturday and fishermen warned not to venture into the seas from Thursday in view of Cyclone Fani.
In West Bengal, the East Midnapore district administration has been asked to take all preventive measures and maintain a strong vigil on the Digha, Mandarmani and other beaches and stop visitors from bathing on the three days on the turbulent sea. Water sports activities have also been cancelled.
Fishermen associations have been advised not to sail any boat during the period.
While the coastal and riverine areas like Howrah, Hooghly, East Midnapore and South 24 Parganas are likely to get hit more, northern West Bengal could face the effect of the cyclone on May 3.
Heavy showers are predicted over West Bengal, especially in its southern parts, on May 3 and 4, while thunderstorm with gusty wind speed reaching 30-40kmph with lighting is likely to occur at one or two places over East and West Midnapore, North and South 24 Parganas, and Jhargram districts of Gangetic West Bengal on Wednesday.
On May 2, thunder squall with wind speeds reaching 50-60kmph accompanied by lighting is likely to occur at one or two places over the districts of Gangetic West Bengal.
On May 3, the weather office has forecast heavy rains of 7-11cm at one or two places over coastal districts of Gangetic West Bengal, alongside squally wind of 60-70kmph, gusting to 85kmph.
Heavy rainfall warnings have been issued for the south Bengal districts on May 4, when some of the districts could also experience very heavy showers.
The coastal districts may be hit by thunderstorms with maximum wind speed reaching up to 110-115kmph. In other south Bengal districts, the storm may have a maximum wind speed of 70-75km.
The Centre on Tuesday ordered the release of ₹1,086 crore to four states, including ₹340.87 crore to Odisha, as advance financial assistance for immediate relief and rescue measures.
(With agency inputs)