Kamasutra books can't be sold at Khajuraho temple, saffron group seeks ban
Hindustan Times, Sagar |
Anupam Pateriya
Jun 15, 2017 09:21 AM IST
Bajrang Sena members approach police against the sale of Kamasutra books inside the Khajuraho temples, say such things are not allowed on the sacred premises.
Right-wing activists now want a ban on the sale of Kamasutra books in the land of Kamasutra — the Khajuraho temple premises, a Unesco world heritage site in Madhya Pradesh's Chhatarpur district.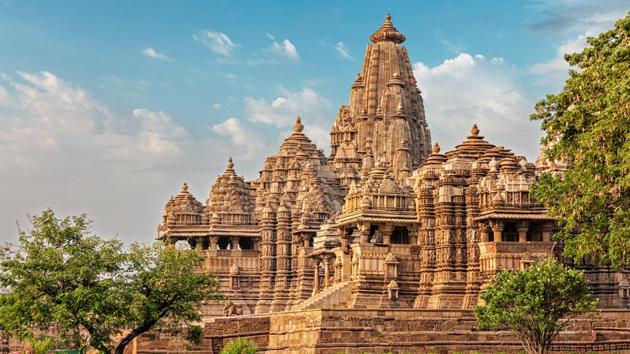 Members of Bajrang Sena on Tuesday approached Chhatarpur police, alleging that Kamasutra books and obscene figurines were being sold inside the premises of the Western Group of Temples, the most famous of the Khajuraho temples.
The temple is famous worldwide for the graceful erotic sculptures on its outer walls.
Bajrang Sena activists under the leadership of its president of the Khajuraho unit, Jyoti Agarwal, submitted a memorandum of their demands to the sub-divisional officer of police, Khajuraho, Israr Mansouri. The demands include action against selling Kamasutra books and figurines inside temple premises, especially at the tourist canteen. They alleged it was against India's culture and tradition.
"Such things are readily available inside the temple premises under the very nose of ASI and tourism department officials. Such things affect the image of Indian culture and traditions in the eyes of the foreigners," said Agarwal.
Mansouri told HT: "We will consult officials of Archeological Survey of India and tourism department after which further action will be taken."
When asked why she was not opposed to the erotic sculptures on the temple walls, Agarwal said such sculptures were built in ancient times and there was no need to advertise them now.
"Whatever has been depicted can't be allowed to happen here now. What sort of moral values are we passing on to our younger generation? These temples have religious significance. There is a Shiva temple here. How can you allow Kamasutra to be sold in the sacred premises," she said.