Bengal-based Hindutva leader's speech in British Parliament draws ire
Updated on Oct 26, 2017 11:37 PM IST
Tapan Ghosh, founder of Hindu Samhati, called for building a 'Hindu Defence Force' to fight 'Islamic aggression'.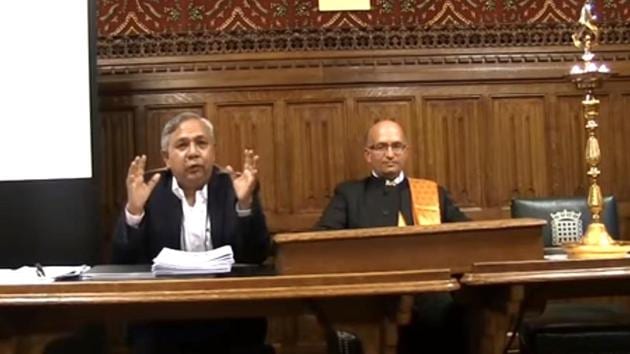 A far-right Hindutva leader from Bengal and his host, a conservative UK MP, came under heavy criticism from the British media for his remarks against Muslims at the UK parliament building last week.
Major UK newspapers criticised Tory MP Bob Blackman, a member of the communities and local government committee, for hosting Tapan Ghosh (63), founder of Hindu Samhati, known for his anti-Islamic rhetoric, at the Committee Room 12, House of Commons, Westminster on October 18.
Ghosh, in his 15-minute speech, called for building a 'Hindu Defence Force' to fight 'Islamic aggression' and urged the audience to put pressure on governments in Europe and the US to force west Asian countries to stop sending aids to madrasas in India.
The event, 'Tolerating the Intolerant', was organised by National Council of Hindu Temples (UK) and Ghosh was the 'keynote speaker'.
"Ghosh's presence sparked a strong backlash, given his inflammatory remarks in the past about Muslims, including calls for the UN to curb their birth rate globally and claims that British Muslim paedophiles have abused a million white children," reported hunffingtonpost.co.uk.
According to The Sun, "The meeting sparked outrage among Muslim groups and MPs because of the speaker's track record of inflammatory rhetoric."
The Times reported, "A Tory MP hosted in parliament an anti-Muslim extremist who has called for the UN to control the birth rate of Muslims, praised the genocide of Rohingya Muslims in Burma, and said Muslims should be forced to leave their religion if they come to a western country."
"Why did top Tories share platform with Hindu nationalist who wants Muslim birth-rate controls?" headlined RT.com.
Facing criticism, Blackman said he did not endorse Ghosh's views but supported Ghosh's right to freedom of speech.
After October 18, Ghosh also shared dais with Tommy Robinson, the founder of the far-right English Defence League, at a meeting on "demography and global resistance against Islamic violence and aggression".
After a 13-day trip to the UK, Ghosh returned to Kolkata on Thursday to an enthusiastic welcome by Hindu Samhati workers at the airport.
"I previously set up some support groups in the US. This time, I managed to form some support groups in the UK as well," Ghosh said.
The office of the home secretary Amber Rudd, who was invited to the event, clarified she was not present during Ghosh's speech and that she differs with Ghosh's views.
"The Home Secretary accepted an invitation from the Hindu Forum of Britain to attend an event in Parliament last week to celebrate Diwali. She did not speak to Mr Ghosh and was not present when he spoke," the home secretary's office said in a statement to Huffpost.
Ghosh, a swayamsevak since 1970s, served in various crucial capacities in ABVP and Bajrang Dal, before breaking away from RSS in 2007, accusing the Sangh's Bengal chapter of "lacking courage", and founded his own outfit in 2008.
Hindu Samhati has now spread its organisation across Bengal, besides creating footprints in Assam and Jharkhand.
Close Story
Personalise your news feed. Follow trending topics