Bihar: Pitched battle fought between patient's family, doctors
Press Trust of India, muzaffarpur |
Press Trust of India
Apr 21, 2017 05:29 PM IST
A patient's relatives attacked doctors alleging they were not paying attention to the patient and burnt two ambulances
A premier medical college and hospital in north Bihar turned into a battle ground on Friday following a pitched battle between doctors and relatives of a patient in which two ambulances were set on fire.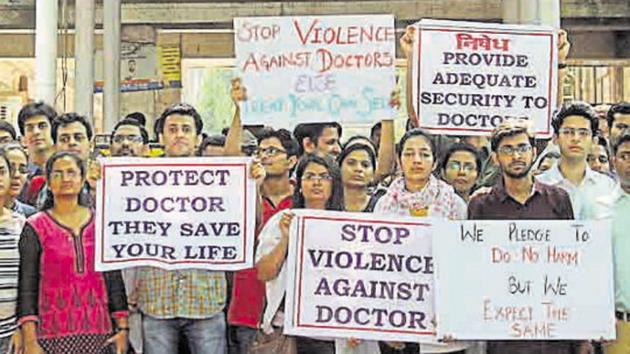 The incident occurred at Shri Krishna Medical College And Hospital (SKMCH) after the relatives, accompanying a patient from Sheohar, complained that doctors were not paying attention to the patient and beat up junior doctors at the Emergency ward, Deputy Superintendent of Police, Town, Ashish Anand said.
The junior doctors retaliated and beat up the attackers. The protestors then set on fire two ambulances and also damaged cars and two-wheelers of doctors, the DSP said. Some junior doctors, wielding sticks, retaliated by beating up the attackers.
Infuriated doctors have gone on strike, affecting functioning of the OPD ward in the hospital. The DSP along with sub divisional magistrate, Sunil Kumar, rushed to the hospital to bring the situation under control.
This is the second time in a week when doctors had come under attack at the SKMCH. Deputy Superintendent of SKMCH Sunil Shahi has complained of lack of security for doctors at the hospital.