Bishop accused of raping nun gets bail, ordered not to influence witnesses
Oct 15, 2018 05:16 PM IST
Former Jalandhar Bishop Franco Mulakkal was arrested in Kochi on September 21 after three days of questioning by the Kerala police team probing the Kerala nun rape case.
Franco Mullakkal, the former bishop of Jalandhar who was arrested for allegedly raping a nun four years ago, was granted bail by the Kerala High Court on Monday.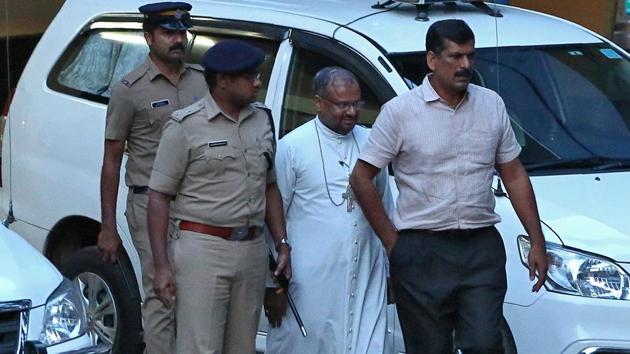 The high court directed Mullakkal to surrender his passport and not to enter Kerala except to appear before the investigating officer in the case once in two weeks on Saturdays. The Catholic priest was also ordered by the court not to influence the witnesses in the case.
Police, however, opposed his bail plea saying that the statements of 22 other witnesses need to be recorded and there are chances Mullakkal might influence or threaten them as he is a powerful personality.
The 54-year-old priest was arrested by the Kerala police on September 21 after several rounds of questioning and lodged in Pala sub-jail in Kottayam.
Mullakkal's counsel opposed the police's argument and said the statements of main witnesses have already been recorded under Section 164 of the Code of Criminal Procedure (CrPC). He also said Mullakkal was no longer in charge of the Jalandhar Diocese and was not in a position to influence witnesses.
The five nuns, who sat on a two-week protest in Kochi seeking Mullakkal's arrest, expressed apprehension over his release.
"We really fear for our lives. He is capable of intimidating witnesses and some of them have already retracted their statements. We have enough faith in the judiciary and we do hope we will get justice," Sister Anupama, one of the nuns, said.
The nuns had alleged that the police had given him enough time to dodge law and influence victims. Their protest had attracted popular support.
They cited the instance of the Kuravilangad priest who changed his statement later and tried to influence them.
The case had taken many twists and turns after the 43-year-old nun, also a mother superior had filed a police complaint on June 28 in Kuravliangad of Kottayam that Mullakkal had raped her 13 times between 2014 and 2016.
Mullakkal was accused of wrongful confinement, rape and criminal intimidation. The lower court, as well as the high court, had turned down his bail applications earlier.
Days before his arrest, Pope Francis had relieved the bishop of his duties and Mumbai's auxiliary bishop was given the charge of Jalandhar Diocese, which runs more than a hundred institutions.