Karnataka government formation: Kumaraswamy says BJP offering Rs 100 crore to JD (S) leaders
Janata Dal (Secular) leader Kumaraswamy also says his party is firmly behind the Congress in the Karnataka government formation bid.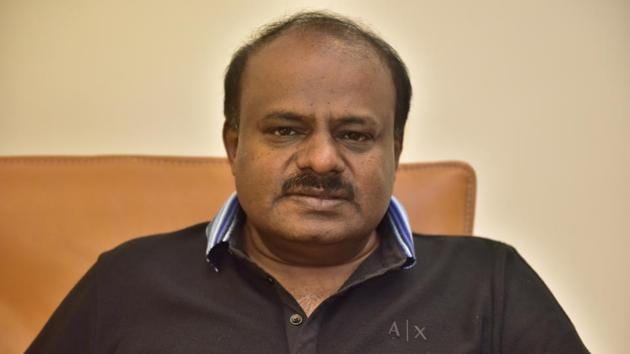 Updated on May 16, 2018 02:44 PM IST
Janata Dal (Secular) leader HD Kumaraswamy has defended his party's surprise alliance with the Congress and accused the Bharatiya Janata Party of trying to bribe Karnataka lawmakers after election results in the state threw up a hung house on Tuesday.
"People of Karnataka must understand that the BJP, which is known for horse-trading, isn't going to act in their favour. Some of them [BJP] have approached leaders in our party and offered them Rs 100 crore and ministerial posts," said Kumaraswamy at a press conference in Bengaluru on Wednesday.
"This attempt by the BJP to poach our legislators will backfire as there are people who are willing to leave the BJP to support us (JD-S)," Kumaraswamy, who has been elected the JD(S) legislative party leader, was quoted by TV channels as saying.
Kumaraswamy, 58, spoke about his father, JD (S) chief and former prime minister HD Deve Gowda, to explain why he had allied with the Congress.
"There's a black spot on my father's career because of my decision to go with the BJP in 2004 and 2005 [2006]. Now, god has given me an opportunity to remove this black spot, therefore, I am going with the Congress," ANI quoted him as saying.
Deve Gowda entered into an alliance with the Congress in 2004, but Kumaraswamy walked away with the bulk of MLAs to form an alliance with the BJP and become chief minister. Kumaraswamy went back on his promise to transfer power to the BJP and went in for early elections in 2006, but watched the saffron party form a government of its own riding on a wave of sympathy due to the JD(S)'s "betrayal".
Kumaraswamy announced he will meet Karnataka Governor Vajubhai Vala later on Wednesday and ask him to give the JD(S) and Congress a "chance" to form a government.
Also read: Interactive map of the Karnataka election results
The BJP emerged as the largest party in Karnataka and the Congress was voted out of power on Tuesday. But the political situation changed when the Congress and JD(S) announced a surprise alliance to form a government.
The Congress, which lost control of the national government to Prime Minister Narendra Modi in 2014, is desperate to cling on to Karnataka. Without it the party would control Punjab, the Union Territory of Puducherry and Mizoram, which together account for just 2.5% of India's 1.25 billion people.
The BJP rules 21 out of India's 29 states. Since its landslide national win in 2014, the Modi juggernaut has stormed northern India, claiming around a dozen crushing victories. Karnataka is the only southern state the has ever held power in. After falling out with N Chandrababu Naidu in Andhra Pradesh, the party is working to form a government in Karnataka to regain a gateway to its southern ambitions.
The JD(S) is the third big political player in Karnataka but it has just 38 MLAs. With the Congress's support it's pitching to rule the state.
Close Story