BJP rakes up Hublot watch row to take on Siddaramaiah
Updated on May 06, 2018 11:54 PM IST
The BJP sought to know whether Siddaramaiah received a costly Hublot watch for facilitating QI Group of Companies, headed by Vijay Eswaran, to operate in Karnataka.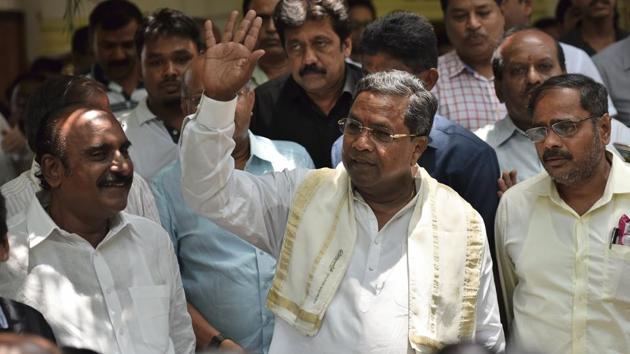 Press Trust of India, Bengaluru |
Press Trust of India
Stepping up the attack against Chief Minister Siddaramaiah, BJP today accused him of 'aiding, abetting, protecting and promoting' the cheating of private investors in an alleged Ponzi scheme run by a company.
The BJP intends to file a complaint with the Governor to sanction the prosecution of Siddaramaiah for dealing with company, 'which is declared as a threat to national security by the Serious Frauds Investigation Office (SFIO),' party spokesman Sambit Patra told reporters in Bengaluru.
The BJP sought to know whether Siddaramaiah received the costly Hublot watch for facilitating the company, QI Group of Companies, headed by Vijay Eswaran, to operate in Karnataka.
Embroiled in a controversy over the diamond-studded Hublot watch in March 2016, Siddaramaiah had handed it over to the assembly speaker, asking him to make it a state asset.
The Chief Minister had also said he would furnish relevant documents of the watch to Lokayukta and Income Tax.
He had said that the watch was gifted to him by his NRI friend Dr Girish Chandra Varma in July 2015. "I know him since 1983 and whenever he visits India, he meets me," he had said.
Siddaramiah also said Varma has no official dealings with Government of Karnataka or its organisations.
Patra said the SFIO has mentioned the names of Gold Quest and Quest Net, and read out its findings.
In 2009, the CB-CID Chennai had declared Vijay Eswaran an absconder and in 2010, SFIO said that such companies were a national threat, said Patra.
Between 2013 and 2016, Mumbai and Delhi Economic Offence Wing placed voluminous chargesheets saying that these are fraudulent companies, he said.
Releasing pictures of Siddaramaiah with Vijay Eswaran, Patra said he met him in September 2013.
The issue of MS Gold Quest International Pvt Ltd and Gold Quest Enterprises India Pvt Ltd was discussed in March and April in 2013, when the UPA government told the parliament that they were fraudulent companies, he said.
In September 2013, Siddaramaiah met the absconder Eswaran in China, which was published in Government of Karnatakas Information and Public Relation Departments website in September 11, 2013, he said.
The government report said the Chief Minister met Eswaran, welcomed him to invest in Karnataka and asked him to participate in the Global Investors Meet of government of Karnataka.
The company expressed interest in investment in E-Retail and IT Education sector, the government report said.
The company's business lines include lifestyles, leisure, luxury and luxury collectable and luxury watches.
Patra said, "They deal in luxury watches, costly watches, exquisite watches These are one of the dealings they do.These are one of the items they deal with."
Patra said after a promise by Siddaramaiah, certain companies and QNet started operating in Karnataka and thousands and lakhs of people were duped by them.
Ironically, Patra said, no FIR was lodged against these companies.
"Even if the complaint was lodged, there was no FIR. The companies names were not mentioned.When these people saw that the state government was not ready to work for them, the victims approached the SEBI."
Patra said SEBI shot off a letter to the government of Karnataka on December 23, 2016 to act against them.
The BJP spokesperson said the FIR was registered only recently when the Siddaramaiah government was reduced to a caretaker government due to the assembly polls.
In a statement, QNET said it operates in India through Vihaan Direct Selling (India) Private Limited, its sub-franchisee, which is into direct selling on an e-commerce platform.
The company neither solicits investments nor seeks any deposits or registration fees for joining the business, it said.
"We are of the belief that the matter represented to the BJP spokesperson is incomplete and does not reflect the current status," a company spokesperson said.
It said Karnataka state investigated the company and filed a detailed chargesheet, which was quashed by the High Court by ruling that the company is not a Ponzi scheme.
The Government of India has issued Guidelines (to be adopted by states) and the company is fully compliant with the same, it said.
(This story has been published from a wire agency feed without modifications to the text. Only the headline has been changed.)