Clerics' diktat fails to douse football fever in north Kerala
Updated on Nov 27, 2022 05:58 PM IST
Samstha Kerala claims that the football fever is resulting in thin attendance in religious schools and Friday prayers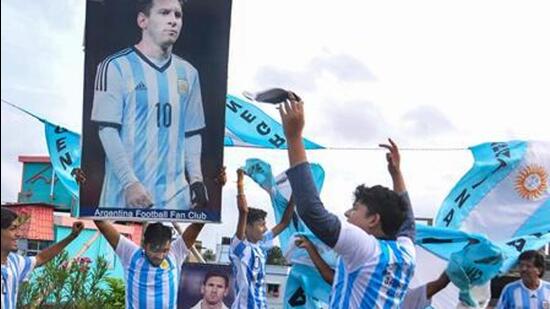 The Muslim religious heads' diktat against "fiery fandom and idol worship" failed to douse soccer spirit in north Kerala as fans spent a sleepless night celebrating their favourite team Argentina's 2-0 win over Mexico in the FIFA World Cup on Saturday night.
Ironically big celebrations unfolded a day after Muslim religious bodies in Kerala warned believers against getting "intoxicated and idol worship" of their players.
Also Read: Argentinian woman dons Indian flag at FIFA World Cup
The Samstha Kerala Jamat-ul Khutbah, a body of clerics and religious Islamic teachers, and Sunny students' federation issued a sermon on Friday against celebrations crossing all limits and asked believers not to indulge in "hero worship" as it was against basic tenets of Islam.
Samstha Kerala claims that the football fever is resulting in thin attendance in religious schools and Friday prayers. They claim that students in some schools also sought remissions in the early hours of their classes due to late-night matches.
"Addiction to the game and over-idolizing star players are against the monotheism (worship only Allah) of belief," said the religious body in a statement.
Fans hit the street in large numbers in Kozhikode and Malappuram districts celebrating Argentina's win. Celebrations were seen in north Malabar region and other parts of Kerala.
In some places, even women fans came out on the street in large numbers chanting "Vamos, Vamos Argentina", a popular chant in the Latin American country meaning "let's go, let's go".
"Messi lived up to his godly image," said a banner in Kunnamangalam near Kozhikode. "Our god is alive," said another poster in Feroke in the district.
"It is a total football and dream match. Messi proved again he is the messiah of football," said state tourism minister Mohammad Riyas, who watched the match in a jam-packed stadium in Kozhikode with fans.
"Over 2,000 fans gathered at our small ground to watch the match on the big screen and they really relished it," said N K Zubair, president of the Ninanvalappil football association president.
In several places, law-enforcement agencies had a tough time controlling the over-dozed fans.
In south Kerala's Kollam, fans of Argentina and Brazil clashed openly in a coastal village in Sakthikulangara last Sunday forcing police to register a case.
Similarly, last week in Palakkad, two policemen were injured on the opening day of the world cup after angry fans hurled stones at police as they restricted spirited fans.