Argentinian woman dons Indian flag at FIFA World Cup. Viral video shows why
Nov 27, 2022 10:45 AM IST
The viral Instagram video captures an Argentinian woman donning the Indian flag and an Indian man wearing Argentina's flag.
A video from the ongoing FIFA World Cup 2022 in Qatar is swiftly going viral on social media and is leaving Indian football fans amused. Reason? It shows a woman from Argentina with the Indian flag around her while an Indian man can be seen donning Argentina's flag. The video was posted on Instagram with the caption, "Divided by nation, united by football. Thank you @leticiaestevez for loving our nation."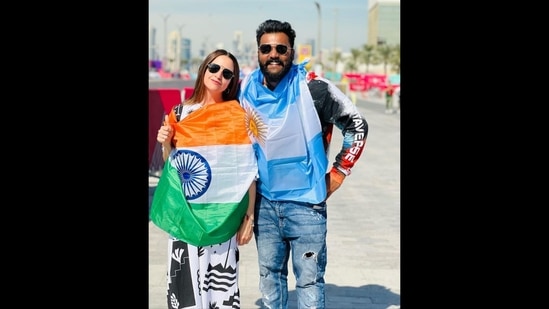 In the video, one can see an Indian man named Yadil M Iqbal standing next to an Argentinian woman named Leti Estévez. The clip starts with Iqbal saying in Malayalam that he spotted Leti during Argentina's game and that she is wearing the tricolour in response to the love and support that the Argentina team is receiving from the Indians. He adds that whenever he spots a football fan from Brazil, Portugal or any other nation, he shows them photographs from Kerala as proof of the state's love for football. He further hopes that one day Messi, Neymar Jr or Ronaldo will notice the craze and play for the leagues in the Indian state of Kerala.
Watch the viral video below:
After the video went viral, Leti, in an Instagram post, shared that she exchanged an Argentinian flag for an Indian one on the metro and decided to take it to the game at FIFA 2022 as a thank you to Indian fans supporting the Argentina team and Messi. She further shared that Iqbal recorded her entering the stadium with the Indian flag and asked for a video testimony. She further added how happy she is that her love for the nation has reached its people.
Take a look at her Instagram post below:
Both posts have attracted several eyeballs, and the numbers are still increasing. The share has also prompted people to express their thoughts in comments.
"Proud of you man. You are just amazing," posted an individual. "Thanks for loving our nation," commented another. "Thanks for making this beautiful moment," wrote a third. "You just nailed it man," shared a fourth. Many also posted heart emoticons in the comments section. "Love from Kerala," expressed a fifth.