Corruption in Aadhaar enrolment raises fears of compromising biometric details
Updated on Jul 12, 2017 11:22 AM IST
A racket in Aadhaar enrolment is fleecing the poor and compromising the biometric details of Indians.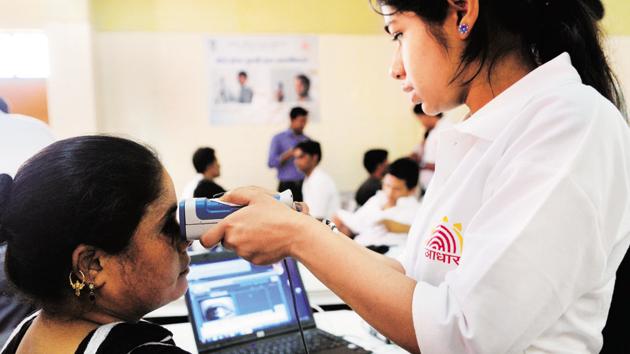 When the Delhi Police arrested Saddam Hussein and Mohit from the city's Mangolpuri area last month for arranging aadhaar cards without address and identity proofs, it once again brought under the limelight a flourishing racket in the country's unique identity programme.
The UID or Aadhaar, aimed at curbing corruption in government schemes, is itself tainted with charges of bribes and overcharging by agents responsible for enrolling people. Activists claim that poor people are the biggest victim at the hands of these unscrupulous agents.
Two months ago, a man from Unnao in Uttar Pradesh, who works in a housing society in Ghaziabad was forced to pay Rs 600 to an agent for changing his address. His original aadhaar card had his village address. The poor daily wage earner went to open a bank account in Delhi as he stays in a rented house here. "I wanted to avail the benefits of the government's pension and insurance scheme. The bank officer told me I have to open an account first," said Gopal (name changed). Desperate to change his address, he approached an official aadhaar outlet but was turned away. An agent later contacted him and Gopal's address was changed in just five minutes. He, however, had to pay for a service that is absolutely free.
Aadhaar officials told HT that if his mobile number is enrolled in the system, he can change address online. But for a daily wage earner, who had not been able to study beyond second standard, using the online system might be a near-impossible proposition.
"The poor people are especially vulnerable to this menace. The problem is that as the government is forcing aadhaar for availing benefits from different social welfare schemes, these people have no other choice but to get enrolled by any means. You and I may not have to pay bribe but many poor people may not even know the rules," said economist and social activist Jean Dreze.
Read more: Over 1 crore PANs linked to Aadhaar in June, those not linked remain valid for now
Dreze recalled an incident in Latehar where an old couple logged on with their biometrics to withdraw pension but was told by a banking correspondent that their pension has been withdrawn earlier in the day. Banking correspondents are employed by banks to help people, especially in rural areas, where bank branches are few, in depositing or withdrawing money based on aadhaar.
Latest UIDAI documents show that in March 2017, 1014 incidents of corruptions have been reported. The cases range from Rajasthan to Kerala and even registrars (entities authorized to enrol aadhaar) like Bank of India Dena Bank and National Securities Depository Limited have been penalized for lapses committed by agents.
"It's not as if, these agents are volunteers. They are picked after a test, undergo training and then paid for each enrolment. Earlier, when there are more people enrolling, the government provided Rs 40 for each successful enrolment. Now the rate has been revised to Rs 50 per enrolment. So, they can't complain of not being paid properly," said a UIDAI official.
But despite a hike in fee, things have not improved. Recently, a PIO (Person of Indian Origin) from Canada frantically posted messages in the WhatsApp group of his childhood friends to know how to change his mother's address in Kolkata without paying money. According to Subhra Saha, the PIO based in Canada, "the agent told my mother that the number of her house doesn't exist in their database. But he also assured that he will come to our home to make the necessary changes. He charged Rs 500 for just adding the house number in my mother's address," said Saha.
An Odiya man, who returned from the US four years ago and joined the Noida branch of one of the world's top consultancy firms, had to make aadhaar cards for his children. The agent said that he will come home and take biometrics but also demanded Rs 400 for his service.
UIDAI authorities claim that they have zero tolerance towards corruption. "If we hear about any such malpractice, we promptly take action. The first step is to stop payments to the registrar," said an official.
In the last financial year, around 3%, or more than Rs one crore, of the registrars' payments were deducted as fine. "It's a serious problem. One can stop corruption but how can we stop dishonesty?" said an UIDAI official.
Out of the 6.5 lakh enrollment agents, the UIDAI has already ordered dismissal of more than 34,000 agents on charges of corruption, sources added. And since the last few weeks, UIDAI has started new awareness campaign on FM radio warning people against paying money for services at the aadhaar enrollment centres.
The men arrested by Delhi police last month were charging anywhere between Rs 100 and 1,000 for the service which the government offers without any charge. Their customers had to make cash payments and Hussein and Mohit would allegedly arrange for their address and identity proofs and get the aadhaar card quickly.
Analysts, however, believe that there is larger problem lying within these cases of corruption which can seriously compromise the safety of biometric details.
"The enrollment programme is entirely dependent on private individuals who have no accountability or transparency. It is very easy for them to keep a copy of the biometrics of people who come to enroll. These copied biometrics can be easily used later to make financial transactions in the aadhaar ecosystem," said Himangshu, professor of economics, Jawaharlal Nehru University.
Critics also point out to the incident related to former Indian cricket captain Mahendra Singh Dhoni where the young enrollment agent took a selfie with Dhoni, displaying the cricketer's aadhaar details, and compromising the safety of his unique identity number.
"It's high time they replace these private agencies and the agents with government officials who are liable and answerable for any wrong-doing," said Himangshu.