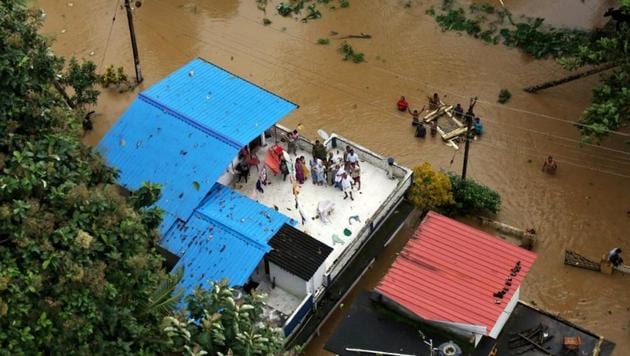 Death toll in Kerala floods rises to 180, PM Modi to visit state to assess disaster
Prime Minister Narendra Modi will carry out an aerial survey of the affected areas on Saturday to get a first hand feel of the scale of devastation.
UPDATED ON AUG 17, 2018 11:01 PM IST
Almost 120 people died over the past 48 hours in the worst floods to hit Kerala in eight decades, state officials said, as relief and rescue workers stepped up efforts to reach marooned residents by boats and helicopters in the state where Prime Minister Narendra Modi arrived on Friday to survey the havoc. In some areas, people fled to their rooftops to escape water levels reaching as high as the second floor of their houses.
"We are trying our best to save the marooned. Saving lives is our main concern now. Rescue operation is going on on a war-footing with more choppers and boats," chief minister Pinarayi Vijayan told a news conference in the state capital Thiruvananthapuram, adding that more than 15,000 people had been evacuated in last two days.
Flooding began from August 8 when rains intensified, causing landslides and swelling rivers that have swept away buildings. Around 180 of the flood-related deaths have taken place since then, including the 120 lives lost in the past two days.
Vijayan said about 223,000 people were taken to 1,568 relief camps.
Hours later, Vijayan said in a tweet that 324 lives had been lost in the heavy rainfall and floods that have battered Kerala.
These deaths, according to officials in Vijayan's office, were recorded since the end of May when the monsoon made landfall.
Prime Minister Narendra Modi reached the state on Friday and was expected to survey some of the worst-hit regions on Saturday. In New Delhi, the ministry of home affairs said additional resources of all agencies including Army, Navy, Air Force, Coast Guard and National Disaster Response Force were being mobilised. The union government also offered the Kochi naval air strip for civilian flights, with the city's main airport flooded.
Kerala has been hit by 37% more rainfall than normal since the beginning of this monsoon, the Meteorological Department said. Some plantations have also been inundated.
Despite relief and rescue teams distributing food packets and other essential items, hundreds of marooned people said they had been without water or food for many days. "The magnitude of the disaster is really serious. We are finding it difficult to manage such a volume of the affected," a relief official said in Kochi.
Pumps in several neighbourhoods had also run out of fuel and many hospitals said they were running low on oxygen cylinders. A railway spokesman said army help will be sought to clear tracks after which special supply trains will be run.
There was however some relief for the battered state after Met office forecast that stagnant low pressure in Bay of Bengal had moved towards central India. Later, authorities withdrew a red alert sounded in two districts, Thiruvananthapuram and Kasargode in north Kerala. Rains have subsided in the worst-hit Idukki and Wayanad districts, but water level in the river Periyar surged again, leaving many towns on its banks submerged.
State forest minister K Raju, who is also flood control in-charge of Kottayam district, came in for criticism because of his ongoing visit to Germany. He was asked by the state government to cut short his week-long visit and rush back home after his trip snowballed into a controversy. Raju had left for Germany on Thursday. His own party, the Communist Party of India, requested chief minister Vijayan to advise him to cut short his visit because of the floods.
Close