Delhi captain among 189 dead in Lion Air plane crash was expected home for Diwali
Oct 29, 2018 11:48 PM IST
A Lion Air plane crashed into the sea in Indonesia as it tried to circle back to the capital, Jakarta, from where it had taken off minutes earlier, and there were likely no survivors.
Captain Bhavye Suneja, a 31-year-old Indian with 6,000 hours of flying experience, was at the controls of the Lion Air jet that crashed into the sea with 189 people on board after a sudden and sharp dive on Monday, just minutes after taking off from Jakarta.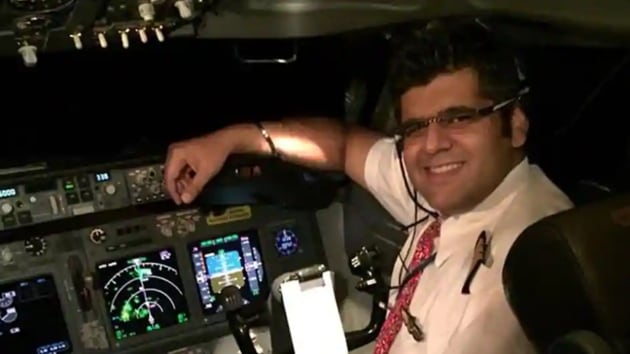 Assisted by co-pilot Harvino, who went by only one name, Suneja was flying the nearly new Boeing 737 MAX 8 when it lost contact with ground officials, 13 minutes after departing from the Indonesian capital.
From Delhi's Mayur Vihar, Suneja studied at the Ahlcon Public School till 2005. Neighbours said his family was expecting Suneja home this Diwali.
While the airline captain's immediate family refused to share any information, his cousin Kapish Gandhi spoke to The Guardian about the incident.
He said Suneja's parents learned of the disaster early in the morning and were booked to fly to Jakarta the same night. "He loved his job, he was very much interested in it," the report quoted Gandhi as saying. "We saw it on television this morning and didn't know whether to believe it," he added. "We are all speechless."
Lion Air Flight JT 610 was flying north from Jakarta to the city of Pangkal Pinang on the island of Bangka when it went down in the Java Sea. The National Search and Rescue Agency said that a tugboat crew saw the plane crash in Karawang Bay northeast of Jakarta and that skies were clear.
By Monday afternoon, rescuers said it was unlikely that survivors would be found.
"I suspect all the passengers are dead," said Marine Brig. Gen. Bambang Suryo, director of operations for the search and rescue agency.
Watch: Search under way for Lion Air plane that crashed
A spokesperson for Indonesia's air navigation authority said the aircraft crew had requested permission to turn around minutes after takeoff. "The request was permitted," the spokesperson said. "Then we lost contact. It was very quick, maybe around one minute."
According to the flight captain's LinkedIn profile, he received his pilot's licence from Bel Air International in 2009.
He was associated with Lion Air as an airline pilot since March 2011. It said that before Lion Air, Suneja also served as a trainee pilot with Emirates for three months in 2010.
Emirates, however, denied hiring him. "Emirates can confirm that the pilot was never an employee or trainee at Emirates airline," it said in a statement.
Hours after the crash, the Indian mission in Indonesia tweeted: "Our deepest condolences on the tragic loss of lives in the Lion Air Plane crash, off the coast of Jakarta today. Most unfortunate that Indian Pilot Bhavye Suneja who was flying JT610 also lost his life." The embassy said it was in touch with the local crisis centre and coordinating for all assistance.
Suneja lived in Jakarta with his wife Garima Sethi, who he married about two years ago. In the airline captain's family are his father Gulshan Suneja, who owns a medicine supply business, mother Sangeeta Suneja, a senior manager (cargo) with Air India, a younger sister and a pet dog.
Neighbours who knew the Suneja family closely said they were in constant touch with authorities in Indonesia. KS Chauhan, who said he has known the Sunejas since 1986, expressed shock. "He was like my child… It is difficult for me to even imagine that Bhavye is no more," he said.
Chandrakala Gupta, who lives next to the Suneja family's house in Mayur Vihar, said: "They are very grounded and humble people. The family is extremely saddened by Bhavye's sudden demise."
Monday's accident was a blow to the Indonesia's aviation safety record after the lifting of bans on its airlines by the European Union and the US.
The aircraft that crashed began its operation as Lion Air on August 15 this year.
Flight tracking data from the Flightradar24 website, which tracks air traffic in real time, showed the aircraft climbed to around 5,000 feet before losing, and then regaining height. It then began falling towards the sea. It was last recorded at 3,650 feet and its speed had increased to 345 knots, the website showed.
Divers were trying till late on Monday to locate the wreckage of the aircraft. The top priority for investigators will be finding the cockpit voice recorder and flight data recorder to help determine the cause, safety experts said.
Privately owned budget carrier Lion Air was founded in 1999 and its only fatal accident to date was when a MD-82 crashed upon landing at Solo City in 2004, killing 25 of the 163 people on board, according to the Flight Safety Foundation's Aviation Safety Network.
(With agency inputs)