Failing the test: Top 10 Smriti Irani controversies as HRD minister
Updated on Jul 05, 2016 11:03 PM IST
Smriti Irani was removed as the HRD minister following a cabinet reshuffle on Tuesday, with Prakash Javadekar being given the post.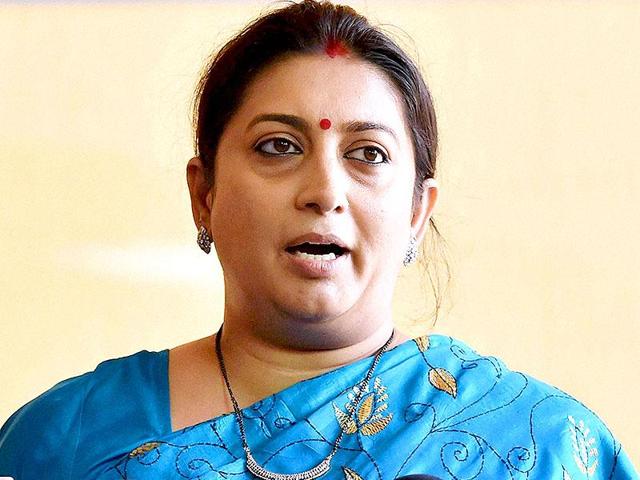 As human resource development minister Smriti Irani had courted one controversy after another. At one point of time, Irani had become the most controversial minister in the NDA government. Prime Minister Narendra Modi's decision to shift Irani to the textile ministry shows that he wants the focus on governance, not controversies.
Here's a look at Irani's top controversies
Rohith Vemula and JNU rows
Irani faced public outrage and the opposition's ire over her handling of the episode related to Dalit research scholar Rohith Vemula's suicide. This incident snowballed into a political flashpoint with the Opposition alleging that the HRD ministry pushed for the punishment of Dalit students, including Vemula, by sending five reminders to the Hyderabad university's vice-chancellor on a complaint from labour minister Bandaru Dattatreya. Opposition parties alleged Irani distorted facts.
In another row, involving the JNU students' union, Irani became the target of the Opposition as she tried to defend the central government's action. Her over-zealous pitch for patriotism prompted Opposition to call her 'Aunty national'.
Read | Cabinet reshuffle: Portfolios of Modi's ministers
University V-Cs sacked
During her tenure, two central university vice-chancellors were sacked on her recommendation, which happened probably for the first time in the country's history. A number of central university vice-chancellors were at loggerheads with Irani, including the former Delhi University V-C and his Aligarh Muslim University counterpart.
Sanskrit at IITs
The minister drew flak after she suggested Indian Institute of Technology to introduce Sanksrit in their institutes. She had set up a committee to promote Sanskrit in educational institutions.
Degree row
The minister's educational qualifications came under scrutiny immediately after she took charge in May 2014. Critics argued how the country's education portfolio could be handed to a person who had not even gone to college.
A case was filed against the minister over allegations that she made contradictory claims about her education in documents filed in different years with the Election Commission. In her April 2004 affidavit to the EC Irani said she completed her BA in 1996 through a long-distance or correspondence programme from Delhi University. In 2014, ahead of the general elections, she claimed she had completed a bachelor's degree in commerce from the School of Open Learning, Delhi University. Her claim to have a degree from Yale University also was lampooned. The university clarified that she had only attended a week-long programme, India-Yale Parliamentary Leadership Program, in 2013.
DU's FYUP fiasco
The rollback of Delhi University's four-year university programme in 2014, a year after it had been initiated on the order of the HRD minister, invited criticism from academics and students alike. While some hailed it as a great move, others called it an attempt by the Irani-led ministry to impose its decision on an autonomous institution that had taken the decision after following the due process.
German-Sanskrit row
The decision of the HRD ministry-run Kendriya Vidyalayas to replace German with Sanskrit as the third language in October 2014 created a furore and turned into a diplomatic issue with German Chancellor Angela Merkel raising the matter with Prime Minister Modi when they met at the G-20 summit in Brisbane in November that year.
IIM bill
The premier management schools raised objection to the HRD ministry's move to include provisions in the IIM bill that could concentrate powers in the hands of the ministry. Facing heat, Irani's ministry held several rounds of meetings with the IIMs and later decided to modify/delete the contentious clauses.
IIT-Delhi director quits
The resignation of IIT-Delhi director RK Shevgaonkar in December 2014, two years before his term, was attributed to unnecessary intervention by Irani in the premier technological institute. It was alleged that Irani had pressed Shevgaonkar to release salary dues of nearly Rs 70 lakh from 1972 to 1991 to former IIT-Delhi faculty and now BJP leader Subramanian Swamy.
Irani denied there was any such pressure and alleged that Shevgaonkar resigned as he was faulted on account of setting up an "illegal" campus in Mauritius. An inquiry committee was set up to investigate the charges against the IIT director, but nothing came out of it.
N-scientist's allegations
Nuclear scientist Anil Kakodkar resigned as the chairperson of IIT-Mumbai board in March last year alleging intervention from the HRD ministry in the selection of three IIT directors.
Irani allegedly questioned Kakodkar, who was a member of the selection committee, as to why he had called candidates outside the shortlisted ones for an interview. The nuclear scientist had then retorted that it was the prerogative of the search committee to invite such candidates if it found necessary.
Bureaucrats leave
A number of bureaucrats in her ministry left for their parent cadre or other ministries alleging her high-handed way of functioning. A lady IAS officer sought a transfer as she was publicly rebuked over her choice of room in the ministry; another allegedly left after the minister threw a file at him.
IIT-Madras ban
A controversy similar to the ongoing University of Hyderabad issue erupted last year when a letter from Irani's ministry to IIT-Madras led to the ban of the Ambedkar Periyar group, a student's discussion forum, that was critical of Prime Minister Modi. The ministry had forwarded an anonymous letter to the institution asking why such forums were allowed in the campus.
Good Governance Day
Irani's ministry was embroiled in a row in December 2014 when Navodaya Vidyalaya Samiti asked all its schools to observe December 25 as Good Governance Day, which required the physical presence of students on a holiday.
The directive triggered uproar as critics alleged it was an attempt to disrupt the winter vacation and keep students in schools. Under attack, Irani clarified that it was voluntary and students who stayed back in hostels could observe December 25 as Good Governance Day.
Separate canteens
Irani's ministry came under fire over reports that it had asked the IITs to explore the possibility of having separate eating space and mess for vegetarian students. CPI(M) leader Sitaram Yechury wrote a letter to Irani saying the government has no right to "police" food habits of students.
Personalise your news feed. Follow trending topics