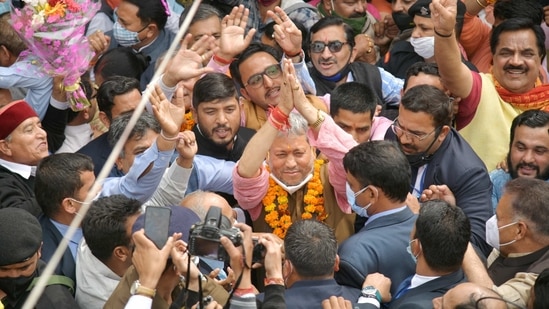 'Focus on tourism, health, education to win 2022 polls: Tirath Singh Rawat
BJP's central observer Raman Singh said Tirath Singh Rawat's name was approved by the party central leadership after he was unanimously selected by the BJP legislature party.
PUBLISHED ON MAR 10, 2021 03:22 PM IST
Uttarakhand's newly named chief minister Tirath Singh Rawat said on Wednesday that his main focus will be on the tourism sector, while also improving health and education in the state during his tenure of about a year.
A resident of Pauri Garhwal district and an MP from the same constituency, 56-year-old Rawat was named the new CM by outgoing CM Trivendra Singh Rawat, following the BJP legislature party meeting to decide the new CM in presence of party's central observers, including former Chhattisgarh CM Raman Singh, party state unit in-charge Dushyant Kumar Gautam and party state co-in-charge Rekha Verma in party headquarters on Wednesday morning.
Expressing his gratitude to the Central leadership including PM Narendra Modi, home minister Amit Shah and party national president, Rawat said, "I am grateful to the organisation that they gave me this opportunity to serve the state which I never thought I would get."
"During my tenure of about a year, before the next assembly elections in 2022, I would focus on health, education, and especially on tourism, which is a major sector in our state. Will continue to work on the development programmes introduced by Trivendra Singh Rawat so as to ensure the party's victory in next assembly elections," he said.
Rawat, who started his public life with Rashtriya Swayamsevak Sangh (RSS) during his student life and worked as Kshetriya Pracharak for several years before joining the BJP said, "Earlier, I didn't know what BJP was."
"When I used to work as the RSS member, I got the opportunity to meet late former PM Atal Bihari Vajpayee in 1985 in Srinagar town of Pauri Garhwal. Seeing his down-to-earth attitude, I was later inspired to come into the BJP to serve the people. And now, when I have been given this opportunity, I am extremely thankful to the party organisation," said Rawat.
Earlier during the event, party central observer Raman Singh said, "Rawat's name was approved by the party central leadership."
"We had apprised the central leadership of the happenings last night and today morning also. When his name was floated, all the party members agreed on it unanimously, which made me immensely happy to see the level of coordination and unity in the organisation," said Singh.
Also Read: Who is Tirath Singh Rawat? A political profile of Uttarakhand's CM-designate
Citing the works done by outgoing CM Trivendra Singh Rawat, he said, "Trivendra in his last four years of tenure through various development works had made a robust basis on which Tirath would now make a strong building to continue the development."
Rawat will take the oath as the new CM of the state at the Governor House on Wednesday 4 pm.
Close