Ganga water cleaner than it was in 1986?
A Union water resources ministry official said though cleaning of Ganga is a continuous process, the measures taken by the government in the last few years are slowly showing results.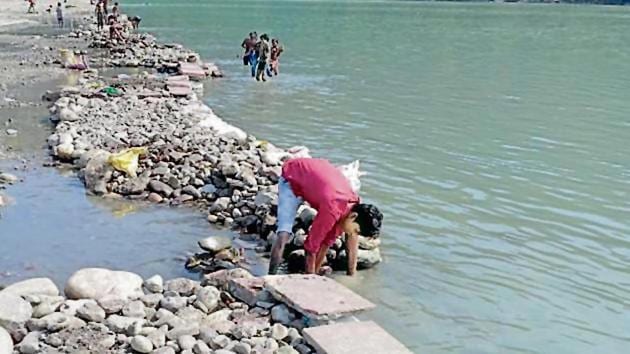 Updated on Feb 04, 2018 07:27 AM IST
Hindustan Times, New Delhi |
Rajesh Ahuja and Moushumi Das Gupta
The Ganga may be cleaner today, than it was in 1986, when efforts to first clean the river were launched, with the quality of its water showing an improvement on two out of three key parameters used for measurement, in some stretches across 10 important cities, according to data from the National Mission for Clean Ganga (NMCG) that has been seen by Hindustan Times.
The parameters where the water quality has shown improvement between 1986 and 2017 are dissolved oxygen (DO) and biological oxygen demand (BOD). The third parameter is faecal coliform level, which is crucial to assess if the water is fit for drinking and bathing; this data was not provided by NMCG, which comes under the Union water resources ministry and is spearheading the Rs 20,000 crore Namami Gange program to clean the river.
Interestingly, the Central Pollution Control Board (CPCB) — the country's pollution watchdog — measured the water quality against all three parameters and provided the data to NMCG.
Coliforms are a broad class of bacteria found in faeces of humans and animals and their presence may indicate the possible presence of harmful, disease causing organisms.
A report of the Comptroller and Auditor General of India on Rejuvenation of Ganga tabled in Parliament last year said that during 2016-17, the total coliform level in Ganga across all the cities of Uttar Pradesh, Bihar and West Bengal that it flowed through, was six to 334 times higher than the prescribed levels.
For better water quality, the DO should be more than 5mg/l and BOD should be less than 3mg/l (as per CPCB fixed standards for outdoor bathing). Along with fecal choliform level, BOD and DO are essential to measure a river's biological health.
The CPCB data shows that DO level in 10 cities spanning five states through which Ganga flows was more than 5 mg/l in 2017.
These cities were Rishikesh, Haridwar, Garhmukteshwar, Kannauj, Kanpur, Allahabad, Varanasi, Patna, Palta and Uluberia. In majority of the stretches, the DO level varied between 7.7 mg/l and 8.8 mg/l, including Rishikesh were it was 10mg/l. In 1986, the DO measured in Rishikesh was 8.1mg/l.
DO is the level of oxygen dissolved in water and is a crucial parameter in assessing water quality. The lesser its level, the lesser are the chances of survival of aquatic life including fish.
The BOD level — amount of dissolved oxygen needed by aerobic biological organisms to break down organic material present in the water — was found to be less than the permissible level in fewer stretches, including those near Rishikesh, Haridwar, Garhmukteshwar and Patna.
The Ganga flows through five states (Uttarakhand, Uttar Pradesh, Bihar, Jharkhand and West Bengal) before it reaches the Bay of Bengal.
"Our present aim is to achieve bathing standard in Ganga. And the steps initiated so far seems to be bearing result. The DO level was more than 5 mg/l in most places except some stretches of Kanpur. But even here there is improvement. Some species of fishes have been sighted, that also adult ones in the last two year," said a senior ministry official involved with the program who did not want to be identified.
Experts said that it's too early to say the water quality of the river is improving. "There have been some improvement but again there are fluctuations. There has been no change in waste generation. Efforts are being made to treat the waste by setting up Sewage Treatment Plants (STPs) but it will take time. The fecal coliform level needs improvement," said RM Bhardwaj, senior scientist at CPCB, who is incharge of monitoring the river water quality. Environmental activist MC Mehta agrees: "The CAG report tabled last year clearly shows that quality of the river has deteriorated over the years. The CPCB data for DO and BOD does not reflect the true picture, which will be clear only when the figures for fecal coliform is also disclosed."
The ministry official cited in the first instance claimed that in the past few years fecal coliform level has remained the same. Hindustan Times couldn't independently authenticate his claim.
"It's a live river. ….. In western countries rivers are mainly used for economic purpose. Here it's not like this. Ganga is a source of livelihood, faith is attached to it, and people go and bathe there. In Varanasi, on an average 250 to 300 dead bodies are cremated every day on the ghats. On normal days 50,000 people visit Ganga, which goes up during festival," he said.
The CAG report puts the fecal coliform level in 2016-17 in the upstream stretch of the river in Varanasi at 3000 MPN (most probable number)/100ml while downstream it was 46167 MPN/100ml. For bathing purpose coliform level should be 500 MPN/100 ml or less.
The ministry official said that though cleaning of the river is a continuous process, the measures taken by the government in the last few years are slowly showing results. Of the 1109 grossly polluting industries inspected by CPCB between December 2015 and November 2017, 508 were found non-compliant with respect to prescribed effluent discharge standards and were asked to close.
Till November 2017, 93 projects for managing municipal sewage have been sanctioned at a cost of Rs 14,167 crore. Dr Dipankar Saha, former additional director, CPCB said that it is too early to say if the water quality in the river has improved. "What we can say at the moment by comparing the BOD and DO figures from 1986 to 2017 is that steps taken by the authorities have started giving a signal that there is uniformity in the water quality and there is no signal of deterioration."
Close Story
Personalise your news feed. Follow trending topics