Manohar Parrikar (1955-2019): An accessible yet go-getter politician
Goa chief minister Manohar Parrikar died on Sunday evening at his home in Dona Paula just over a year after he was detected with cancer. He was 63.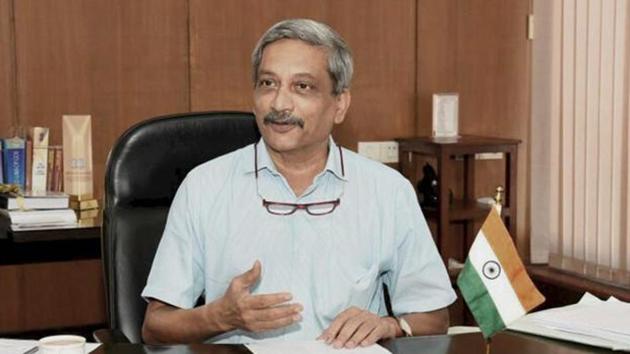 Updated on Mar 17, 2019 10:29 PM IST
Hindustan Times |
HT Correspondent
Goa chief minister Manohar Parrikar died at his Panaji residence on Sunday evening just over a year after he was detected with cancer. Here is a timeline of his life:
Full name: Manohar Gopalkrishna Prabhu Parrikar
Age: 63
Children: Two sons -- Utpal and Abhijat
December 13, 1955: Born in Parra village, North Goa, a village from which his family derives its surname.
May 1971: Completed SSC from New Goa High School, Mapusa (Poona Board)
May 1973: Completed Inter Science (HSSC), St Xavier's College, Mapusa (Bombay University)
1978:Completed Bachelor of Technology (Metallurgy) IIT Bombay
1981: Appointed RSS sanghchalak (local director) to the organisation he joined when in school.
1991: Contested first election as BJP's candidate for North Goa Lok Sabha seat. Lost to Congress candidate Harish Zantye.
1994: Contested and won from the Panaji assembly constituency. BJP opened its account winning four seats for the first time in Goa.
1996: Contested Lok Sabha North Goa seat a second time. Lost again to MGP's Ramakant Khalap who went on to become Union Law Minister.
July 1999: Led the BJP in the 1999 General Assembly elections. Won 10 seats
November 1999: Engineered a coup to dislodge then Congress Chief Minister Luizinho Faleiro and supported Congress rebel Francisco Sardinha to be Chief Minister along with his and his band of breakaway MLAs to form a coalition government.
October 2000: Engineered yet another coup to become chief minister for the first time.
May 2001: Loses his wife Medha to cancer.
February 2002: Parrikar controversially dissolves Goa assembly. Governor accepts proposal and calls for fresh elections.
June 2002: Parrikar re-elected
Goa Chief Minister with 17 BJP MLAs with the help of the Maharashtra Gomantak Party (2) and United Goans Democratic Party (3).
November 2004: Goa hosts its first International Film Festival of India, and would soon become the permanent host for the country's premier film festival. Parrikar spruces up Panaji in record time.
February 24, 2005: With NDA government losing Lok Sabha elections the year before, three-year-old Parrikar-led coalition government reduced to a minority after emboldened coalition partners withdraw support. Parrikar government loses trust vote. Congress Pratapsingh Rane becomes chief minister
June 2007: With Parrikar at the helm, BJP loses state assembly elections winning 16 seats to the Congress-NCP combine's 19. Digambar Kamat, now with the Congress, sworn in as Goa chief minister. Parrikar elected as Leader of Opposition in the state assembly.
July 2007: Parrikar attempts to topple Digambar Kamat government, but Kamat wins trust vote.
March 2012: Parrikar elected Goa chief minister with BJP winning simple majority for the first time.
November 2014: Parrikar sworn in as Union Defence Minister; Elected as Rajya Sabha MP from Lucknow, UP.
September 26, 2016: Oversees surgical strikes to destroy militant bases within Pakistan occupied Kashmir.
March 2017: Resigns as Union Defence Minister, sworn in as Goa chief minister to lead the coalition government with allies making his leadership conditional to them supporting the BJP.
Health timeline
February 14, 2018: Hospitalised with what was initially believed to be food poisoning.
February 15, 2018: Parrikar admitted to Mumbai's Lilavati Hospital and is examined by Dr P Jagannath.
February 16, 2018: Chief Minister's Office reveals Parrikar is suffering from 'mild pancreatitis'
February 17, 2018: Chief Minister's Office updates Parrikar's health informing he is suffering from 'inflamed' pancreas.
February 22, 2018: Discharged from Lilavati Hospital, attends curtailed Goa Legislative Assembly session and presents statement of income and expenditures in place of a full budget.
February 24, 2018: Readmitted to Goa Medical College and Hospital with 'slight dehydration'.
March 5, 2018: Parrikar flies out of Goa to Mumbai's Lilavati Hospital and from there to Memorial Sloan Kettering Cancer Research Centre, in New York. Appoints Cabinet Advisory Committee in his absence.
June 13, 2018: Parrikar returns from USA.
June 14, 2018: Chairs cabinet meeting approving proposal for cancer centre at Goa Medical College.
August 10, 2018: Parrikar flies back to USA for follow up treatment.
August 22, 2018: Parrikar returns from USA
August 23, 2018: Hospitalised again in Mumbai for 'routine tests'
August 28, 2018: Flown back to the USA to be examined by doctors who treated him.
September 10, 2018: Admitted to local hospital in Goa.
September 15, 2018: Parrikar shifted to AIIMS, New Delhi, on Amit Shah's advice.
September 24, 2018: Drops two ministers from his cabinet, inducts two others
October 14, 2018: Parrikar shifts back to Goa.
January 28, 2019: Parrikar inaugurates ₹850-crore signature bridge, asks BJP workers gathered there, "How's the josh?"
January 30, 2019: Parrikar presents state budget in the Goa Assembly.
March 15, 2019: Parrikar's condition deteriorates after his blood pressure drops suddenly.
March 16, 2019: Goa Chief minister's office tweets that his condition is stable.
March 17, 2019: Goa chief minister Manohar Parrikar passes away late in the evening.
Occupational background:
Started his own business in the form of M/s Goa Hydraulics and its sister concern Westfield Hydraulics and Pneumatics, which he co owns with his sons Utpal and Abhijat and is involved in the manufacture of hydraulic cylinders and precision engineering technology.
Close Story
Personalise your news feed. Follow trending topics