Guyana president seeks India's participation in booming oil and gas sector
Updated on Jan 10, 2023 07:59 PM IST
Guyana is expected to increase oil production from the current level of 3,40,000 barrels a day to 1.64 million barrels a day by the end of the decade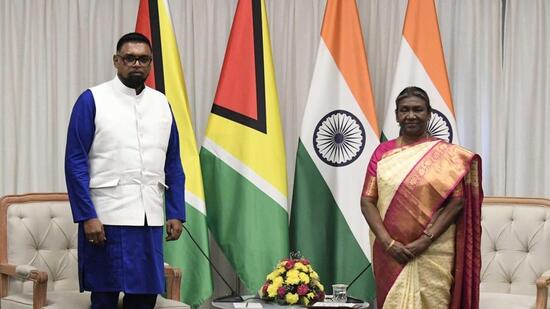 Guyana President Mohamed Irfaan Ali has sought the participation of India's public and private enterprises and skilled manpower in his country's developmental efforts, especially in the booming oil and gas sector.
Since 2015, Guyana has discovered significant oil and gas reserves with potential volumes of nearly 11 billion barrels. There have been 31 oil discoveries in the South American country's Stabroek block alone. Cooperation in oil and gas figured prominently in discussions between Indian leaders and Ali, who was chief guest at the Pravasi Bharatiya Divas (PBD) convention in the Madhya Pradesh city of Indore.
Ali's "main message" at his meeting with Prime Minister Narendra Modi on Monday was that as Guyana prepares for further growth on the back of the oil and gas finds, the country wants India's public and private sector entities to participate in development, Saurabh Kumar, secretary (East) in the external affairs ministry, told a media briefing in Indore on Tuesday.
Also Read:Jaishankar lauds Indian diaspora successes, says 'clear that the global demand…'
"The Guyana president is very keen on skill development and he wants skilled Indian manpower to go to Guyana," Kumar added.
Guyana is expected to increase oil production from the current level of 3,40,000 barrels a day to 1.64 million barrels a day by the end of the decade, making it a major production centre for hydrocarbons in future. India, the world's third-largest energy consumer, has sought to diversify supplies in recent years.
Petroleum minister Hardeep Puri is expected to meet Ali when he travels to New Delhi during his visit.
The Guyana president, who is accompanied by a 25-member business delegation, will also meet officials of India's state-run energy companies and participate in other business meetings.
Suriname President Chandrikapersad Santokhi, who was the special guest of honour at the PBD convention, too expressed interest in Indian participation in his country's efforts to explore for oil and gas reserves.
"The oil and gas sector is a major area for cooperation with both Guyana and Suriname," Kumar said.
At his meeting with Modi, Ali also discussed cooperation in areas such as infrastructure, IT parks, renewable energy, agriculture and food processing. During a meeting between Modi and Santokhi on Monday, the Indian side agreed to restructure Suriname's debt under several Indian lines of credit in view of the South American country's economic difficulties, Kumar said.
Santokhi also invited Modi and President Droupadi Murmu to participate in celebrations being organised by Suriname in June 2023 to mark the 150th anniversary of the arrival of Indians to the country. Indian-origin people account for a 27% majority in Suriname's population.
Ausaf Sayeed, secretary for overseas Indian affairs in the external affairs ministry, said the three-day PBD convention also provided an opportunity for five Indian ministers to meet diaspora groups from different parts of the world and discuss their issues. External affairs minister S Jaishankar held separate meetings with his counterparts from Panama and Suriname and Malaysia's human resource minister.
Madhya Pradesh's additional chief secretary Mohammad Suleman, who heads the state's overseas Indians department, said delegations from 27 countries joined a global investors summit and presented proposals for cooperation in medical education, investments and skill development. A group from Saudi Arabia made a proposal for employing manpower who undergo specialised training at ITIs and polytechnics. Suleman said the two sides are looking to sign a memorandum of understanding in this regard.
During President Murmu's meeting with her counterpart from Guyana on Tuesday, she said India is keen to strengthen its development partnership and India deepen cooperation for capacity building and training. Pointing to major discoveries of oil in Guyana, Murmu said there is "immense scope" for collaboration in this area as India has the requisite expertise across the entire oil and gas value chain.
Murmu also met Santokhi and reiterated India's commitment for providing technical cooperation and contributing to skill development in Suriname. Both leaders discussed ways to advance cooperation in trade, energy, technology and culture.