HD Kumaraswamy, film producer turned accidental politician, rolls the dice in quest for Karnataka crown
Updated on May 15, 2018 09:21 PM IST
Despite the JD(S) ending a distant third in the Karnataka assembly elections with just 37 seats, HD Kumaraswamy is in the reckoning for the chief minister's post after the Congress decided to back him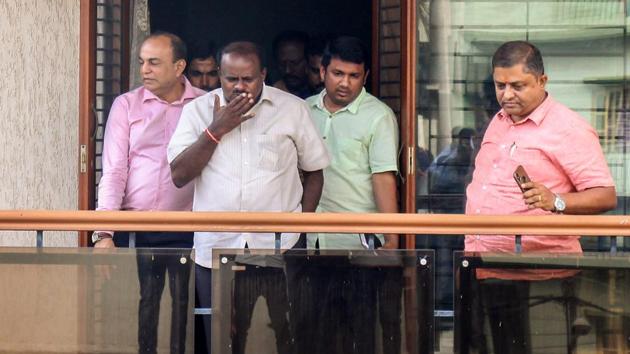 Hardanhalli Deve Gowda Kumaraswamy, 58, may well end up being Karnataka's 26th chief minister if the Congress-JD(S) coalition can convince Governor Vajjubhai Vala to invite it to form the government and can then prove a majority on the floor of the house.
Kumaranna as he is called within the party may be the son of a former Prime Minister, but politics was not his first calling.
A self-confessed "poor in studies" student, Kumarawamy , who has a graduate degree in science from Bengaluru University , was in love with the movies. Initially a film financer, he subsequently produced movies under the Chennambika banner, named after his mother Chennamma; his hits include Surya Vamsha and Chandra Chakori.
As early as 1996, at the age of 37, he contested and won the Kanakapura Lok Sabha constituency vacated by his father and entered the 11th Lok Sabha. Subsequently, he lost two elections, even losing his deposit once. In 2004 when Karnataka threw up a hung assembly, JD(S) initially tied-up with Congress, where Dharam Singh from the national party was made Chief Minister and Sidaramaiah from the JD(S) became deputy CM.
Kumaraswamy was unhappy at the arrangement and much against his father HD Deve Gowda's (at least publicly stated) wishes revolted and took the bulk of JD(S) MLA's to form a coalition with BJP and became the CM. He was the CM of Karnataka from Feb 2006 to Oct 2007 but when the time came to transfer power to BJP, he reneged on the deal ,resulting in early polls in which the BJP triumphed. Ironically, CM Siddaramaiah who accused Deve Gowda and Kumaraswamy of preventing him from becoming CM and quit the party, is now extending unconditional support for the ascension of Kumaraswamy to the very post.
Kumara Parva
Seen as personally amiable and genial in nature, Kumaranna is known to greet everybody with "Hello, brother." His supporters call his rule Kumara Parva or the era of Kumara, which has historical and religious connotations in Karnataka. He has two wives, Anitha, whom he married in 1986 and the film star Radhika, whom he married in 2006. From Anitha he has a son Nikhil Gowda who has starred in a few Sandalwood movies; he has a daughter named Shamika from Radhika.
Since Deve Gowda is 85 years old, Kumaraswamy was the star campaigner for Janata Dal (Secular) in this election. He has inherited the mantle of Vokkaliga strongman from his father, though he has three other brothers. While two of his brothers H D Ramesh and H D Balakrishna Gowda are not in politics, his elder brother H D Revanna has been a former minister and has retained the family's pocket borough of Holenarasipura. Kumaraswamy himself won from both Ramanagra and Chennapatna.
In Ramnagara he did not visit the constituency after filing nominations but still won easily. In Chennapatna he was avenging the defeat of his wife Anitha in the last elections by C P Yogeshwar whom he defeated in this election.
During the campaign Kumaraswamy broke down in his final speech and appealed to voters : "If you don't take care of me, I won't live long", a reference to the two heart surgeries he has undergone.