Karnataka CM Kumaraswamy plays down tearful outburst, says never spoke against Congress
Updated on Jul 17, 2018 11:57 PM IST
Karnataka chief minister HD Kumaraswamy broke down in public last Saturday and declared he was being forced to become 'Vishakanth', referring to Lord Shiva swallowing poison for the good of the world.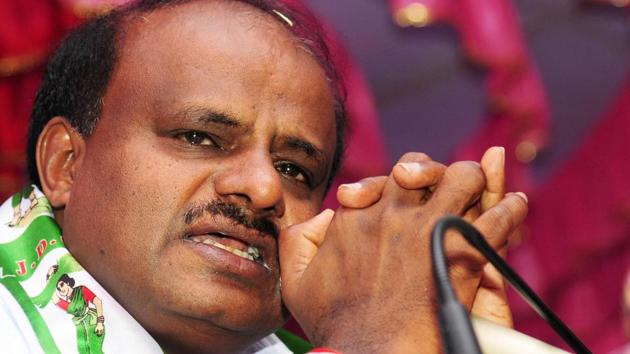 Karnataka chief minister H D Kumaraswamy on Tuesday played down his emotional outburst in Bengaluru at the weekend, insisting that he did not cry out of "helplessness" and that he did not speak anything against the Congress.
Kumaraswamy who is in the national capital, accused the media of hyping the issue which has given the BJP an opportunity to take pot shots at him.
He conceded that he became emotional at a party event but pointed out that he never said that the Congress or its leaders were troubling him.
"I'm an emotional person, but it is not my helplessness. I was speaking at my family programme. I have shared my pain with family members. I have not criticised Congress leaders. While talking emotionally, it is natural that tears flow. More than a CM, I am an ordinary person with emotions," he told reporters.
"I spoke for an hour on that day. Nowhere I talked anything about the Congress creating problems. I have told media friends that despite difficulty I have taken the strong step of loan waiver and have implemented programmes, but somewhere I'm not getting encouragement for my good work."
Kumaraswamy who will be in Delhi till Thursday morning, is scheduled to meet several Union ministers and chair a meeting of MPs from Karnataka on issues like Cauvery river water to be raised during the monsoon session of Parliament.
On Saturday, an emotional Kumaraswamy had told JDS workers at a meeting in Bengaluru that he was "not happy" being in the top post and was swallowing the pain like 'Vishakantha' (Lord Shiva), who drank poison.
The comment drew a stinging response from Union minister Arun Jaitley, who in a Facebook post, accused Congress of driving Kumaraswamy to desperation. "Listening to these statements of an Honourable Chief Minister, my memory took me back to the dialogues of the tragedy era of Hindi cinema," he wrote.
Senior Congress leaders in Karnataka and New Delhi were also surprised over Kumaraswamy's emotional remarks, which were seen in political circles as a sign of coalition stress and strains.
Kumaraswamy's Janata Dal (Secular) or JD (S) and the Congress joined hands after the May 12 assembly polls in Karnataka and the parties have sparred with each other over a range of issues, from the state budget to the appointment of pro-tem chairman of the Karnataka Legislative Council.
Congress leader and former chief minister Siddaramaiah was heard in a video in June expressing doubts about the longevity of the coalition government. He criticised Kumaraswamy's decision to present a full budget in July when the previous Congress government had presented one in February.
Personalise your news feed. Follow trending topics