In race for influence with China, India investing more in neighbouring countries
Nov 04, 2018 07:20 AM IST
India has sharpened its focus on development assistance for its neighbours, especially for high impact projects driven by local needs.
India has sharpened its focus on development assistance for its neighbours, especially for high impact projects driven by local needs, as it finds itself in a race for influence in the region with China.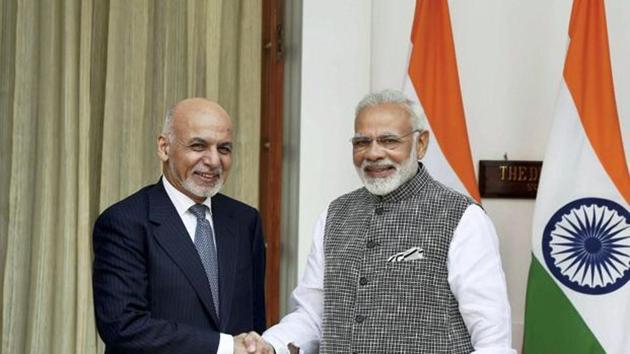 An array of projects, ranging from the nearly $300-million Salma or Afghan-India Friendship Dam to the Rooppur nuclear power plant being built in Bangladesh, have benefited from grants or lines of credit with low interest rates offered by Delhi.
Out of lines of credit worth $25 billion given to 61 countries around the world since 2012, almost $11.6 billion or 46% has gone to India's neighbours, people familiar with the development programmes said on condition of anonymity.
Grants worth $4.2 billion have been provided to Saarc members, minus Pakistan, and Myanmar since 2013-14, compared to $1.67 billion in grants for these countries between 2008 and 2013, they added.
"Partnerships in the neighbourhood are a priority and the focus is on delivery and managing things more effectively so that projects are completed on time. The focus is also on completing lingering projects before we take up new ones," added one of the people cited in the first instance.
This has resulted in a push for railway links with Nepal and Bangladesh, and railway projects within Myanmar.
The railway link between Nepal's Janakpur and Jaynagar in Bihar is expected to be operational by the end of the year and India recently supplied 18 locomotives to Myanmar as part of a $679-million assistance package.
In Afghanistan, after completing the Afghan-India Friendship Dam and the Parliament building, India is set to take up the Shahtoot dam in the Kabul river basin, a project to supply much needed drinking water to the Afghan capital.
"This project is now moving towards the process of approvals and tendering," one of the people said.
Another focus area in Afghanistan are small development projects, worth $1 million or less, with 560 such ranging from schools to health centres and women's vocational training centres, already being launched in all 34 provinces of the country, including areas contested by the Taliban.
A total of $200 million has been committed for these projects, of which $120 million has been used.
Bangladesh has been largest beneficiary of lines of credit, having been provided $7.86 billion, a majority of it in the past four years. Much of the funds are meant for connectivity and infrastructure projects such as ports, railway lines and roads. India is now set to begin tendering for the transmission and distribution network for the 2.4 GWe Rooppur nuclear power plant being built in northwest Bangladesh jointly by India and Russia.
The Indian assistance, however, is dwarfed by the billions of dollars poured into the region by China.
Beijing does not publicise official figures for loans and assistance, though figures from the American Enterprise Institute show that between 2012 and 2018, China invested $8.06 billion in Myanmar, $43 billion in Bangladesh, $20 billion in Sri Lanka, $5.45 billion in Nepal and $420 million in Afghanistan.
The Chinese assistance has come with fears of "debt traps", with observers citing the example of Sri Lanka's Hambantota port, which Colombo recently handed over to Beijing along with 15,000 acres around it for 99 years to erase $1 billion in debt.
The people cited in the first instance were reluctant to characterise the Indian-aided projects, which are managed and implemented under the external affairs ministry's development partnership administration as a race with China.
"The defining feature of our partnerships is that they are demand driven and need-based. It's what the local governments want from us and part of their development trajectory," said the first person.
"Our projects don't push partners into problems of debt repayment," a second person said. At the same time, the projects are aimed at improving connectivity with India, boosting trade opportunities and creating opportunities for Indian firms.
Nitin Pai, director of The Takshashila Institution, said these development partnerships are one way of signalling that as India becomes more prosperous, it is willing to share its prosperity with its neighbours.
"This can only be the first step as true development partnership needs open and free trade across the region, but some countries don't want it," he said. "There is also no point in getting into an aid race with China, which has no government controls and accountability on spending. India's strength is in building grassroots democracy and pluralism, not propping up dictators."