In veiled reference to MJ Akbar's MeToo row, Rahul Gandhi targets PM Modi
Updated on Oct 16, 2018 08:50 PM IST
Gandhi is on a two-day tour of Madhya Pradesh where Assembly polls are scheduled to take place on November 28.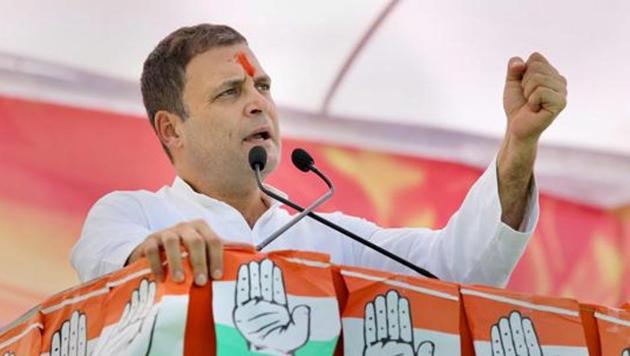 Congress president Rahul Gandhi on Tuesday waded into the controversy over allegations of sexual harassment against Union minister MJ Akbar and attacked Prime Minister Narendra Modi, accusing him of not speaking up when ruling party lawmakers and ministers are involved in crimes against women.
"Modiji says 'beti padhao, beti bachao' but it so happens that when a complaint against his minister comes, he keeps quiet," Rahul Gandhi said at a public meeting in Morena district's Joura area, according to news agency PTI.
Gandhi is on a two-day tour of Madhya Pradesh where Assembly polls are scheduled to take place on November 28.
The Congress president did not name MJ Akbar who has been accused of harassment by several women journalists. The junior foreign minister has rejected the allegations made as part of #MeToo movement in the country, mostly on social media, and filed a defamation case against the first journalist to have named him.
This is the first time that Gandhi, 48, has attacked the BJP government at the Centre over the allegations against Akbar.
The Congress had recently lent his support to the movement, calling it a big issue.
"The truth needs to be told loud and clear in order to bring about change," he tweeted last week.
At his public meeting in Madhya Pradesh's Morena, Rahul Gandhi kept the barbs coming.
"When an Uttar Pradesh MLA rapes a woman, UP CM Yogi (Adityanath) keeps quiet and the prime minister keeps quiet. Their true slogan should be 'beti padhao aur beti ko BJP ke neta, mantri aur MLA se bachao," he said, according to PTI.
Gandhi has been mostly accompanied by state Congress president Kamal Nath and the party's campaign committee chief Jyotiraditya Scindia during his programmes in Madhya Pradesh.
Tuesday's public meeting in Joura was also attended by senior Congress leader Digvijaya Singh, who had been conspicuous by his absence during most of the programmes and rallies addressed by Gandhi in Madhya Pradesh over the last few weeks. His presence came days after he is seen explaining his absence from the campaign to the view that his party could lose votes if he speaks out.
Personalise your news feed. Follow trending topics