India, US call for Pakistan to take 'concerted action' to dismantle terror network
Foreign Secretary Vijay Gokhale and Secretary of State Michael R Pompeo said that those who support or abet terrorism in any form should be held accountable.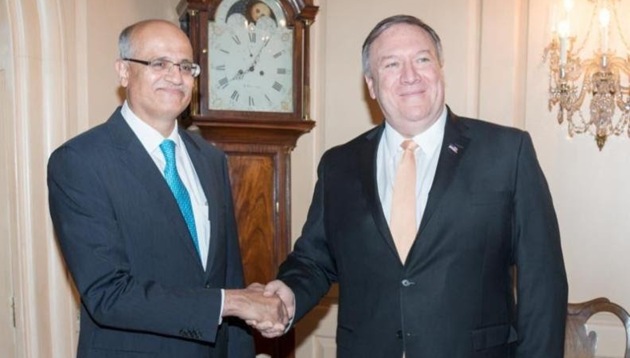 Updated on Mar 11, 2019 09:40 PM IST
Hindustan Times, Washington |
Yashwant Raj
India and the United States on Monday renewed their call to Pakistan to "take concerted action to dismantle" terror infrastructure in the aftermath of the Pulwama attack.
The two countries also called for holding accountable all those who support and abet terrorism in "any form", according to a readout of a meeting between visiting Indian foreign secretary Vijay Gokhale and US secretary of state Michael R Pompeo.
The two officials also discussed bilateral trade, an issue that hit headlines last week with the Trump administration announcing its intention to end a zero-tariff preferential system for over $5 billion worth of imports from India over market access for US goods. Gokhale underscored the "significant" reduction in US trade deficit with India and a willingness to remain engaged with the US to for a "meaningful and mutually acceptable package on trade issues".
Also read: UN ban on Masood Azhar could figure in India, US foreign secretaries talks
This was the first high-level in-person contact between India and the United States, following intense engagements over phone, after the Pulwama terrorist attack that killed 40 CRPF personnel on February. And, significantly, it took place just two days ahead of a crucial UN Security Council decision on Wednesday to designate, or not, Masood Azhar, founder of the Pakistan-based Jaish-e-Mohammad, which has claimed responsibility for the attack.
The United States is one of the three joint movers of the designation proposal, with the United Kingdom and France. This is the fourth attempt to sanction Azhar. China, which blocked the three previous moves, holds the key, and has appeared non-committal. It could not be immediately ascertained if Gokhale and Pompeo discussed the upcoming UNSC decision.
Secretary Pompeo "expressed his understanding of India's concerns regarding cross -border terrorism", said the Indian embassy in a readout of the meeting. "They agreed that Pakistan needs to take concerted action to dismantle the terrorist infrastructure and to deny safe haven to all terrorist groups in its territory. They also agreed that those who support or abet terrorism in any form should be held accountable."
Both India and the United States want Pakistan to go beyond the present, and episodic, crackdown on terrorists it harbors and uses as a foreign policy tool and take demonstrably credible and verifiable action.
Also read: 'Need responsible solution', says China on terrorist tag for Jaish-e-Mohammed's Masood Azhar
The foreign secretary also conveyed India's appreciation to the US and the secretary personally "for the firm support that India received from the US in the aftermath" of the Pulwama attack.
The United States was the only major power to back India's right to self-defence and the airstrike on a Jaish-e-Mohammad terrorist camp in Balakot calling it "counter-terrorism actions". It joined the UK and France, then, to press the UN Security Council to pass a "path-breaking" statement condemning the Pulwama attack, despite stiff resistance from China, on behalf of Pakistan.
And the three countries, and Afghanistan, joined India to oppose an appeal by Hafiz Saeed, founder and head of Lashkar-e-Toiba that carried out the Mumbai attacks in 2008, to be removed from the UNSC list of designated terrorists. An ombudsman for the world body rejected Saeed's petition on Wednesday.
The foreign secretary will meet his US counterparts Under Secretary of State for Political Affairs David Hale and Under Secretary of State for Arms Control and International Security Andrea Thompson later during his visit.
"These are regular high-level dialogue mechanisms to review bilateral relations, exchange views on major foreign policy and security-related developments and coordinate respective positions on issues of common interest, a spokesperson for the ministry of external affairs said in a statement issued in New Delhi earlier. Gokhale is also likely to meet with senior leaders in the US administration and US Congress.
Close Story