India welcomes Trump's resolve to tackle cross-border support for terrorists
In his first prime-time televised address to the nation as commander-in-chief, US President Donald Trump laid out his South Asia policy, saying a "critical part" of it was to further develop US' strategic partnership with India.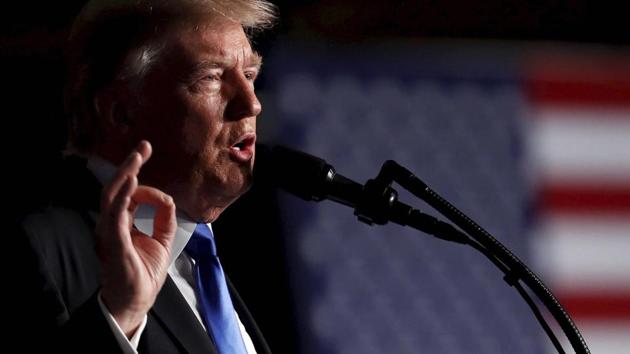 Updated on Aug 22, 2017 02:28 PM IST
India on Tuesday welcomed Donald Trump's new security strategy in Afghanistan and said it was "much pleased" about the US President's strong words against Pakistan providing "safe havens" to terrorists, without naming the neighbouring country.
"We welcome President Trump's determination to enhance efforts to overcome the challenges facing Afghanistan and confronting issues of safe havens and other forms of cross-border support enjoyed by terrorists," the external affairs ministry said in a statement.
But the statement didn't name Pakistan, the country India blames for fostering cross-border terrorism and providing safe haven to terrorists who disrupt peace and stability in the region.
"India shares these concerns and objectives," the statement said.
Trump warned Pakistan, its closest ally in South Asia, that Washington will no longer be silent about Pakistan's safe havens for terrorist organisations. "We have been paying Pakistan billions and billions of dollars at the same time they are housing the very terrorists that we are fighting," he said.
He also suggested that military and other aid to Washington's nuclear-armed ally is at stake if it does not clamp down on extremism.
Though US presidents in the past have spoken in a similar vein, Washington often doesn't walk the talk on Pakistan because of reasons of geopolitics and history.
Trump didn't say so but his secretary of state Rex Tillerson said: "Pakistan has suffered greatly from terrorism and can be an important partner in our shared goals of peace and stability in the region."
Tillerson spoke to external affairs minister Sushma Swaraj, Pakistan's prime minister Shahid Khaqan Abbasi and foreign minister of Afghanistan Salahuddin Rabbani.
India said it is committed to supporting the government and the people of Afghanistan in their efforts to bring peace, security, stability and prosperity in their country.
"We have been steadfast in extending reconstruction and development assistance to Afghanistan in keeping with our traditional friendship with its people," MEA said.
The statement added India will continue these efforts, including in partnership with other countries, for bringing peace and stability in Afghanistan.
Close Story