International Yoga Day 2018 Highlights: PM Modi says yoga can unite conflict-ridden world
Jun 22, 2018 12:06 AM IST
Prime Minister Narendra Modi led around 50,000 people in marking the fourth edition of the International Yoga Day on Thursday at the sprawling campus of the Forest Research Institute (FRI) in Uttarakhand's capital Dehradun. The prime minister was joined by state chief minister Trivendra Singh Rawat and Union minister of state for Ayush Shripad Naik. The United Nations declared June 21 as the International Day of Yoga in 2014 after PM Modi called for the day to be adopted as a global celebration of yoga, an ancient practice that began in India more than 5,000 years ago.Thousands observed the day with public sessions of yoga and meditation across the country.Here are the highlights of the day:
9:55 PM IST
Sushma Swaraj leads celebrations at European Parliament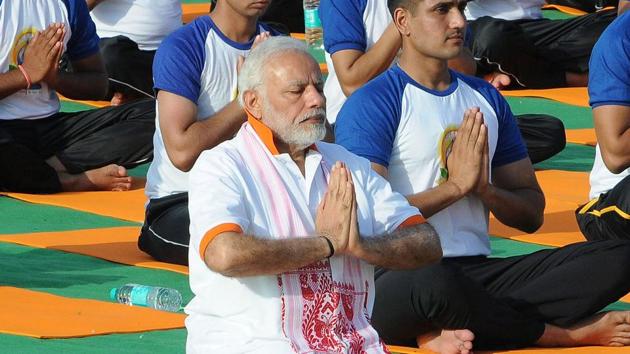 External Affairs Minister Sushma Swaraj led celebrations at the European Parliament in Brussels. "India believes in the concept that the world is one family. We are also celebrating our shared humanity and acknowledging our shared destiny," she told the large gathering of EU parliamentarians, EU officials and yoga lovers and enthusiasts at the European Parliament.
"Today more than ever the world needs yoga," she said, referring to the stressful lives people are leading today and added that "yoga restores harmony within".
9:13 PM IST
Mamata Banerjee gives event a miss
In West Bengal, neither Chief Minister Banerjee nor any of her ministers participated in any yoga session anywhere in the state.
Trinamool Congress secretary general and state Parliamentary Affairs Minister Partha Chatterjee told PTI that the party observed the International Yoga Day every year and this year was no exception.
"International Yoga Day was observed in Moulali today. In the districts also, it was observed in schools. Last year, we had observed the International Yoga Day in Kolkata," he said.
8:42 PM IST
Kejriwal misses events due to ill health
Delhi chief minister Arvind Kejriwal, found having a raised sugar level, had to give a miss to the International Yoga Day celebrations in the capital a miss and leave for Bengaluru to undergo a ten-day naturopathy treatment.
6:43 PM IST
President Kovind performs yoga in Suriname
President Ram Nath Kovind performed yoga along with his Surinamese counterpart Desire Delano Boutersel in Paramaribo, where he is on the second leg of his three-nation tour. Kovind and Boutersel joined dozens of yoga practitioners in the Latin American country to perform the asanas.
5:26 PM IST
Rajasthan creates world record
Rajasthan created a world record bringing over a lakh of people together at a yoga session led by Ramdev.
Two representatives from The Guinness World Records watched the gathering, which included Rajasthan Chief Minister Vasundhara Raje, and then handed over a certificate to Raje and Ramdev, saying it had been the largest gathering worldwide of people performing yoga.
Final numbers pending - we can confirm the previous largest yoga lesson record of 55506 has been broken in India by tens of thousands of participants
Congratulations to the Gov. of Rajasthan, Patanjali & District Administration of Kota #InternationalYogaDay2018 #YogaDay2018 🧘🏽 pic.twitter.com/cr1yhq8HdR

— GuinnessWorldRecords (@GWR) June 21, 2018
4:58 PM IST
Armymen mark day with Sadhguru at Siachen
Army personnel guarding the Siachen glacier, the highest battleground on earth, in Ladakh region of Jammu and Kashmir, observed the day with Sadhguru Jaggi Vasudev.
Over 250 personnel deployed at various posts in Siachen, located between 18,000 to 21,000 feet, rolled out their yoga mats at the crack of dawn to practice asanas with Sadhguru.
4:51 PM IST
Nitish skips Yoga Day event in Patna yet again
Bihar Chief Minister Nitish Kumar did not participate in the International Yoga Day event in Patna, setting tongues wagging whether things were alright in the NDA. Both the JD(U) and the BJP tried to play down the issue.
The JD(U) said Kumar had been practising yoga daily, even before June 21 was declared as the International Day of Yoga by the United Nations, adding that "it would be wrong to attach any political meaning to personal decisions".
When questioned about Kumar's absence at the event, Ravi Shankar Prasad and Sushil Modi insisted that the presence or absence of a public figure at an event must not be politicised.
4:01 PM IST
Yoga not part of any religion: Kerala CM
Kerala Chief Minister Pinarayi Vijayan lauded the greatness and benefits of Yoga and said it should not be seen as part of any religious practice.
Stating that yoga was an exercise and not part of any ritual, Vijayan said attempts were being made by some groups to "hijack" it in the name of religion.
"This kind of false propaganda will only keep common people away from yoga and reduce its popularity," he said.
3:57 PM IST
Navy personnel perform asanas on Yoga Day
As many as 15,000 Navy personnel and their family members rolled out their mats to perform various 'asanas' on the International Yoga Day.
Some Navy personnel performed exercises on the decommissioned destroyer vessel 'Viraat', currently decked in Mumbai, a Defence spokesperson said in a statement.
#IDY2018 #AYUSH Admiral Sunil Lanba CNS joins the naval fraternity for Yoga at New Delhi to commemorate International Day of Yoga @DefenceMinIndia @SpokespersonMoD @IAF_MCC @adgpi @IndiaCoastGuard pic.twitter.com/20hEx3CBmq

— SpokespersonNavy (@indiannavy) June 21, 2018
The personnel deputed on submarines also conducted yoga activities beneath the sea despite space constraints, the release said.
The International Yoga Day was observed by units of the Western Naval Command in Mumbai, Karnataka, Goa and Gujarat.
#AYUSH #ZindagiRaheKhush Yoga being practiced at high seas with Japanese Navy @JMSDF_PAO JS Ise & INS Sahyadri to commemorate #IDY2018 @DefenceMinIndia @nsitharaman @moayush pic.twitter.com/4SCs46XxXo

— SpokespersonNavy (@indiannavy) June 20, 2018
3:10 PM IST
Bollywood celebs show off poses
From veterans like Amitabh Bachchan and Hema Malini to mothers Shilpa Shetty Kundra and Soha Ali Khan, Bollywood celebrities, posted yoga poses and spoke about its benefits on the occasion of International Yoga Day on Thursday.
While Amitabh Bachchan shared an old image of himself performing a yogasana on Twitter, Hema took the opportunity to thank Prime Minister Narendra Modi for spreading awareness about it "not only in India but in all the countries he has visited in the world".
T 2843 - Greetings .. but the attire for yoga is not ideal .. that was a still from the Gujarat Tourism campaign .. love pic.twitter.com/twSqJkJPxi

— Amitabh Bachchan (@SrBachchan) June 20, 2018
2:55 PM IST
Locals in Uttarakhand perform yoga at trenching ground
Locals from Uttarakhand's Haldwani performed yoga at a trenching ground near Gola Bypass over the demand to shift it from its present location. One of the locals told ANI that the nearby residents have written to authorities concerned regarding the issue, but no action has been taken yet in this regard.
While performing yoga, the locals were wearing masks to protect themselves from the bad breathe and to draw the attention of the government towards their plea.
U'khand: Locals perform #Yoga at a trenching ground near Gola Bypass in Haldwani over demand to shift it from its present location,say,"90 lakh tonne waste dumped here emits poisonous gases causing harm to residents nearby.Wrote to authorities many times but no action taken yet." pic.twitter.com/GQpTLAgGno

— ANI (@ANI) June 21, 2018
2:40 PM IST
Kota creates world record
Kota in Rajasthan established a world record on Thursday when around two lakh people performed yoga at one place on the occasion of the International Yoga Day. The event took place in the presence of yoga guru Baba Ramdev and Chief Minister Vasundhara Raje Scindia at the RAC ground.
A total of 4,000 volunteers were present on the occasion and a drone centre was set up to keep an eye on the ground. People started reaching the RAC ground from 5am. Baba Ramdev tweeted that more than two lakh people performed yoga on the International Yoga Day.
#YogainKota with 2 lakh Yogis along with CM @VasundharaBJP and @Ach_Balkrishna for the 4th #InternationalDayofYoga pic.twitter.com/ipQYz4DCVX

— Swami Ramdev (@yogrishiramdev) June 21, 2018
2:09 PM IST
Yoga acts as a bridge between India and China: Bambawale
Yoga has now become a bridge between India and China to bring the people of the two countries together, Indian envoy Gautam Bambawale said today as he along with large number of Chinese yoga enthusiasts participated in a colourful yoga event here on the fourth International Yoga Day.
2:03 PM IST
Yoga's become health hamper for global wellness: Naqvi
Union minister Mukhtar Abbas Naqvi said that Prime Minister Narendra Modi has made yoga as a "health hamper" for the world. Yoga is the "golden key to good health" and "good health is the real wealth", Naqvi said adding that yoga, which ensures healthy mind and body, has broken the barriers of religion, region and language.
12:45 PM IST
Yoga at Airport Authority of India
#InternationalYogaDay2018 observed at the Airports Authority of India in Delhi pic.twitter.com/Z1Ygn4nhQ9

— ANI (@ANI) June 21, 2018
11:05 AM IST
Venkaiah Naidu pitches for yoga in school curriculum
Vice President M Venkaiah Naidu stressed the need to include yoga in school curriculums to "create a healthy nation". Participating in an International Yoga Day event at the Bandra Reclamation Sealink Promenade here, he said the ancient Indian discipline was an invaluable gift to the world from India.
"The practice of Yoga is important for positive thoughts. If it is included in the school curriculum it is possible to create a healthy nation. Yoga also helps in relief from stress due to the changing lifestyles," Naidu said.
10:17 AM IST
Deve Gowda performs yoga
Former Prime Minister HD Deve Gowda performed Yoga at his residence.
Bengaluru: Former Prime Minister HD Deve Gowda performed Yoga at his residence earlier today. #InternationalYogaDay2018 pic.twitter.com/YbbXGHA9Lg

— ANI (@ANI) June 21, 2018
10:15 AM IST
Yoga is very apt for UN: Deputy secretary-general
Yoga is "very apt" for the UN and in today's complex world where stress and delusion are prevalent, the ancient Indian physical and mental practice plays a central role for wellness and peace of the mind and body, UN Deputy Secretary-General has said.
UN ambassadors, diplomats, spiritual leaders, members of civil society and children participated in a flagship Yoga Day event organised on Wednesday by India's Permanent Mission to the UN.
9:55 AM IST
Smriti Irani, Manohar Lal Khattar perform asanas
Union minister Smriti Irani and Haruana chief minister Manohar Lal Khattar participating in programmes in Chandigarh and Jhajjar. In the joint capital of the two states, Chandigarh, Punjab governor and the Union Territory's administrator VP Singh Badnore was the chief guest at a Yoga event in Sector 17. Chandigarh MP Kirron Kher and Chandigarh unit BJP chief Sanjay Tandon were also present.
#InternationalYogaDay2018: Union Minister Smriti Irani performs Yoga at an event in Chandigarh, says, 'I thank people for participating in large numbers.' pic.twitter.com/UKNOH6CgKn

— ANI (@ANI) June 21, 2018
9:50 AM IST
Rajnath, Yogi lead celebrations in UP
Union home minister Rajnath Singh, Uttar Pradesh governor Ram Naik and chief minister Yogi Adityanath led hundreds of yoga enthusiasts as they practised 'asanas' on the fourth edition of the International Yoga Day at Raj Bhawan.
8:50 AM IST
Yoga at US Embassy
Yoga being performed at the US Embassy in Delhi on #InternationalYogaDay2018. pic.twitter.com/YM42gKUtmp

— ANI (@ANI) June 21, 2018
8:04 AM IST
ITBP perform Surya Namaskar in Ladakh
#WATCH Indo-Tibetan Border Police personnel perform Surya Namaskar in cold desert of Ladakh at an altitude of 18,000 feet pic.twitter.com/ky3PmJUm0G

— ANI (@ANI) June 21, 2018
7:25 AM IST
Eastern Navy participates in Yoga Day
Eastern naval command staff performed yoga on board INS Jyothi in Bay of Bengal off Visakhapatnam.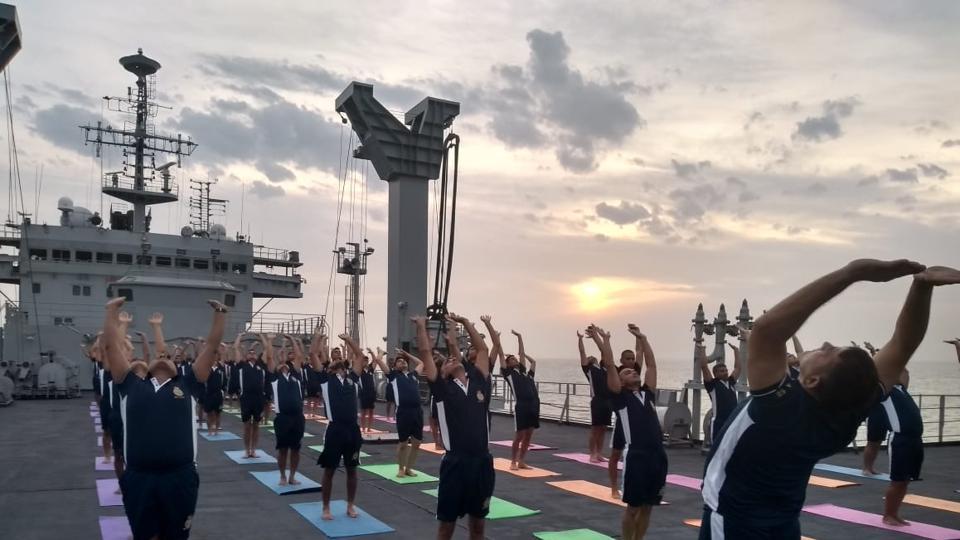 7:10 AM IST
PM Modi performs Yoga
Prime Minister Narendra Modi joins thousands of volunteers performing yoga asanas in Uttarakhand's Dehradun to mark the 4th International Yoga Day.
7:00 AM IST
Yoga is one of the biggest mass movement: Modi
The world has embraced Yoga and glimpses of this can be seen in the manner in which International Day of Yoga has been marked every year. Infact, Yoga Day has become one of the biggest mass movements in the quest for good health and well-being, PM Modi said at Dehradun.
Yoga is beautiful because it is ancient yet modern, it is constant yet evolving. It has the best of our past and presents and a ray of hope for our future. In Yoga, we have the perfect solution to the problems we face, either as individuals or in our society: PM Modi.
6:40 AM IST
PM Modi addresses gathering
PM Modi addresses the gathering Forest Research Institute in Dehradun. He will shortly perform asanas with the volunteers to mark International Yoga Day.
In today's fast changing time, Yoga binds together a person's body, brain and soul, hence making one experience a feeling of peace, says PM Modi.
6:25 AM IST
Three-day yoga camp in Kota
Rajasthan chief minister Vasundhara Raje joined Baba Ramdev and Acharya Balkrishna at the Yoga camp in Kota.
Rajasthan: Baba Ramdev, Acharya Balkrishna and CM Vasundhara Raje perform yoga in Kota. #InternationalYogaDay2018 pic.twitter.com/jIpaBYUVup

— ANI (@ANI) June 21, 2018
6:15 AM IST
PM Modi in Dehradun
PM Modi reached Dehradun on Wednesday, landing at the Jollygrant airport at 10 pm. He was taken to the Raj Bhavan, where he spent the night.
#Uttarakhand: PM Narendra Modi arrives in Dehradun, received by CM Trivendra Singh Rawat. PM Modi will lead #InternationalYogaDay2018 celebrations at the Forest Research Institute, tomorrow. pic.twitter.com/oQpXF6Bwyu

— ANI (@ANI) June 20, 2018
6:11 AM IST
Mizoram govt distances itself from Yoga Day
State government officials said Mizoram chief minister Lal Thanhawla and his cabinet are unlikely to participate in any Yoga Day event. In fact, some seemed clueless about the event, which has been dubbed "anti-Christian" by religious groups in the state. Read fully story
6:01 AM IST
Dehradun gears up to host Yoga Day event
Officials gave the "final touches" to the elaborate arrangements for security, healthcare and sanitation at the venue on Wednesday.
"All security agencies involved including the police and the Special Protection Group (SPG) etc are leaving nothing to chance," chief secretary Utpal Kumar said.
The forest department had launched an intensive drive to look for snakes and monkeys on FRI campus ahead of PM Modi's visit.