Karnataka BJP rakes up Sonia Gandhi's Italian origin ahead of visit
Updated on May 08, 2018 05:00 PM IST
The BJP was responding to CM Siddaramaiah's recent remarks calling Prime Minister Narendra Modi and his own Uttar Pradesh counterpart Yogi Adityanath "North Indian imports".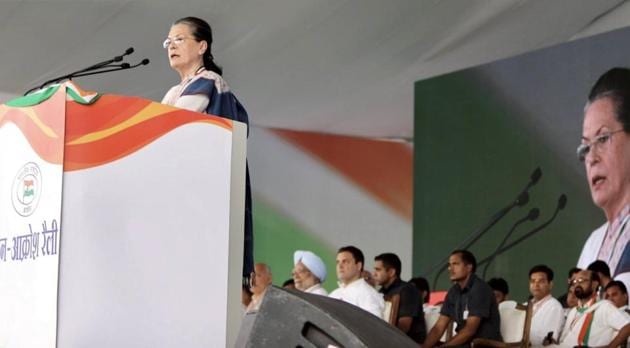 Press Trust of India, Bengaluru |
Press Trust of India
Ahead of UPA chairperson Sonia Gandhi's visit to poll-bound Karnataka on Tuesday, the BJP raked up the issue of her Italian origin by referring to her maiden name Antonio Maino.
"Today, Ms. Antonio Maino is here in K'taka to save her last citadel from falling! Madam Maino, K'taka needs no lessons from the person who was solely responsible for wastingIndia's 10 precious years.
"And to Congress, need to remind you of your 'import' jibe?" Karnataka BJP said in a tweet.
The BJP was responding to Chief Minister Siddaramaiah's recent remarks calling Prime Minister Narendra Modi and his own Uttar Pradesh counterpart Yogi Adityanath "North Indian imports".
"@BJP4Karnataka by waiting for North Indian imports like PM Modi, UPCM Adityanath is admitting they have no leaders in the state. They have reduced their CM face @BSYBJP to a dummy," Siddaramaiah had tweeted.
Hitting back, BJP had then said in a tweet, "Imports? How much low can you stoop Mr. CM? Your attempt at North-South divide is disgusting."
It is not the first time that the issue of Sonia Gandhi's foreign origin has been raked up during the Karnataka polls.
At an election rally on May 1 Modi had dared Rahul Gandhi to talk for 15 minutes about the achievements of the Karnataka government in any language, including his "mother's mother tongue".
Modi was responding to Rahul Gandhi's dare to allow him to speak for 15 minutes in Parliament on various issues, including corruption, and that the prime minister will not be able to sit for 15 minutes.
"I dare the Congress president to speak in Hindi, English or the mother tongue of his mother to deliver a speech in Karnataka for 15 minutes, without reading out from a piece of paper, on the achievements of the party government... people of Karnataka will draw their own conclusion," he said.
The BJP's tweet was also in response to an earlier tweet by Congress party calling Yogi Adityanath by his birth name Ajay Bisht.
"We are glad that Mr Ajay Bisht was able to take some lessons of good governance from CM @siddaramaiah and is headedback to be with the people of Uttar Pradesh in their time of need."
The Congress party had referred to Adityanath cutting short his election campaign in Karnataka and returning home following deaths in his state that was ravaged by storm.
Almost two years after abandoning a road show in Varanasi ahead of the Uttar Pradesh assembly elections, Sonia would address a poll rally in Vijayapura Tuesday.
The then Congress chief Sonia had not campaigned for Uttar Pradesh, Gujarat, Punjab, Himachal Pradesh, Uttarakhand, Meghalaya, Tripura, andNagaland Assembly elections.
Sonia Gandhi's son and successor, Rahul Gandhi, is currently touring Karnataka extensively. He will visit Chikkaballapuraand Tumakuru districts on the hustings on Tuesday.