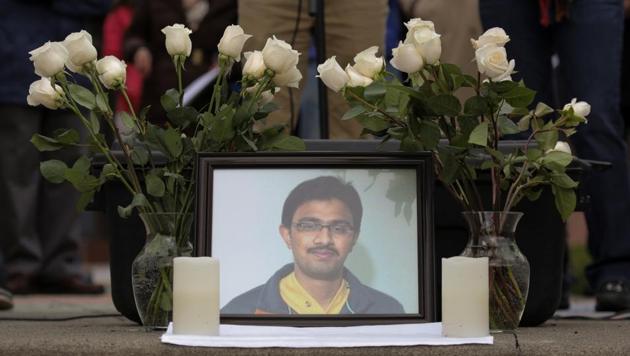 Srinivas Kuchibhotla's family says life sentence for Kansas killer will not bring him back
Welcoming the court ruling, Kuchibhotla's wife, Sunayana Dumala said, "Today's sentencing in the murder of my husband will not bring back my Srinu, but it sends a strong message that hate is never acceptable."
UPDATED ON MAY 05, 2018 03:31 PM IST
At the Hyderabad home of IT engineer Srinivas Kuchibhotla, his parents have refused to talk about his killer being sentenced to life in prison by a court in the US. A close relative said the verdict makes little difference to K Madhusudhana Sastry (71) and Parvatha Vardhini (65).
"Whether the accused is jailed for life or awarded death sentence is immaterial to them in India. Even after more than a year, his parents are yet to recover from the shock. In fact, they had forgiven him and forgotten about him," said Venumadhav Gajula, Srinivas's brother-in-law.
Srinivas Kuchibhotla, an aviation systems engineer at GPS manufacturer, Garmin, was shot dead by a US navy veteran Adam Purinton at a bar in Kansas on February 22, 2017.
After Kuchibhotla's death, his parents have been maintaining a very low profile and hardly mingling with others. They are staying with their eldest son K T Sastry at their modest home located at Bachupalli on the outskirts of Hyderabad.
Kuchibhotla was the second of Madhusudhana Sastry's three sons. Youngest son K Sai Kiran is also working in US.
On Friday, a federal judge in Kansas sentenced Purinton (52) to nearly 78 years in prison for killing Kuchibhotla in a racially motivated hate crime.
Welcoming the court ruling, Kuchibhotla's wife, Sunayana Dumala said, "Today's sentencing in the murder of my husband will not bring back my Srinu, but it sends a strong message that hate is never acceptable."
She also expressed her gratitude to "the district attorney's office and the Olathe police for their efforts to bring this man to justice".
Personally, Gajula felt that justice was done to Kuchibhotla's wife Sunayana, within the limitations of the American laws.
"The Federal Bureau of Investigation has done a pretty nice job and we thought the accused, Adam W Purinton, would be given death sentence. We do not know what the American laws are and so, we feel he got the right punishment," he said.
"In any case, we too feel it was not proper to award death sentence to the accused, who had committed the crime in a fit of rage. Why should his family suffer with his death?" Gajula asked.
(With PTI inputs)
Close