As it happened: RS unanimously adopts resolution on Kashmir
The Kashmir unrest was taken up in the Rajya Sabha on Wednesday, a day after the government came under increased pressure from the Opposition.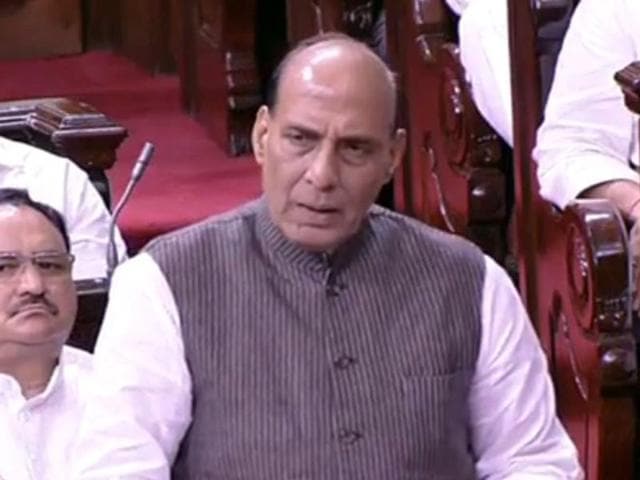 Updated on Aug 10, 2016 07:24 PM IST
Parliament on Wednesday unanimously appealed to people of the Valley to restore peace and harmony even as the government expressed readiness to hold talks with moderate groups and others and decided to call an all-party meet on Friday.
Home minister Rajnath Singh declared that there is no question of handing over Kashmir to the Army, quashing rumours that are being spread "deliberately".
He also promised to consider sending an all-party delegation to Kashmir, responding to demands made in the Rajya Sabha which discussed the "prevailing situation" in the Valley for over six hours.
At the end of the debate in which 29 members from across the political spectrum spoke, the Rajya Sabha unanimously adopted a resolution, saying: "This House expresses its serious concern over the prolonged turbulence, violence and curfew in the Kashmir valley."
Opposition leaders had voiced concern over the Valley being curfew-bound for over a month and demanded a stop to the use of pellet guns. They also demanded a parliamentary delegation to be sent to Kashmir to deliberate with all sections, and an all-party meet to find a resolution.
Here's how the debate played out:
6.18pm: Rajya Sabha unanimously adopts resolution on Kashmir. Resolution says there can be no compromise on national security. House resolves to restore the confidence of people through process of dialogue in Srinagar and Delhi.
6:15pm: If there will be any talks with Pakistan, it will only be on PoK and not Kashmir, says home minister Rajnath Singh
6.13pm: Decision on sending all-party delegation to Kashmir will be taken after ground work is prepared in consultation with the chief minister.
6.11pm: Islam doesn't permit to take life, destroy someone.
6.09pm: All-party meeting to be attended by the Prime Minister to discuss Kashmir situation on August 12 after Parliament's monsoon ends.
6.05pm: As many as 4515 security personnel and 3,356 civilians injured in Kashmir: Rajnath Singh
5.56pm: Whatever is happening in Kashmir has been instigated by Pakistan, says Rajnath Singh.
5.54pm: Singh says separatist leaders in Kashmir have been instigating people since July 9.
5.51pm: Discussion on Kashmir sign of healthy democracy and people should be proud of it, says home minister Rajnath Singh.
5.49pm: Congress MP Ghulam Nabi Azad says home minister should make it clear if an all-party meeting will visit Kashmir.
5.45pm: Chaudhary Munnver Saleem, Samajwadi Party, Uttar Pradesh says for the sake of human rights, security forces should act with restraint and not use pellet guns.
4:10pm: Mir Mohammad Fayaz, PDP, informs the House that the separatists were once political leaders who fought elections constitutionally between 1947 and 1987. "There must be some mistakes we made that they became separatists, but today we say we won't talk to them," he says.
"Hanging Afzal Guru before others (on death row) despite being serial No 27, Kashmiris feel, was because he was a Kashmiri," he says. "Kashmiris feel they are being treated different from people of other states."
3:58pm: "Punjab is will only be peaceful when Kashmir is peaceful," Pratap Singh Bajwa, Congress, says.
3:48pm: KTS Tulsi, nominated RS member, says Sikhs in Kashmir are insecure and require the government's support.
3:41pm: "Children have no religion, children have no parentage.... if a child is killed, it should awake the country's collection conscience," Dr Jitendra Singh says.
"Kashmiri Pandits living outside are equal stakeholders of Kashmir," he adds.
3:10pm: "We have to introspect why thousands of youths have embarked on this path of destruction," Dr Karan Singh, Congress, says. Not speaking with Pakistan was de facto acceptance of the neighbouring country's stand, and not a mature thing to do.
He urged home minister Rajnath Singh to "bite the bullet and resolve this issue in an integrated manner". "It not only an economic problem, it is also a political problem...a complex political problem."
3:00pm: Nazir Ahmad Laway, PDP, questions why Kashmir is only remembered when it is burning. "The longer we take to resolve this issue, the harder it will be," he adds.
"Kashmiri people are not for guns, they are for this country," Laway says. "...(but) they don't trust us. They say delegations come and go, but nothing is ever done for us."
2:42pm: Swapan Dasgupta, nominated RS member, says he agrees with Yechury that a political approach was required, but what that approach should be must be considered carefully.
2:33pm: DP Tripathi, NCP, says the House is united against those causing problems in Kashmir from across the border, but questions why the government was against sending an all-party delegation to the state.
He says it is "extremely important to completely support the Mehbooba Mufti government in dealing with the ongoing crisis".
2pm: House resumes. Sitaram Yechury, CPM, says no solutions have been found in over 32 days of turmoil in Kashmir, and use of pellet guns has also not stopped despite repeated requests.
"Vultures only come down when they smell blood. Blood is being spilled in Kashmir and that's why vultures are coming in from across the border," he says.
"String of betrayals over the years has resulted in trust deficit with the people of Kashmir," he says, urging the government to start the "political process of dialogue".
1pm: House adjourned for lunch
12:44pm: Sharad Yadav, JD(U), says the times have changed and there can be no war with Pakistan; "Now, Kashmir will have to be won with love". Police and armed forces are sometimes are required, but there should be restraint in the use of force, he adds.
12:32pm: "Please do not meddle in (India's) matters," says Derek O'Brien, Trinamool Congress.
"...Hizbul commander Burhan Wani was more dangerous on the internet than in real life, and more dangerous dead than alive."
12:07pm: Prof Ram Gopal Yadav, Samajwadi Party, says Pakistan's ISI and terrorist organisations are misleading Kashmiri youth to attack their own people. Until Pakistan is dealt with, the Kashmir issue will not be resolved, he adds.
11:54am: Manhas says the high turnout during assembly polls in Kashmir reflected their trust in democracy. But he alleges that separatist leaders have put stones instead of books and laptops in the hands of children. This turn of events, he says, should be examined.
11:48am: J-K BJP leader Shamsher Singh Manhas says Kashmir cannot be discussed without also talking about Jammu and Ladakh. He says 55% of the state's population resides in Jammu, and despite widespread unemployment, they have not picked up the gun. "It is a matter of nationalism," he adds.
11:43am: Azad recalls several confidence-building schemes, including Umeed, Udaan and Himayat, introduced by the United Progressive Alliance (I and II) governments in Kashmir under the leadership of former Prime Minister Manmohan Singh.
11:34am: Azad says he does not blame any particular government for the situation in Kashmir because even previous regimes faced the same problem. He says the Mehbooba Mufti government doesn't have the "resources or manpower" to deal with the problem.
11:27am: Union minister Arun Jaitley says all parties should set aside politics because of the sensitive nature of the Kashmir issue.
11:20am: Everyone, including Hindus and Muslims, have been victims of militancy in Kashmir; and while you (the government) just talked about it, Kashmiris have always fought militancy, Azad says.
11:10am: Leader of Opposition Ghulam Nabi Azad says the Kashmir issue has been debated four times in the two Houses of Parliament but the Prime Minister has not been present during even one. Instead, Modi spoke of the situation during his visit to Alirajpur in Madhya Pradesh.
11:00am: Proceedings of the House began with Chairman Mohammad Hamid Ansari calling for the submission of papers. Opposition leaders create commotion over the thrashing of Dalit men in Andhra Pradesh by cow protection vigilantes on the same day Prime Minister Narendra Modi urged them to target him instead of the Dalits.
Close Story